Aldi Shoppers Are Raving About This Sesame Oil
Aldi has great news for home cooks who like to kick their dishes up a notch with specialty ingredients. The supermarket is now selling bottles of Carlini toasted sesame oil, which is a flavorful and versatile addition to your cooking oils.
Instagram user @theamazingaldi posted about the find: "Be sure to pick up the toasted sesame oil while it's on Aldi shelves. I love cooking and making marinades and dressings with it...so good!" (via Instagram). If the responses on social media are any indication, this sesame oil won't stay on Aldi shelves long. Aldi shoppers couldn't stop raving about the product. Follower @louisegerardo celebrated: "So happy they have this," while @raisedonanisland raved: "So good and cheap!" User @carly.m.scott simply declared: "It's a winner!" 
Follower @lisamartius wrote: "I use this in my beef and broccoli. Awesome!" The oil makes a great marinade for everything from meat dishes to rice, veggies, noodles, and everything in between, per Cooking Light. Sesame oil can even be used as an ingredient for specialty desserts, like sesame oil cakes or sweet sesame seed dessert balls (via The Spruce Eats).
Sesame oil has a number of health benefits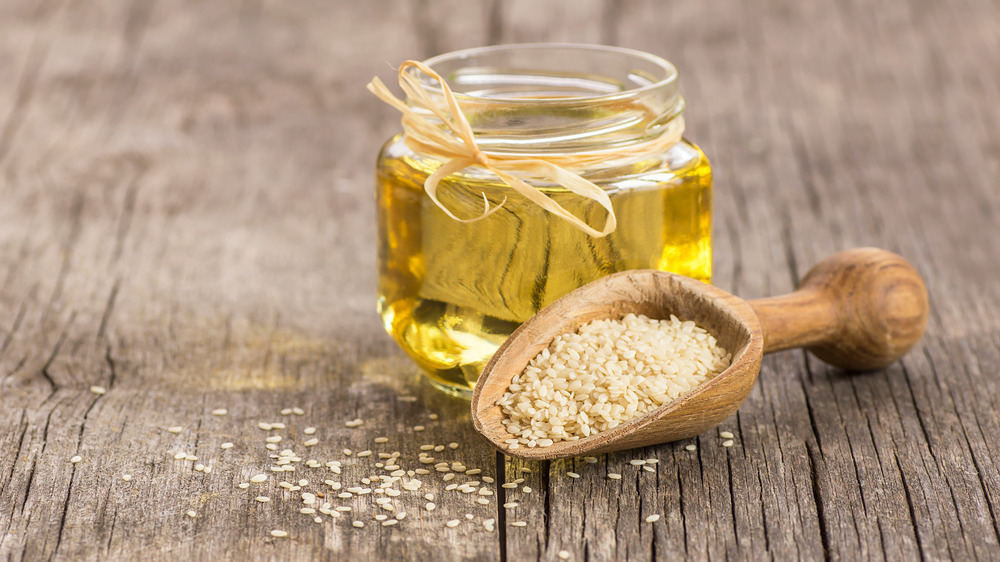 Shutterstock
It's also a great way to add antioxidants and healthy fats to your diet. According to Healthline, sesame oil offers a ton of great health benefits. It is loaded with the antioxidants sesamol and sesaminol, which can lower your risk of inflammation and cell damage. Sesame oil is also a great source of unsaturated fats, particularly omega-6 fatty acids, which can help lower cholesterol, protect against heart disease, and even regulate blood sugar levels. One tablespoon of the toasted sesame oil contains 120 calories, and it's so flavorful that just a little drizzle goes a long way in any dish.
Per Aldi, their sesame oil comes in a 16.9 ounce bottle, so not only is it sure to last for a long time, but it's also a steal at just $5.99 per bottle, as user @melissa_namenwirth pointed out. "So happy they had this!!! For the same price at my local grocery store I get half that amount!" she wrote. This toasted sesame oil packs nutrition, flavor, and savings into every bottle, so it's definitely worth looking for the next time you're at your local Aldi.