National Pizza Day 2021: Where To Get The Best Food Freebies And Deals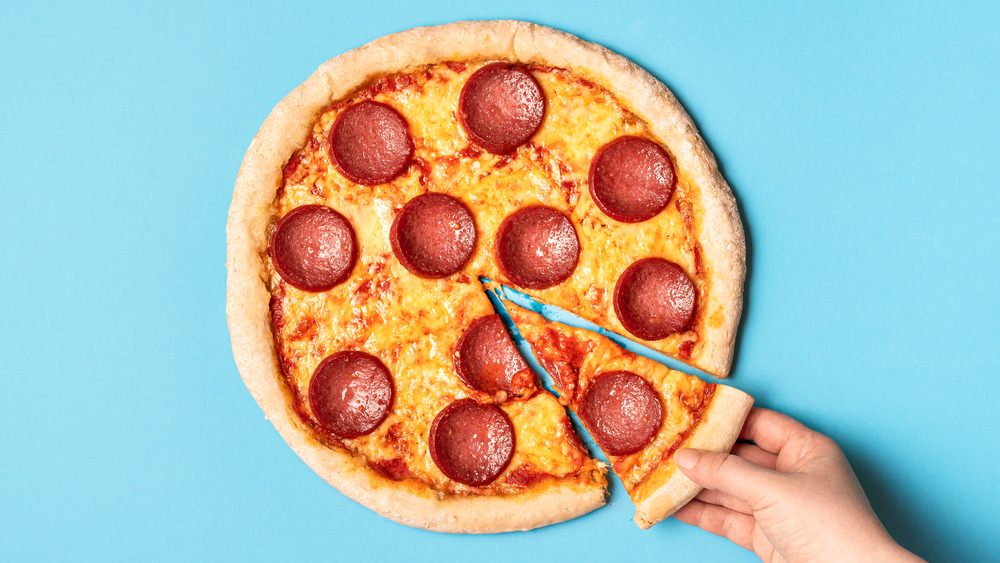 Shutterstock
Almost everyone is a pizza, and with National Pizza Day falling on February 9th, it's time to decide how you'll celebrate. Whether you want to help your community or score the best deals, there's a lot going on to mark the day, according to press releases received by Mashed. Best of all, there's even an option that will let you celebrate remotely with those you can't be with.
Hormel Foods, which makes Hormel Pepperoni, is kicking things off with their partner Slice Out Hunger, which helps sustain shelters and soup kitchens all over the country. This year, Hormel Foods is sponsoring Pizza Across America pizzerias, which urges pizzerias everywhere in the U.S. to donate and deliver a minimum of 10 large pizzas to local food banks, shelters, and other care centers on Tuesday, February 9th.
For those who can't share a slice with their friends and family, PizzaTime is stepping in to help them celebrate National Pizza Day. All you have to do is set a date and enter the participants' emails. From there, PizzaTime will send an order link so everyone can choose their favorite pizza, followed by delivering to their doorstep for the gathering as well as sending out a meeting link for everyone to join the party. Those who book parties through February 14th will score a free pizza for every 10 pizzas they order.
Keep an eye out for @Pizza, a curated list of the best local pizzerias, on Uber Eats. It's an easy way to support your local businesses.
Stop by these chains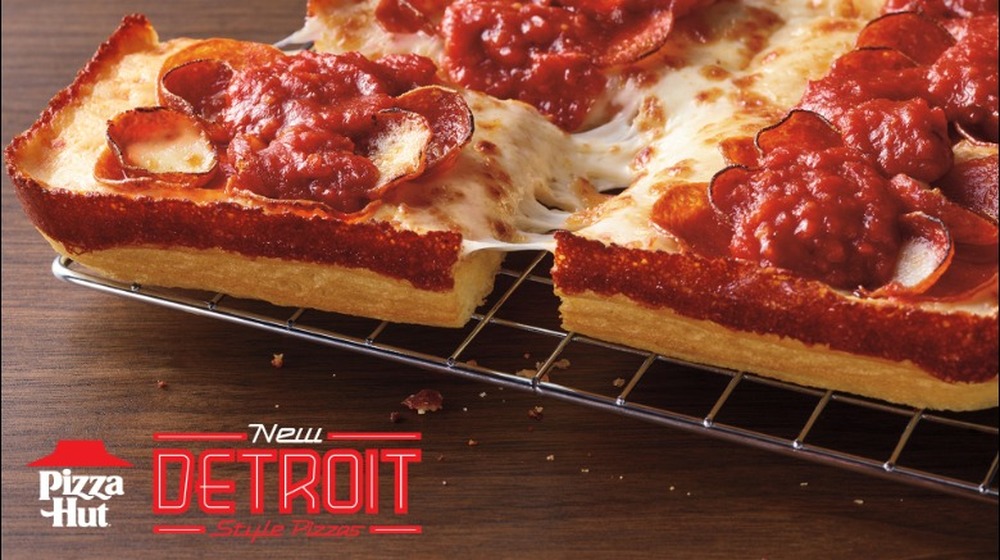 Pizza Hut
Einstein Bros. Bagels are offering a $5 Family Pizza Bagel Box, which offers savings of 50 percent. In the box, you'll get four hot and fresh cheese and four pepperoni pizza bagels, or eight bagel halves in total. Just order through the mobile app starting on February 9th through the 14th.
Pizza Hut has some cheesy new treats for customers to try. As explained in a statement sent to Mashed, on January 26, the chain launched its take on Detroit-style pizza, and "each rectangular deep-dish pizza is loaded with toppings, has extra cheese melted all the way to the edge for a caramelized crust, finished with a new vine-ripened tomato sauce on top." Customers can get Double Pepperoni, Double Cheesy, Meaty Deluxe, and Supremo Detroit-style pizza for just $10.99. 
Little Caesars also has a deal for all for people who want more than a little pizza. Order online at Little Caesars through February 28 to get a large three-topping pizza for $6.99 (via Chew Boom). 
Don't miss these giveaways and discounts
There are a number of grocery store pizza discounts, according to press releases received by Mashed, starting with Red Baron, which is holding a contest on Instagram between February 1st and 12th. All you have to do is follow the account, tag a friend, and comment with your favorite kind of Red Baron pizza. Contestants will be entered for an opportunity to win a year of free pizza. Plus, there will be 55 winners in honor of the history-making Super Bowl LV.
Quest, which makes low-sugar, high-protein pies, is offering 20 percent off of their pizzas on National Pizza Day. Customers just need to use the promo code PIZZA21 on February 9. The brand urges people to try Thin Crust Pizza, Supreme, and Loaded Pizza Meat Lover's varieties, which Quest calls "mouthwatering." It's worth noting the promo is only valid in the continental U.S.
Cappello's pizzas are another healthy option. They are paleo-friendly, grain-free, and boast an almond flour crust. Cappello's is also offering 20 percent off of their pizzas through February 9th with the promo code REALPIZZA20. Just order anytime between now and the 9th on their website.
So, no matter what your dietary restrictions may be or how you'd like to celebrate National Pizza Day, there are tons of options out there. From your favorite big pizza chain and restaurants to grocery store finds you can bake at home even after National Pizza Day is over, you can find your own slice of happiness.