Trader Joe's Macadamia Nut Blossom Honey Is Turning Heads
Honey has been used to sweeten food for thousands of years, and it is still one of the most commonly-used sugar substitutes today. Now, Trader Joe's is selling a smooth, nutty, and lightly floral take on the classic food with its new Hawaiian Macadamia Nut Blossom & Multi-Floral Honey. This honey variety is perfect for people who appreciate traditional ingredients, but enjoy unconventional flavors from time to time.
Instagram user @traderjoeslist raved about this new honey to their followers, writing, "I've been adding this to my matcha lattes in the morning and it is SO good! Definitely give it a try if you have not. A big shout out to all the bees for their hard work day in and day out." Their followers were equally pleased with the nutty, flowery honey. One commented, "Yum. Tried the honey sampler at Christmas and the macadamia and the cashew honey were my favorites." Another wrote, "This has already been in my pantry for a week, bought one the night they were delivered to our store...it's pretty yummy."
Honey has many proven health benefits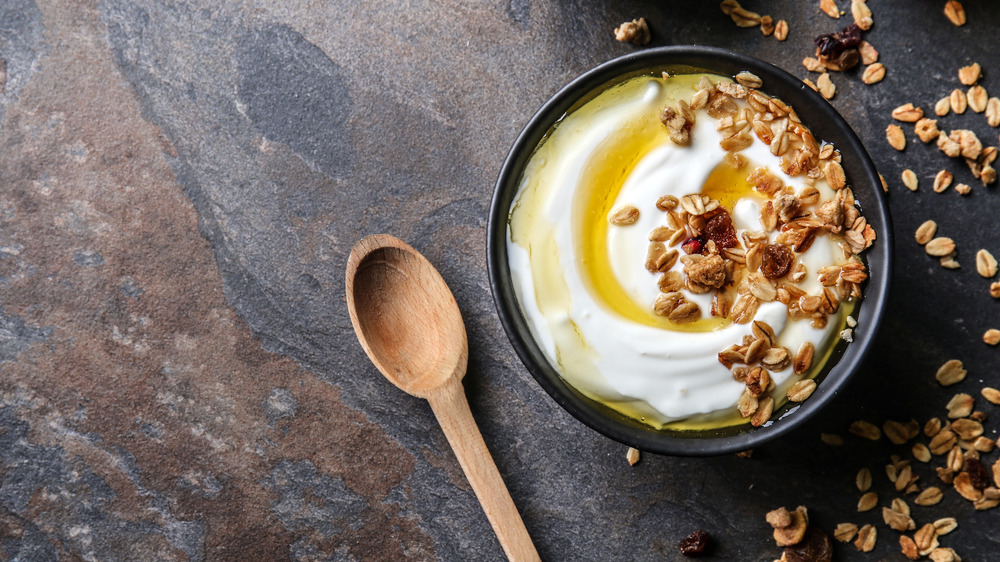 Shutterstock
Honey has many health benefits, including serving as a great source of flavonoids, an antioxidant that has been shown to improve heart health, help lower blood pressure, and reduce the risk of heart attacks, strokes, and certain cancers, according to Healthline. Honey can also help improve cholesterol by raising levels of HDL, the good cholesterol, while lowering levels of bad LDL cholesterol that can lead to heart disease. It has even proven to be an effective cough suppressant, helping reduce cough symptoms in children over one year of age even better than over-the-counter cough medications. So, it's no wonder many people mix it into soothing, warm beverages when they are feeling ill.
Social media users also chimed in with their favorite ways to enjoy honey. One user commented on @traderjoeslist's post, "I'm having it right now with yogurt parfait and it's soo delish!" A spoonful of this honey makes a great addition to any number of beverages, from coffee and lattes to just about any kind of tea. It's also a tasty topping for everything from toast and yogurt to ice cream, fruits, and nuts. It can even be drizzled on top of different cheeses to make a sweetly floral dessert charcuterie board. One eight ounce jar of this honey costs just $4.99, per Trader Joe's. So, the next time you are at your local Trader Joe's, feel free to treat yourself to a jar of heart-healthy honey with a floral twist.