The Reason Ruth's Chris Steak House Switched From Dry-Aged To Wet-Aged Steaks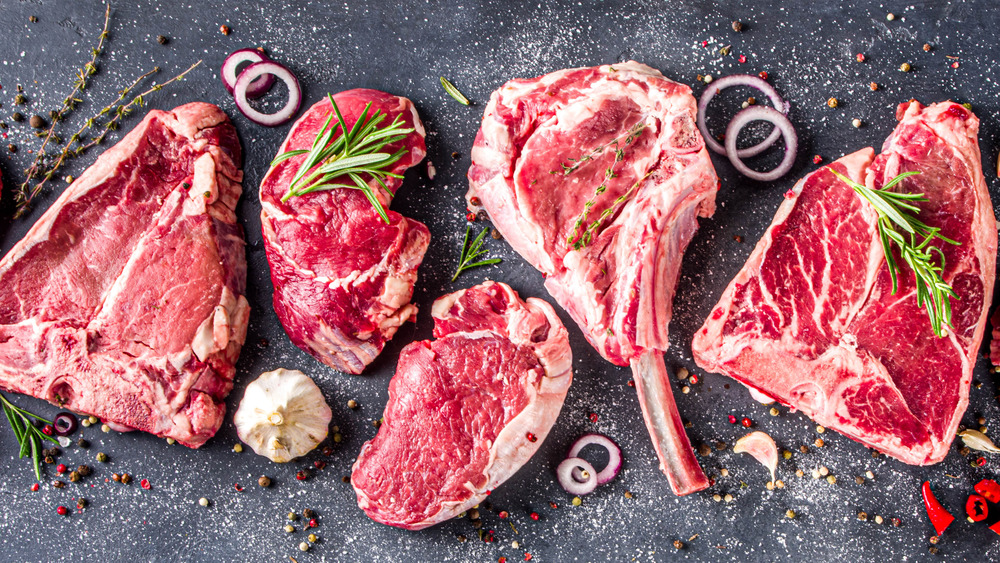 Shutterstock
A night out at Ruth's Chris Steak House is always a lavish experience. From the white tablecloths to the sizzling platters, a meal at Ruth's Chris is meant to be totally savored. The appetizers, sides, drinks, and desserts are all stellar, but the 'belle of the ball' – of course – is the restaurant's rich, beefy, iconic steaks. The official site says Ruth's Chris uses "the finest custom-aged, corn-fed Midwestern beef" and "USDA Prime, which represents the top 2-3 of cattle on the market." The steaks are never frozen. 
Ruth's Chris offers a multitude of cuts (from filet mignon and porterhouse to tomahawk and rib eye) and broils the steaks at 1800 degrees Fahrenheit, opting to rely on the quality of the beef instead of any ostentatious garnishes or sauces. Typically, your steak will be served with no more than butter, salt and pepper, and some herbs. If you've ever wondered why your steaks at home don't seem to match up to Ruth's Chris, it might be because their beef quality is top-notch, they cook steaks in intensely hot broilers that are not in home kitchens, and all of their steaks are wet-aged.
That wasn't always the aging method of choice. The restaurant used to rely on dry-aging, a process many people associate with more flavorful steak. But Ruth's Chris founder Ruth Fertel decided to go in a wetter direction.
Why wet-aging?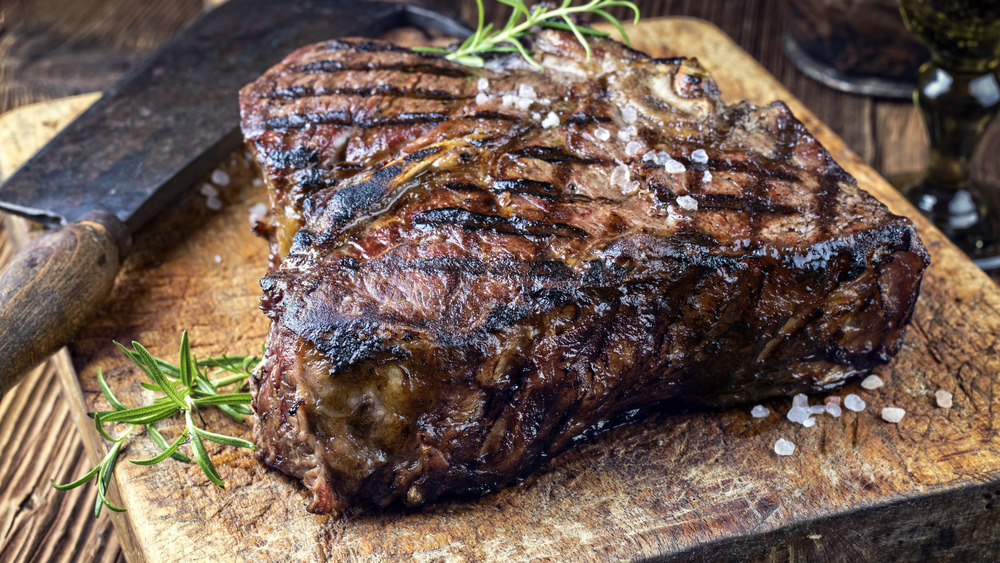 Shutterstock
Ruth Fertel's son explained that she chose wet-aged steaks over dry-aged for the sake of consistency, time, and cost. For context, wet-aging is essentially vacuum-sealing beef and letting it sit, often in a refrigerator, for weeks, according to Serious Eats. The website for the Ruth's Chris Riverwalk location in San Antonio says that "Ruth Chris steaks are refrigerated and aged for 24 to 28 days," which helps to "break down enzymes to enhance the tenderness."
Dry-aging involves letting larger hunks of beef hang for longer periods in a ventilated room with tightly regulated temperatures and humidity. The meat loses water weight and gains mold, and that moldy portion will be removed. (Ruth's Chris's dry-aged steaks occasionally spoiled.) Robb Report notes that water loss and discarding moldy sections can cut the weight of the meat in half, which would effectively make it twice as expensive. According to Sterling Pacific Meat, wet-aged beef often costs 20 to 50 percent less than dry-aged as a result.
The perks are many: wet-aging takes less time, requires less storage space, involves less labor, and doesn't require a master butcher to oversee the process. According to The Kitchn, the flavor benefits of dry- vs. wet-aging are a matter of personal preference. But it's clear that wet-aging certainly offers many benefits. The iconic sizzling platters from Ruth's Chris are sure to always be immensely popular — and for good reason.