What Are Paczki And When Do You Eat Them?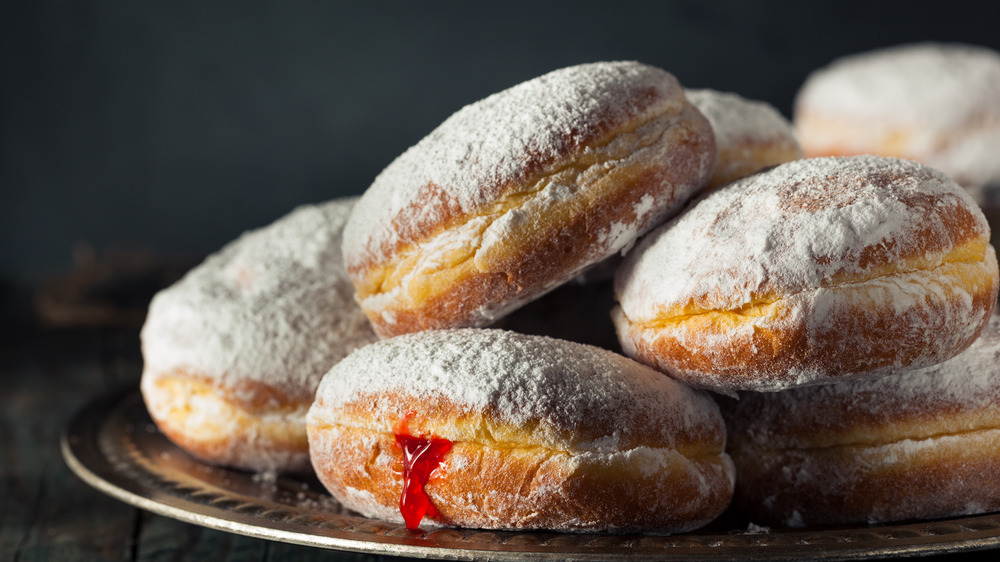 Shutterstock
The world loves to celebrate the days leading up to the beginning of Lent on Ash Wednesday. According to Our Sunday Visitor, England marks these days before the Lenten season by making a variety of pancakes; children in Denmark eat a bunch of cream or jam-filled buns; and the Gulf Coast of the United States in particular celebrates Mardi Gras (via History Channel), though it's hard to beat Carnival on Fat Tuesday in Rio de Janeiro (sadly, it was canceled this year, reports The Guardian). While portions of the world indulge in a bit of excess before they have to forgo pleasures for several weeks, Poland celebrates with one of the tastiest pre-Lent traditions that anyone can love. 
According to The Spruce Eats, the Thursday before Lent has become known as Fat Thursday, or Tłusty Czwartek in Polish. The day is celebrated with a copious amount of donuts. Locals call these traditional donuts paczki (POHNCH-kee), and their creation originated as a way to use up excess butter, sugar, eggs, fruit, and lard in the days before Lent. These donuts, which have now spread the world over, prevent food waste and serve up an unique culinary experience anyone can love.
The perfect Polish pre-Lent treat
Shutterstock
If you imagine that these Polish treats resemble any kind of donut you could grab from the grocery store, get ready to have your world turned upside down. According to The Spruce Eats, the paczki appear as fried balls of yeast dough and get stuffed with rose hip, prune, apricot, strawberry, raspberry, or sweet cheese filling, making for an out-of-this world taste and an incredibly rich treat. According to Eater, these donuts might even contain a splash of a traditional Polish liquor in the dough, making for a fried treat like no other. 
If you find yourself in an area with a sizable Polish population, make an effort to grab a few paczki this week. With Lent just around the corner, who knows which bakeries might continue to sell these treats in the coming weeks? For a unique flavor experience, grab a bag of these Polish snacks and treat yourself to a bit of excess while you can.