Nigella Lawson Believes This Is The Most Important Thing To Do When Eating Alone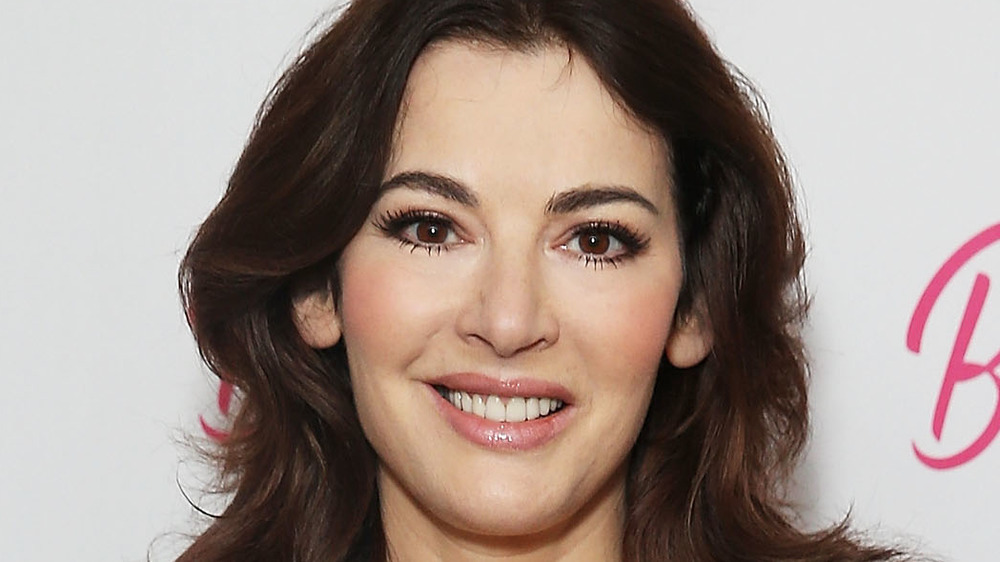 Brendon Thorne/Getty Images
We may receive a commission on purchases made from links.
A Food Network star and "food enthusiast" (via Food Network), Britain's Nigella Lawson, is beloved by her fans for reasons quite different from the reasons Gordon Ramsay's fans can't get enough. Known for her "feel-good" approach to food, Lawson comes off as both relatable and nurturing. One reason may be that Lawson has been tenderized by what amounts to more than her fair share of heartache over the course of her 60+ years, including the cancer-related deaths of her first husband at age 47, her mother at age 48, and her sister at 32 (via People).
Lawson had two young children to cook for after her husband's death, as well as a second husband whom she married two years later. Nevertheless, Lawson has always been sensitive to the loneliness that can come from eating alone. "In her very first cookbook, How to Eat, Lawson wrote about the importance of making the time to cook delicious and fulfilling meals for yourself, even if it's just you at the table," according to Starts at 60. Divorced from her second husband (since 2013), and with her children grown, Lawson continues to address eating alone in her work, including in her most recent book, Nigella Kitchen: Recipes from the Heart of the Home (via Amazon), which offers wonderful recipes and heartfelt advice on the topic. 
In a recent tweet, Lawson addressed the topic once again, offering her take on the most important thing to do when eating alone.
Here is how Nigella Lawson elevates eating alone to an art
"I'm a great believer in the importance of cooking for oneself when eating alone," Nigella Lawson stated in a tweet on February 15, 2021 (via Twitter). When cooking to eat alone, Lawson recommends selecting easy dishes that are "sustaining," both physically and emotionally. Her recipe for Poached Chicken with Lardons and Lentils, which she selected as her #RecipeOfTheDay for February 15, fits the bill like a comfy old sweater.
"Sometimes we just need the sort of food that comforts and bolsters and makes the world feel a safe place," she wrote in the introduction to the recipe, which was published in her 2010 bestselling book, Nigella Kitchen: Recipes from the Heart of the Home (via Nigella Lawson's website). "I'm a great believer in cooking properly when eating alone, and not just out of greed, and the need for deliciousness, both of which are important, but because I also firmly believe it to be a Good Thing: the succor that comes from the self can be very sustaining."  
Can you guess the comfort food that 25 percent of people said they would actually be fine with giving up? We bet it's not this recipe.