The Secret Ingredient To Andrew Zimmern's Classic New Orleans Dish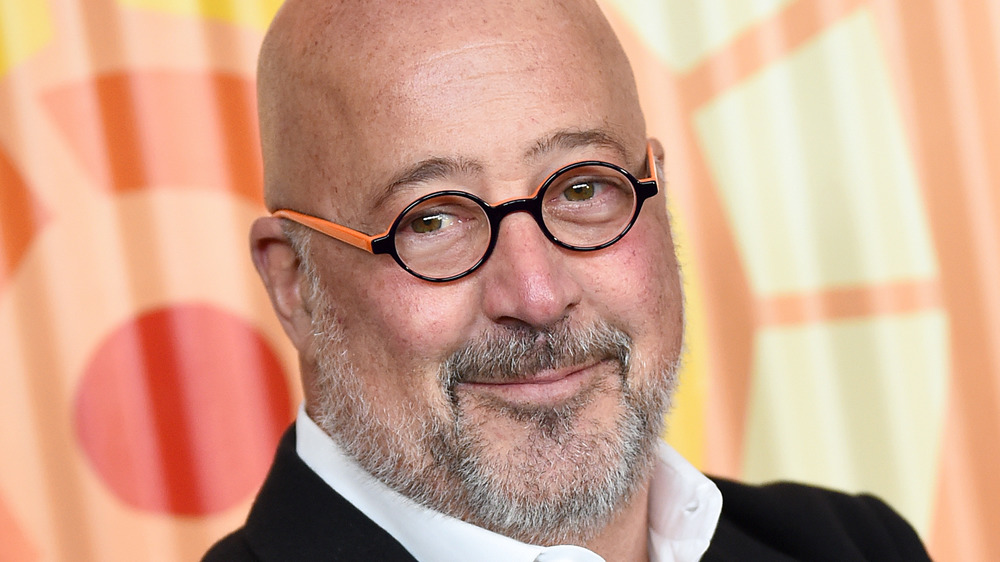 Dimitrios Kambouris/Getty Images
Andrew Zimmern is perhaps best known for traveling around the world to eat some of the most unique foods there are and – to strangers to hyper-local food traditions like grubs and fermented shark – some of the most off-putting. But Zimmern is also an accomplished chef and TV personality beyond the squid-ink sacs and camel testicles (via Andrew Zimmern's website). And he just shared with the world a hot tip for one of the more appealing dishes in the US: shrimp étouffée.
Shrimp étouffée is a hallmark of New Orleans cooking and has its roots in Cajun cookery from the bayous of Louisiana, where locals used crawfish in home-cooked dishes. In the 1930s, a pair of sisters began serving it at their inn, and after another diner began serving it, the rest was history (via Ventura County Star). It's typically made with crawfish or shrimp in a thick sauce made with spicy Cajun or Creole seasonings and sautéed onion and served generously over rice (via Grandbaby Cakes). And as with any regional dish, there are some variations in every version you eat.
Étouffée tradition and one tip to make it shine
Shutterstock
Zimmern's version, which he makes in a video posted to Twitter recently, probably has little in common with the "smothered" (what étouffée means in French) dishes of back in the day. But the tip he learned in New Orleans can work for many a seafood dish. In the video, Zimmern uses shrimp rather than crawfish, and as one commenter points out, may have forgone a traditional roux – a flavorful base of flour and butter, which thickens the sauce and gives it a creamy consistency. Zimmern's looks like a deep red, flavored with tomatoes and sprinkled with scallions and parsley.
The trick is in the stock, according to Zimmern. In his recipe, which you can find on his website, he uses homemade shrimp stock made with the saved shells of all the shrimp in the dish itself (via YouTube). There's onion, carrots, and celery as well, and the seafood flavor is further amped up with chicken stock, but as he writes, "The real magic of this dish is the homemade shellfish stock, so don't skip that step." Notably, he tweeted that he had learned from the women who lay claim to the best of the best étouffée – New Orleans food legend Leah Chase, who died in 2019 (via the New Orleans Advocate), and food personality Poppy Tooker.