Nestlé Has Good News For Vegan KitKat Fans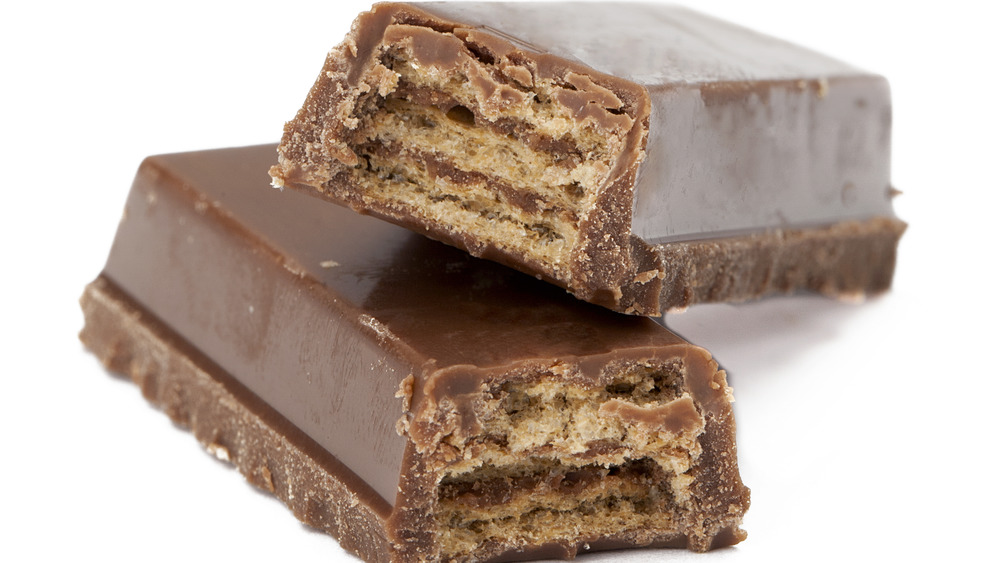 Shutterstock
On February 15, Nestle announced that 2021 will see the release of a vegan KitKat called KitKat V. According to Bloomberg the new recipe attempts to recreate the creamy milk chocolate texture that arises from blending sugar and cocoa with milk by using a rice-based formula in place of the dairy product. Other substitutes apparently add unpleasant notes to the chocolate's flavor.
Taste was a key factor when developing the plant-based chocolate for our new vegan KitKat," Louise Barrett, Head of the Nestlé Confectionery Product Technology Center in York, explained in a press release. "We used our expertise in ingredients, together with a test and learn approach, to create a delicious vegan alternative to our original chocolate KitKat."
As USA Today notes, however, the KitKat V will not be available in the United States due to a licensing agreement that means Heresy, not Nestle, produces American KitKats. So American fans of the chocolate bar will either have to wait for it to be successful enough for Hershey's to implement the idea or import them, like marmite, through foreign connections.
There's a race for the vegan chocolate space
In Nestlé's unveiling of the KitKat V, Alexander von Maillot, Head of Confectionery, noted how the push to make a milk chocolate bar vegan is Nestlé's attempt to navigate the massive shift in preference for plant-based foods. Bloomberg, too, framed the new KitKat in terms of a "vegan chocolate race [heating] up." In August 2020, Live Kindly reported on Lindt's announcement that they were pursuing their own vegan milk chocolate bars, in their case substituting the dairy with oat milk. In the same piece, they also reference Mondelez's intention to produce plant-based milk chocolate as well as Trader Joe's.
So far, none had conquered the market. Currently, there are vegan chocolates available that are made with high-percentage dark chocolate which requires a specific palate, unlike the massively consumed milk chocolate. Whoever does manage to combine plant milk with a chocolate bar in a manner that doesn't hurt the flavor of the bar too much will gain a huge edge, especially considering that in December 2020 Statista reported that 33 percent of American households already bought plant-based milk. Here is a well-primed demographic for the KitKat V if Hershey's ever picks up on the idea.