Aldi Shoppers Are Loving This Keto Ice Cream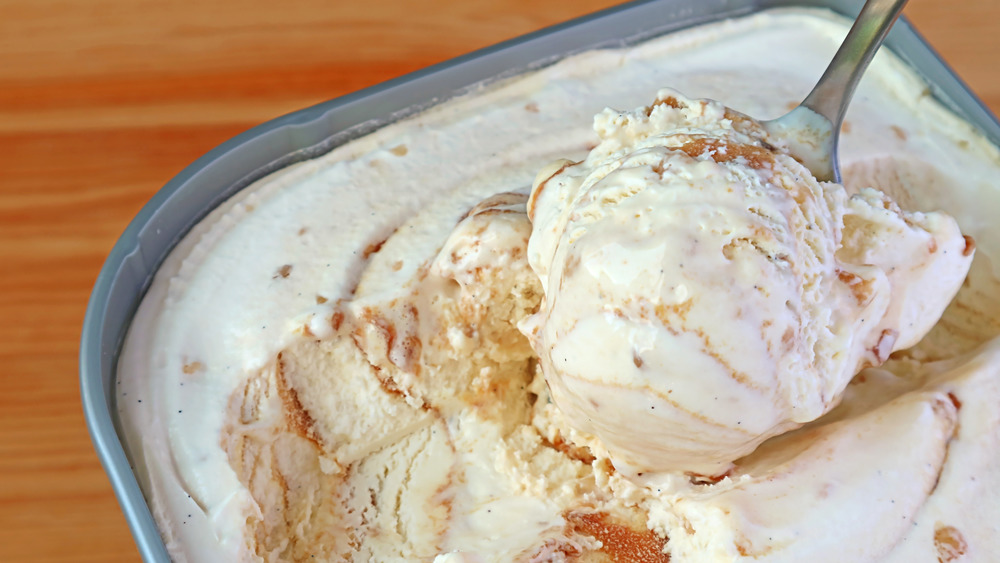 Shutterstock
If you're one of the many sticking to the new year, new you mantra, you'll quickly come to find that it's all fun and games at first — until that sweet tooth begins aching. Keeping track of calories can be a tough task when attempting to indulge in a tasty dessert, especially if you're one of the many who have taken up the famous keto diet. With limited options on store shelves, keto dieters might have slim pickings when it comes to getting a taste of keto-approved desserts — unless you're an Aldi shopper.
It seems this once seemingly complicated diet has steadily expanded into a million dollar market category and things are only getting better as it's still steadily growing and predicted to reach $17.8 billion by 2026, according to GlobeNewswire. This means widely available products, more options, and better quality! Luckily, if you're an Aldi shopper, you don't have to wait for 2026 to for keto-friendly foods to be more widely accessible. Just take a stroll through the grocery chain's freezer aisle and you'll see what we're talking about.
It's always a good time for ice cream
For Aldi shoppers looking to embark on their own keto journey, or if you've already become well acquainted with the diet over the years, look no further than Aldi's Keto Ice Cream. Instagram user @aldifavoritefinds shared with followers that you can grab these ice creams for $3.99 a pint, helping you forget all about calorie counting and allowing you to simply sit back and enjoy the taste of brownie batter, which only has five grams of net carbs per serving! But just in case chocolate isn't your go-to, worry not as Aldi has got you covered. Additional flavors also include Salted Caramel and Butter Pecan.
"I bought the salted caramel and Butter Pecan today and tried the Butter Pecan....AMAZING," @aldifavoritefinds wrote in their caption, further convincing the many drooling emoji commenters to get a pint of their own. With 3,000 stores in 36 states across the country (via Aldi), you might be able to score one of these delicious pints if they're not all already sold out. We wouldn't be surprised if they were!