Aldi Shoppers Are Loving These Dill Pickle Pork Skins
Pork rinds have a strange origin. According to the Winston-Salem Monthly, these snacks may have originated in Spain in the 1700s when a farmer noticed that his pigs had rubbed against trees, scratching off dead skin. The dead skin cooked in the sun and the farmer curiously tasted the sun-fried pork flakes. He loved the flavor, and the iconic pork rind entered existence. Fast forward a few centuries, and this snack now comes in a much more appealing format than the Spanish original. Thanks to Aldi, we can now enjoy a hot new way to eat pork skins that can almost make you forget the somewhat disturbing ancestry of the snack.
Instagrammer @aldi.mademedoit recently discovered that Turkey Creek Snacks' Dill Pickle Chicharrones have made an appearance at Aldi. The post features a picture of the new snack, alongside the caption "So we all know I like to try the weird things and anything dill pickle so yes I 100% [grabbed] these to try! Who else grabbed some?! How were they?!" Fans of the snack agreed with the sentiment and jumped onboard to rain praise on the chicharrones. One person wrote, "I bought and ate that entire bag today. Freaking delish" and another mentioned, "I loved them!!!!! My fiancé said they were too salty but i love salt."
An Aldi pork rind worth buying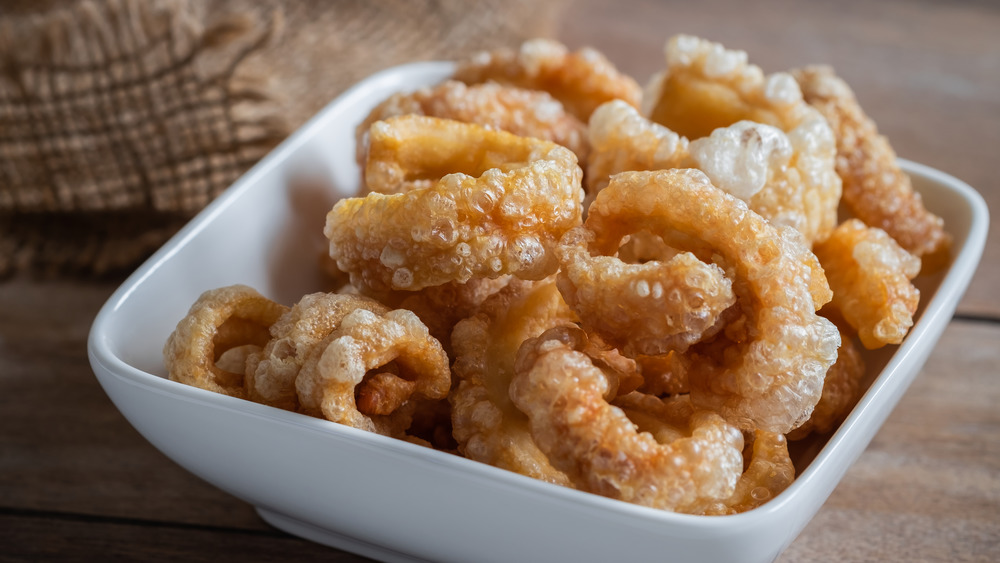 Shutterstock
If you love a good pork rind, Aldi has you covered, and fans on @aldi.mademedoit's post certainly back this munchie as a worthy purchase. The dill pork skins go for $1.49 per four-ounce bag, making them an excellent deal when a craving strikes (via Aldi). If you want some variety, the store also carries a chili lime flavor pork rind at the same price, giving you an even wider selection of crispy pork snacks to choose from. Make sure to grab a bag while you can — these chicharrones have a limited quantity and once they fly off the shelves, who knows when they will return.
Don't let this deal pass you by. With so much buzz around this product, getting to taste this snack for yourself might change your whole outlook on fried pork skin as a snack. After one bite, you might even forget the unsettling alleged origin tale.