The Surprising Source Of Tim Hortons' Coffee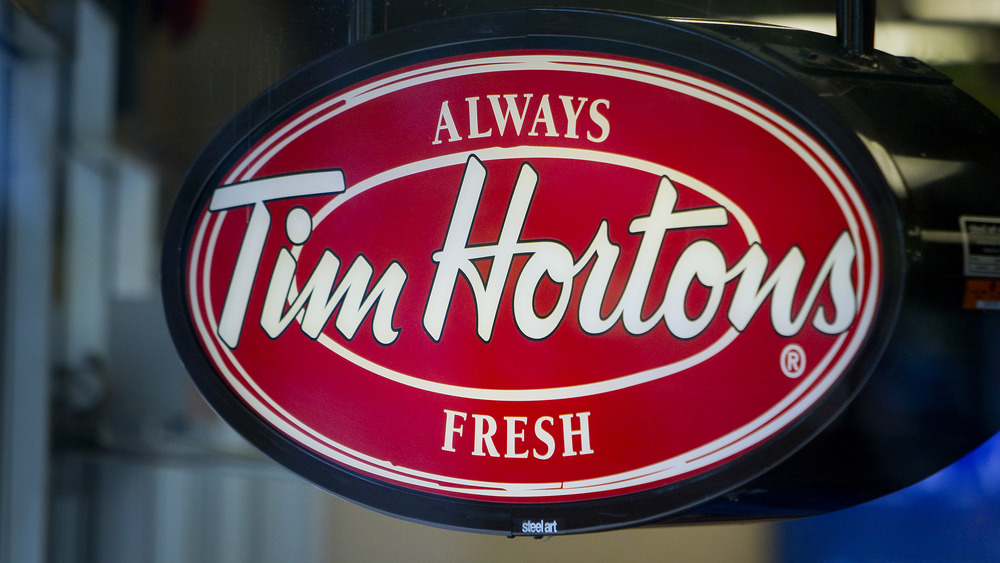 Bloomberg/Getty Images
Tim Hortons is about as Canadian as Mounties and maple syrup. The coffee chain is so popular that it even changed the Canadian Oxford Dictionary in 2004, with the inclusion of the word "double-double." The term, which was among 5,000 new words added to the dictionary that year, refers to a classic Tim Hortons order that means a coffee with two creams and two sugars, per CBC.
So it may come as a shock for some to learn that some of the bulk of Canada's most famous coffee comes from right here in the United States. The processing plant that supplies much of Tim Hortons' popular beans is actually located in Rochester, New York. The plant has shipped about 20 to 30 million pounds of coffee to Tim Hortons' locations around North America every year since it was purchased by the company in 2001, according to the Democrat and Chronicle, sending beans to all locations in the U.S. and many in Canada. The remaining Canadian locations are serviced by a sister plant located in Hamilton, Ontario, per Tim Hortons.
Tim Hortons coffee is subjected to strict quality control tests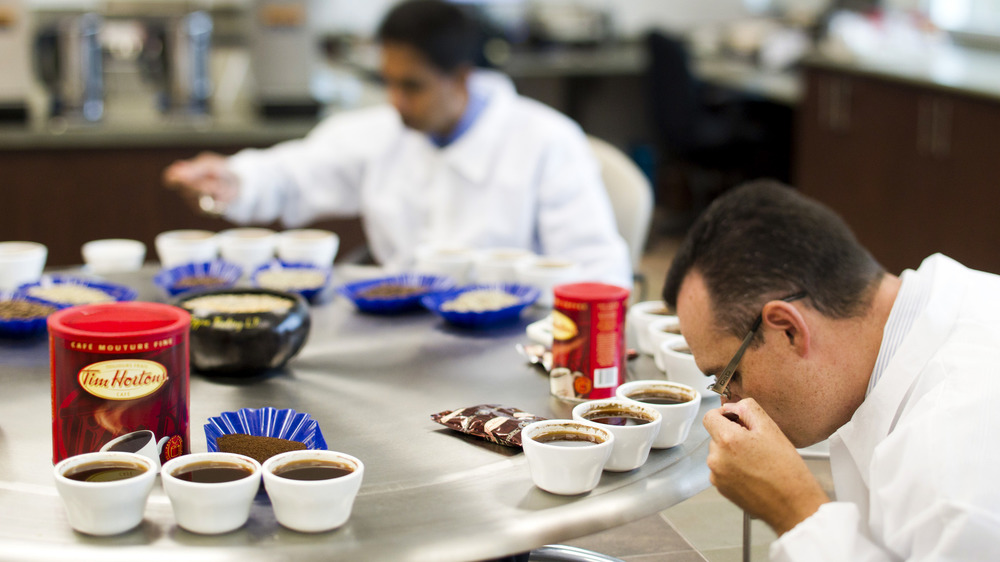 Bloomberg/Getty Images
According to the Democrat and Chronicle, just 37 employees work at the 40,000-square-foot Rochester plant, "roasting, grinding and packaging beans that ship all over the country," according to Garrett Dobesh, the plant manager. "We source the same type of bean, but it's the way we roast it, the way we pack it, and the way that we make sure that you can have a cup of coffee here in Rochester and still have the same cup of coffee in Canada," Dobesh said.
Each cup is dutifully taste-tasted by plant employees to ensure it meets Tim Hortons' strict quality control standards for taste, color, size, and freshness. Using a process called "cupping," employees sample spoonfuls from multiple cups of coffee, checking that the smell, taste, and overall flavor profile are consistent across each beverage before the coffee leaves the plant.
"We want to be able to have a product that meets everybody's expectations. Now anyone can come and get whatever they want from us, and they don't have to go to the competition," Chris Kennedy, vice president of operations at the Ninety Rock franchise, explained to Democrat and Chronicle.