Aldi's Keto-Friendly Roasted Veggie Pizza Has Shoppers Divided
When you have had a long day and the thought of cooking dinner makes you want to hide under your bed covers, nothing comes to the rescue like a frozen pizza that you can simply pop in the oven and eat stress-free. This classic item has won its way into our hearts, with Americans consuming over a billion slices of frozen pizza each year (via Wonderopolis). But if you need to stick to a diet, enjoying a frozen pizza can prove a bit more tough. If you pursue a ketogenic diet, you need to avoid eating too many carbs in order to keep your body in a state of ketosis, meaning most pizzas can't find their way to your dinner table (via Healthline). Luckily, Aldi now has a pizza solution perfect for keto diets, but not everyone has warmed up to it just yet.
According to Instagrammer @theamazingaldi, Aldi now carries a pizza with a keto-friendly crust for $6.99, and a ton of followers love the new item. Positive replies have poured in, like, "I'm so glad to see Aldi jumping on the keto train" and "This one was so good... I hope @aldiusa continues this one!" Instagram users @aldi.mademedoit and @aldifavoritefinds independently discovered the same item, with some of their followers also loving the new pizza, replying with, "This is my kinda pizza!!!" and "I really liked the pizza! I thought it was good for low calorie/low carb." However, for every commenter that loved the pizza, another hated it.
This new Aldi pizza has split customers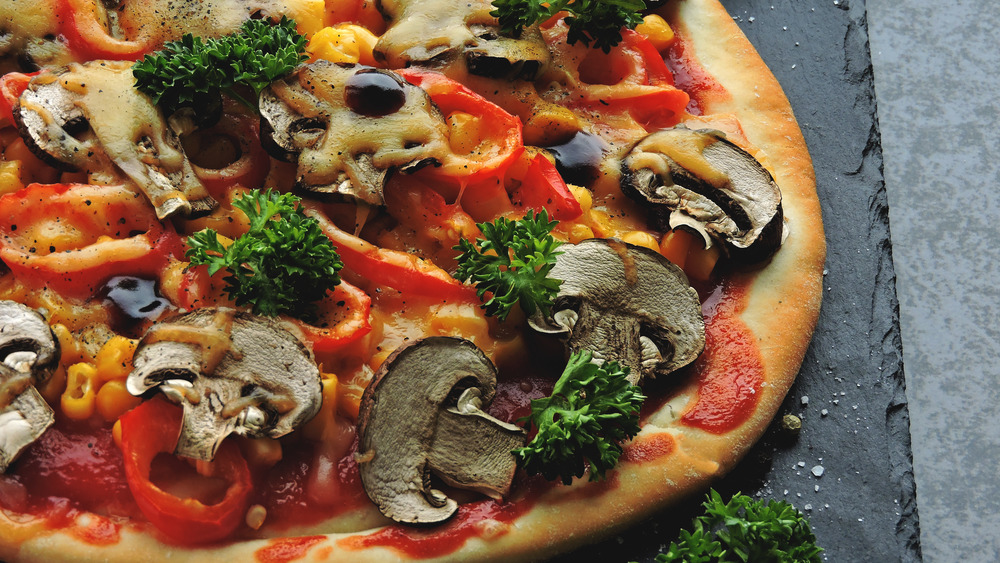 Shutterstock
Not everyone loves this diet-friendly pizza, and haters really made their voices heard. A comment on @theamazingaldi's post summed up the thoughts of detractors, "Aldi, it's my store and I love everything, but not this one item. Pricey and did not taste good." Others echoed this same sentiment, albeit in harsher words. One reply in @aldi.mademedoit's post read, "This was not good," while a reply on @aldifavoritefinds read, "That pizza tastes awful...the crust was too soft, like a wrap. Even put under broiler after baking!"
This new pizza has truly created a rift among Aldi shoppers. If you need to follow a keto diet and have missed the taste of pizza, this new time might just have your name on it. For those of us who can indulge in a few extra carbs, the jury's still out, but if you consider yourself an Aldi fanatic, take a chance on this new item and see which side of the debate you fall on. Even if you don't love it, it still beats cooking up a whole meal from scratch, and who can argue with that?