Aldi Shoppers Are Psyched For These Jumbo Breaded Shrimp
If you love seafood, you probably can't get enough of butterflied shrimp. The process of butterflying a shrimp makes these crustaceans so much easier to eat — by removing the tail, deveining, and splitting the shrimp open, you end up with a bite-sized morsel that can go in any recipe (via Deep South Dish). If you want to take these shrimp to the next level, you can bread them and bake them for an added crunch that compares to no other. If you love the taste of this all-time classic shellfish meal, but don't have the time to whip up perfectly-breaded butterfly shrimp, don't fret! Aldi has a new product that has your name on it and guarantees to satiate any shrimp craving. 
Instagram user @theamazingaldi recently posted a picture of Aldi's new Breaded Butterfly Shrimp and Coconut Breaded Butterfly Shrimp alongside the caption, "Well now I'm craving shrimp." The post, indicating a seven ounce box of shrimp sells at $3.99, has so far raked in over 850 likes and a bunch of positive replies. Followers can't wait to get their hands on these new products, chiming in with responses ranging from, "These are so freaking good. Wish they came in a giant bag. My daughter didn't eat shrimp before having these!" to "mmmmm...time for a trip to Aldi." If these new jumbo breaded butterfly shrimp have left your mouth watering, it's time to get a move on to grab a box for yourself.
The perfect jumbo shrimp for any seafood lover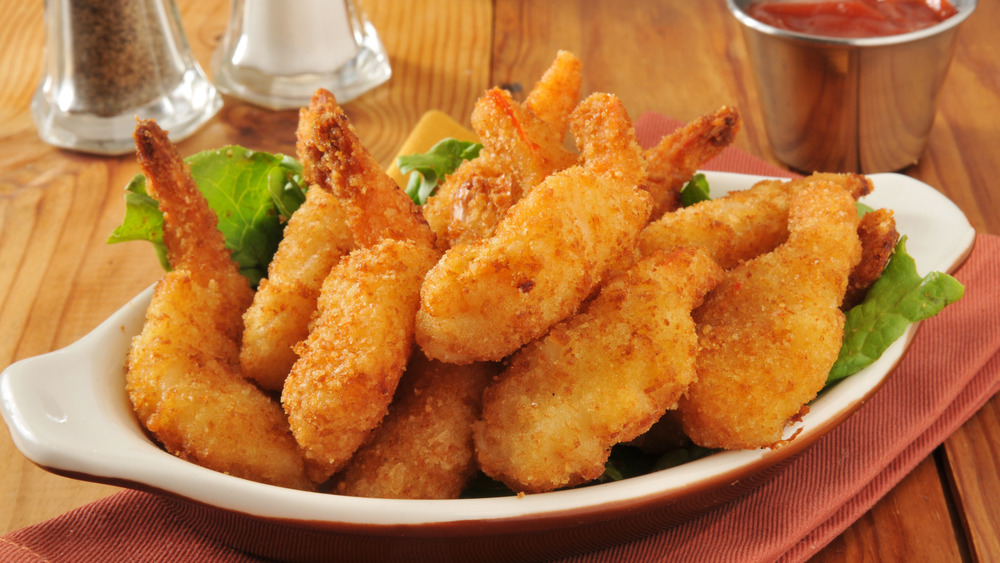 Shutterstock
If you can't wait to score a box of these butterflied shrimp for yourself, make sure to check your local Aldi next time you make a grocery run. The official Aldi website doesn't have the item listed, meaning you might have a tougher time finding it at any Aldi store. If you do find a box for yourself, count yourself as one of the lucky ones who get to experience this game-changing seafood treat. Otherwise, get ready to go on an expedition if you want to snag some of these shrimp for your dinner table.
If you love a solid breaded shrimp offering, but hate cooking this meal for yourself, Aldi has the answer you have been searching for. If you get lucky, your local store might carry this item, but for those of us who have trouble finding these shrimp, we just have to wait and see what happens next. Keep your eyes peeled for these shrimp next time you make a grocery run and with any luck, you too can come home with one of these exciting new shrimp meals.