Everything You Need To Know About Cold Stone's Lucky Charms Ice Cream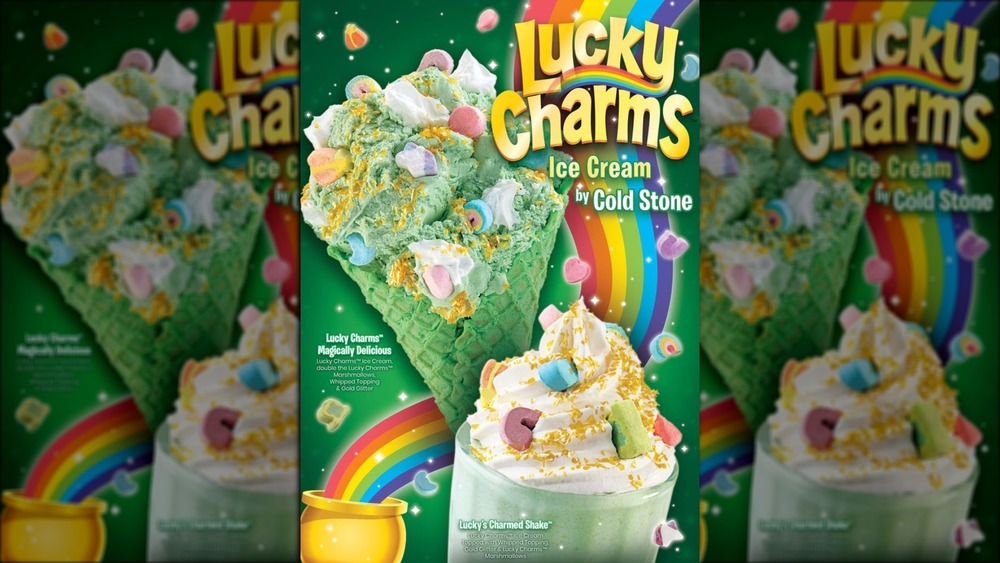 Cold Stone Creamery
Lucky Charms cereal, with its crunchy, frosted oats and sweet marshmallows in a delightful array of heart, star, horseshoe, unicorn, rainbow, balloon, clover and moon shapes, has long been a breakfast favorite for both kids and adults alike. Now, this magically delicious cereal wants to help you and your family celebrate St. Patrick's Day with their holiday-themed new products (via Best Products). For one of their exciting new releases, the company has just announced they will be teaming up with Cold Stone Creamery to release a playfully sweet new flavor.
The new Lucky Charms Magically Delicious ice cream will be made with green Lucky Charms-flavored ice cream, loaded with double the amount of Lucky Charms marshmallows, and finished with a whipped topping and a dusting of gold glitter, according to Best Products. A Lucky Charms Magically Delicious shake will also be available for purchase and will contain blended Lucky Charms ice cream that is also topped with whipped cream, gold glitter, and sprinkled with additional Lucky Charms marshmallows. The new ice cream flavor is scheduled to be released at participating Cold Stones nationwide on March 1st.
Lucky Charms will be releasing a series of additional St. Patrick's Day promotions
However, according to Chew Boom, some lucky Cold Stone locations already have the Lucky Charms Magically Delicious flavor in stock ahead of schedule, so keep an eye out at your local creamery to see if you can spot this special release.
The Cold Stone Creamery partnership joins Lucky Charms' additional St. Patrick's day promotions, including the release of a Lucky Charms' themed Candy Land game, a limited edition Lucky Charms cereal with special clover charms that turn the milk green, and a partnership with both JibJab and Crocs to release Charms-inspired Crocs Jibbitz charms and video eCards, according to Business Wire.
Lucky Charms senior brand experience manager, Mindy Murray, explained "for generations, Lucky Charms has been synonymous with wonderment and fun, and this year we're adding even more colorful magic for a special St. Patrick's Day. We're excited to bring many ways to celebrate at home with such great collaborators in Hasbro, Cold Stone Creamery, JibJab, and Crocs Jibbitz charms to help parents create magical memories with their children."