What Are Madeleines And How Do You Make Them?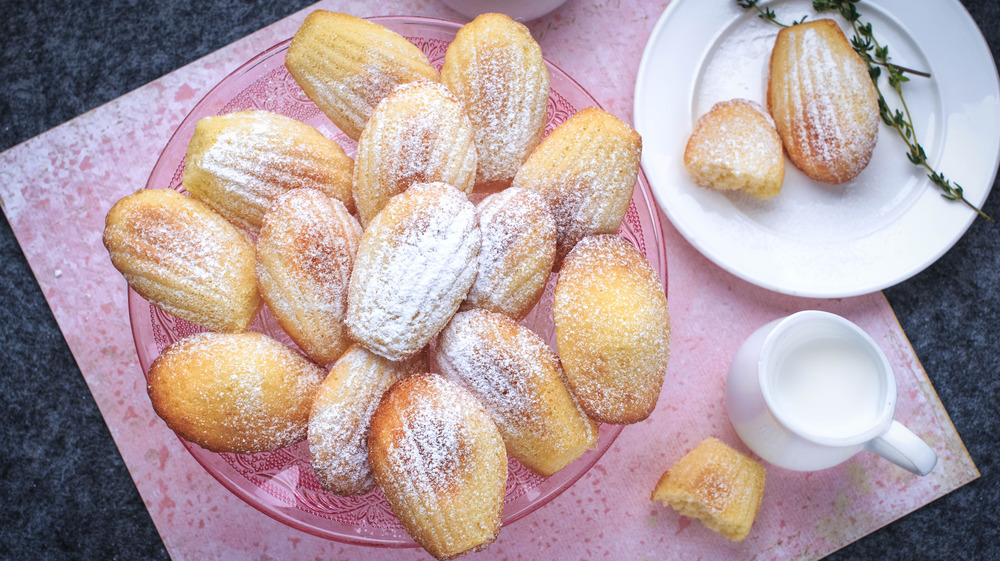 Shutterstock
Madeleines are arguably the most famous treats in literature (via The Guardian) and the subject of one of The Great British Baking Show's cheekiest episodes (via The Sun), but what exactly are they, and how can you experience their delight in your own kitchen?
According to The Kitchn, madeleines are mini cakes made with flour, sugar, eggs, and butter. Perfect ones are crisped on the outside, soft and spongy on the inside. Basic in ingredients, madeleines lend themselves well to flavors like chocolate, rose, orange, vanilla, and lemon, though plain is just as popular.
You might recognize madeleines by their shell shape and slightly puffed center — otherwise known as a "hump," which is what caused giggles when The Great British Baking Show contestants were tasked making them, reports The Sun. 
Culture Trip writes that some credit a pastry chef named Jean Avice with first baking madeleines in the 19th century, but others believe they are even older. Legend has it that, in the 18th century, a young girl named Madeleine was filling in as the pastry chef to the Duke of Lorraine in the French town of Commercy in Lorraine. However, her actual pastry knowledge was limited to her grandmother's recipe for these cakes. The madeleine became a hit and there are still many manufacturers in Commercy in Lorraine, Culture Trip says. 
In the 1920s, French writer Marcel Proust cemented madeleines' legacy, forever linking them to the idea of nostalgia when he described eating them in his autobiographical novel, In Search of Lost Time, according to The Guardian.
The trick to madeleines' shell shape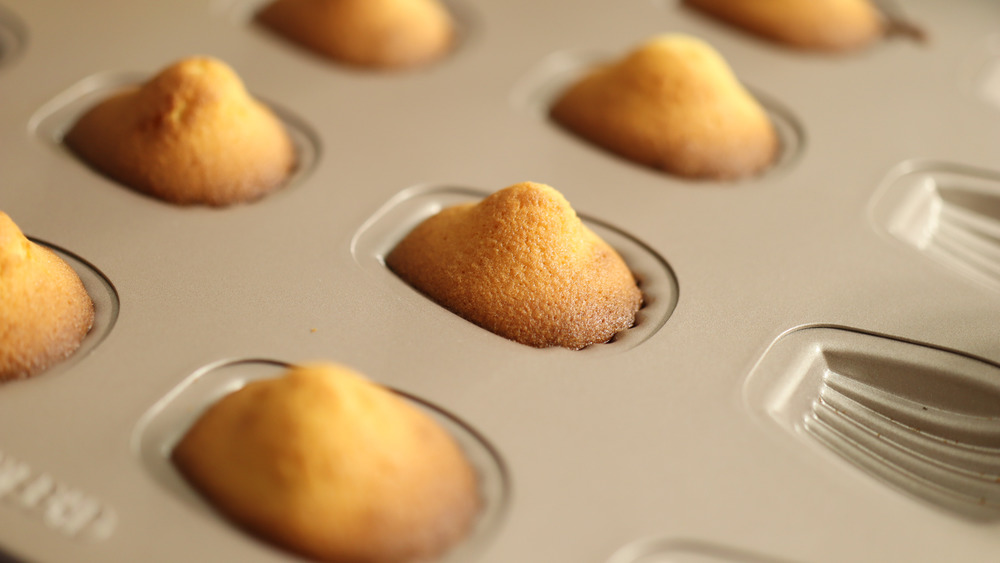 Shutterstock
According to Joy of Baking, the essential tool for mastering madeleines at home is a special shell-molded baking tray, made just for this traditional snack. You could also use small tart or muffin pans, but you'd lose that seaside-inspired signature finish.
For a classic madeleine, follow Joy of Baking's recipe. You'll need butter, flour, baking powder, salt, eggs, granulated white sugar, firmly packed light brown sugar, vanilla extract, and, optionally, freshly grated lemon zest.
One of the most important factors of the madeleine-baking process is first melting your butter and keeping it warm while you move on to the next steps. Once your batter is completely mixed, you'll want to refrigerate it for at least an hour or two, and overnight is actually ideal. Additionally, after you take your madeleines out of the oven, don't forget to give your pans a nice tap on the counter to help the little cakes release from their molds. 
Madeleines will last for a couple of days stored in an airtight container at room temperature, Joy of Baking says, or for a month if frozen. They are, of course, best enjoyed immediately. So, do as the French do. According to Madeleine & Co. Patisserie, these little cakes are great with your morning coffee, cocoa, or as part of your goûter, or the French version of afternoon tea.