Aldi Shoppers Are Obsessed With These Maple Leaf Cookies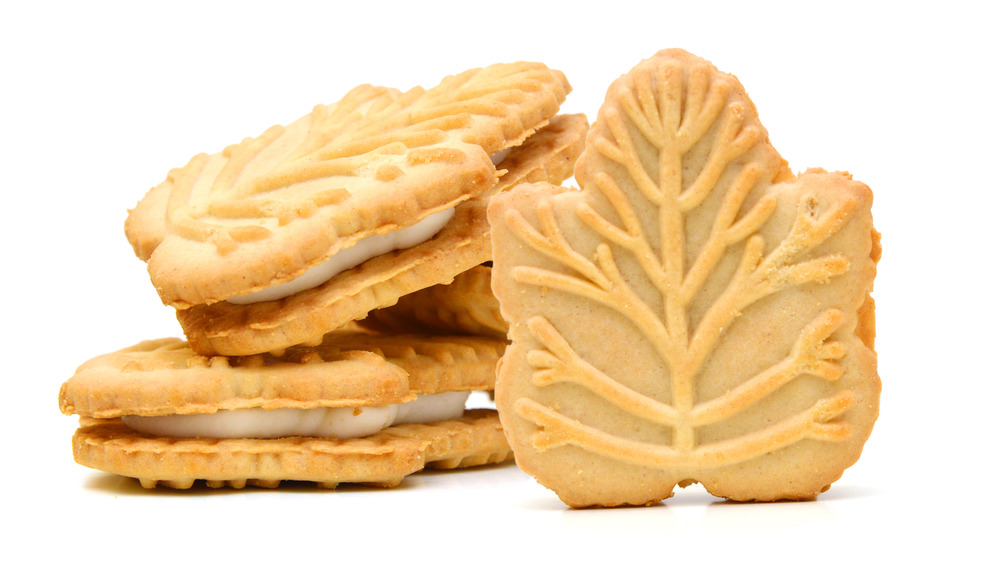 Shutterstock
When you want a quick snack that can satiate any craving, Aldi always has your back. If you haven't shopped at this beacon of savings, you don't know what you're missing out on — fan favorite items like Clancy's Cinnamon Churros, Deutsche Küche Peanut Puffs, or Specially Selected Dark Chocolate Sea Salt Caramels have won shoppers over thanks to their great taste and value (via Buzzfeed). Whether you already love grabbing treats from Aldi or want to expand your snack horizons, Aldi now has a great new snack that guarantees to get your mouth watering. 
Reddit user u/BlueTeaAndCherries discovered Benton's Maple Leaf Creme Cookies, a new maple cookie that begs to enter your snack rotation. The post, featuring a few pictures of this sweet treat, has so far garnered over 250 likes and attracted comments like, "I love these cookies so much. And I carry them with me wherever I go..." and "Finished the box in about three days! Sooo good!" According to Benton's, these Maple Leaf cookies are made with real maple syrup and pair perfectly with a morning coffee. With a cookie this good, we have to move fast while we can and snatch up a few boxes before the chain cans the treats.
An Aldi cookie perfect for seasonal snacking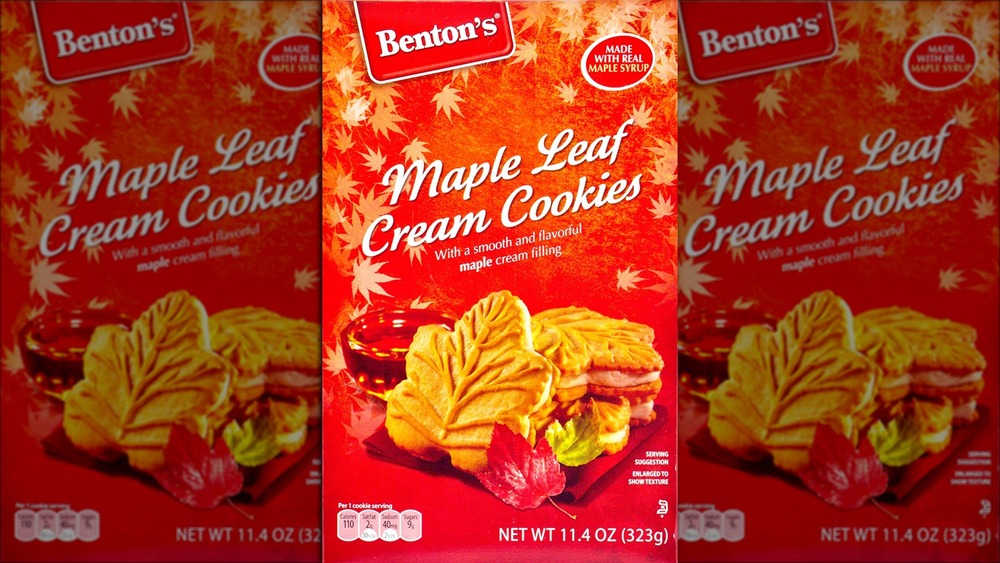 Benton's
If you can't wait to get your hands on this baked treat, make sure to try them soon. In the same Reddit post, another user chimed in with the advice "Load up! They're a winter seasonal so they could be discontinued at any time." Others have jumped in, confirming this fear — "My store is not [carrying] them any longer. Which is a good thing and a bad thing. I can't tell you how many boxes I bought this winter." According to Aldi Reviewer, who snagged a box of the Maple Leaf Creme Cookies last fall, an 11.4-ounce box was for sale at Aldi for $1.99.
With boxes already starting to disappear, you don't want to get left behind on this excellent deal. Make sure to check if your local Aldi still has a few boxes left in stock and grab a few while you can. After all, it might be a year or more until we see this crowd-pleasing cookie again and you don't want to forget the great maple taste that these treats serve up!