Giada De Laurentiis' Easy Trick For Creamy Citrus Pesto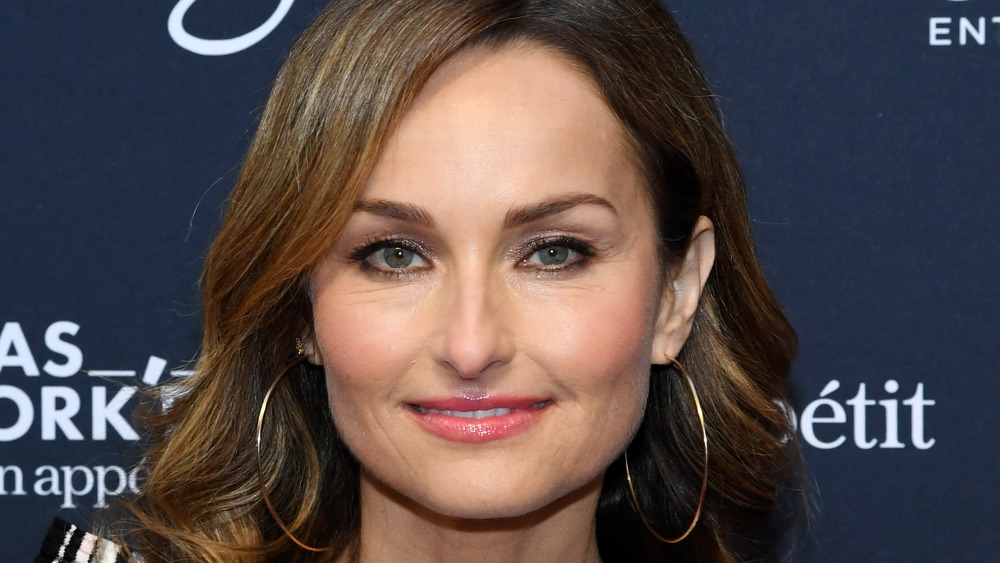 Ethan Miller/Getty Images
We know what you'll be having for dinner this weekend. Giada De Laurentiis' citrus pesto (via Giadzy). First, because when Giada De Laurentiis says "jump," we ask "how high?" Second, because unlike Mario Batali who insists on using a mortar and pestle to mash his pesto, Giada De Laurentiis lets us off easy with a food processor (via Vice). And finally, because if you make a batch of it, you can use it for pasta, for pizza, for seafood, for chicken, for salads, and for seriously impressing your followers on The Gram.
It doesn't hurt that De Laurentiis' pesto recipe takes all of 10 minutes to cook up, which means that it's (and we didn't think this was humanely possible) even easier than Rachael Ray's 15-minute nachos. To make Giada De Laurentiis' citrus pesto this weekend, you'll need to stock up on basil, slivered almonds, garlic, lemon, orange, olive oil, and Parmesan.
The trick to the perfect, creamy pesto, according to Giada De Laurentiis
"When I make a classic pesto, I'll often add a squeeze of lemon to brighten it up — and that's essentially what this version of pesto is all about!" De Laurentiis explains in her recipe description. We're all about "bright food," but the real key to her recipe isn't its ingredients. If you already have a tried-and-true pesto recipe, go ahead and use that. We won't forgive you if you don't follow De Laurentiis' infallible pesto-making technique. Principally: don't add the olive oil into your pesto until your food processor is already running. Then, go ahead and add it "gradually," so you can control the pesto's consistency and texture. 
Parmesan will be the last thing to add to your pesto, and you need to stir it in, according to De Laurentiis. In order to ensure your cheese isn't melted in the processor, "always pulse in the Parmesan or other cheese at the end or stir it in by hand," De Laurentiis advises (via NBCNews.)
Also, and this is an absolute life-saver, if you're planning on eating your pesto with pasta, you're not done yet. "Reserve some pasta water to toss with the pesto," De Laurentiis suggests, "this will ensure a creamy, smooth sauce." Bon appétit!