The Truth About Florida Georgia Line And Jason Aldean's Whiskey Collaboration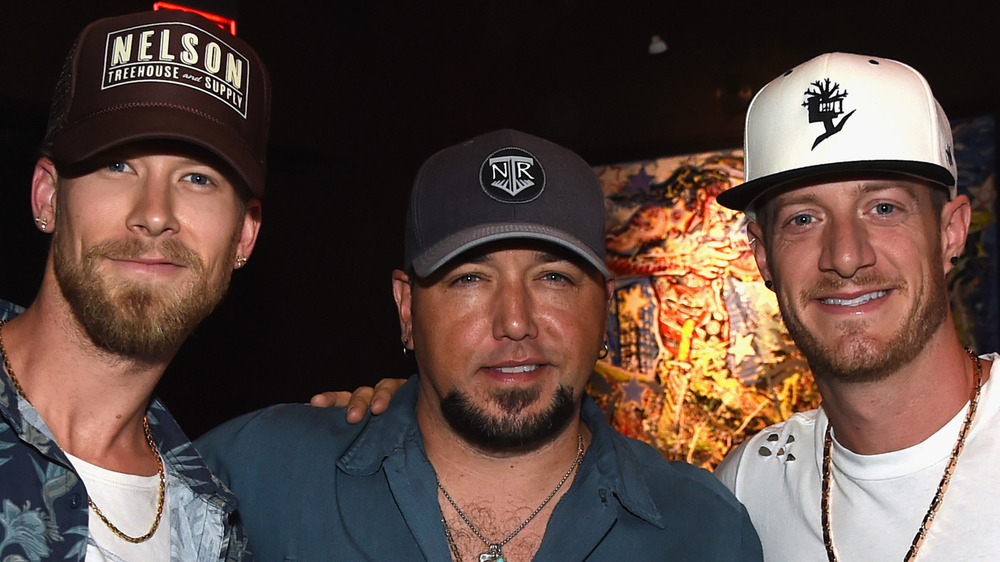 Rick Diamond/Getty Images
There's big news circulating in the country music world; in particular, for fans of Jason Aldean and Florida Georgia Line's Tyler Hubbard and Brian Kelley. And no, we aren't talking about a new song (although we wouldn't be against that!). The men of country music have partnered together to release what we think may be your new favorite happy hour liquor: Wolf Moon Bourbon, which launched on Feb. 7 last year.
According to the official Wolf Moon Bourbon website, the whiskey "is a tribute to all the incredible memories they've made throughout the years and a celebration of all the new ones still yet to come." Bourbon drinkers can expect to taste subtle hints of caramel, honey, sweet corn, and candied fruit (via Delish). In an exclusive interview with People magazine, Aldean, who's been on the country music scene for more than 15 years, explained the 80-proof four-aged bourbon has "a little bit of a sweet taste," and is "smooth and a little smoky too."
For Bourbon enthusiasts Hubbard and Kelley, this seemed the logical next step as the singing duo has already dabbled in the whiskey industry with their own line, Old Camp Whiskey, back in 2016. "We love celebrating life and catching up with friends while sipping on something smooth, so we felt a bourbon would be the perfect addition to our Old Camp Whiskey family," Kelley revealed to PopCulture.com. While Wolf Moon Bourbon has been available for just over a year, the "pack" — Aldean's nickname for them — has known each other for over six years.
Jason Aldean and Florida Georgia Line were friends before business partners
The post-show drink is one of Jason Aldean's favorite parts of the night, he recalls to People, "It's our time to get to relax and unwind a little bit and hang out with your friends and have a drink." That drink being a glass of whiskey, of course. Florida Georgia Line joined the nightcap tradition back in 2014 while on tour with Aldean. It was there that the trio became immediate friends.
Over the course of their friendship, the country music artists have collaborated on several projects, from vocals to co-writing sessions, including Aldean's hit "You Make it Easy" and FGL's 2019 song "Can't Hide Red" (via Nashville.com)."We've made so many memories over a glass of whiskey, and knew that we wanted to create something special together," Hubbard and Kelley told People. While they're anxious to get back on the road and see their fans, they're happy to be sharing Wolf Moon Bourbon — a spirit "born out of brotherhood" — with their little pack in Nashville.