Aldi Shoppers Can't Get Enough Of These Frozen Lasagna Rolls
Lasagna has a long history of delighting fans with each delicious bite. But did you know it was actually invented hundreds of years ago? According to Mi'talia Kitchen, lasagna was first created in Italy during the Middle Ages and featured just layers of pasta, but no tomatoes. The more modern version that contains tomato sauce, didn't show up until the 1880's. Thankfully for us, this delicious treat has become even easier to enjoy with products like Aldi's new frozen lasagna rolls, per the Aldi Reviewer. 
The hearty stuffed shells are loaded with satisfying ingredients and include just about everything you need for a filling, satisfying meal — just add your favorite sauce, heat in the microwave, and enjoy. Aldi's lasagna rolls are available in both cheese and chicken spinach artichoke flavors. The cheese variety is stuffed with a blend of ricotta, Parmesan, and Romano cheeses, and each roll has 160 calories.
Aldi shoppers raved about the lasagna rolls on social media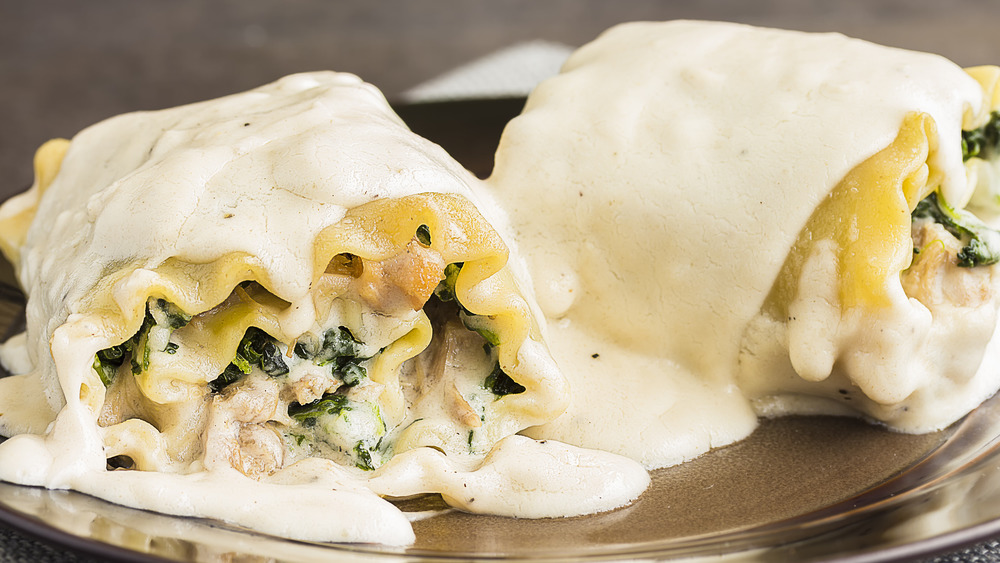 Shutterstock
Aldi shoppers took to social media to sing the praises of these easy and delicious frozen dinners. Instagram user @theamazingaldi asked their followers, "It's Italian week at Aldi! What are you getting?" It seems no matter which variety they purchased, Aldi shoppers had only good things to say about these lasagna rolls. One follower replied, "Had the cheese lasagna on Sunday. So good." Another Instagram user commented, "The chicken spinach lasagne rolls are delicious!"
A different social media user added, "We had the cheese lasagna roll ups this week. My family loved them! They come in a 12 pack, but you can make as few as you want. Great for unplanned or a quick meal!" According to the back of the box, these lasagna rolls can be ready to eat after just 10 minutes in the microwave, so they are the perfect meal to keep stocked in the freezer for weeks when you just don't have enough time to cook (via Aldi Reviewer). They can be found in Aldi's freezer section for just $5.99 per box.