Here Is What's Actually In Freddy's Fry Seasoning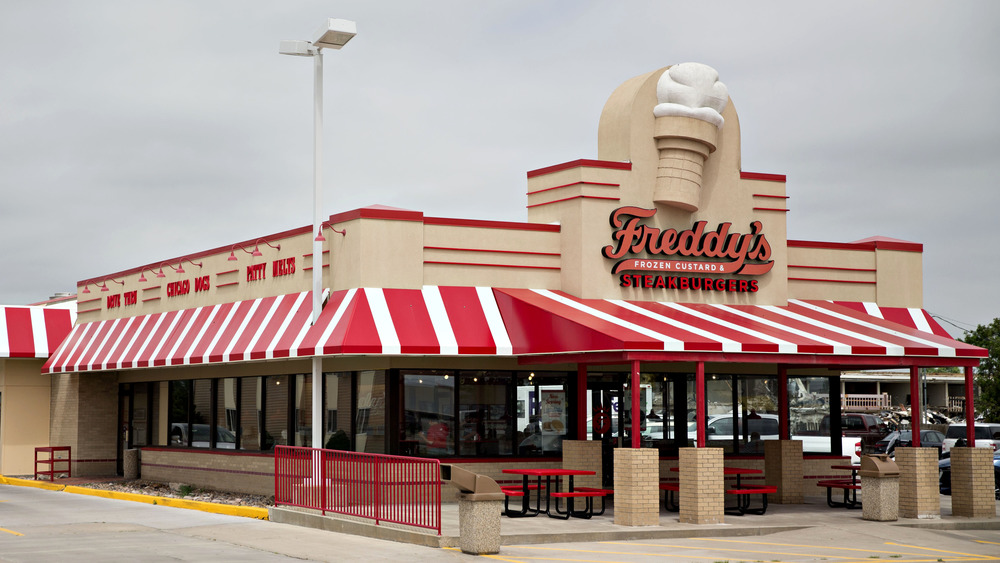 Bloomberg/Getty Images
We may receive a commission on purchases made from links.
If you're one of the lucky people who live near a Freddy's Frozen Custard & Steakburgers location, you have most likely found yourself craving one of their mouthwatering burgers topped with Freddy's sauce more often than not. For those that may not be familiar with the long-standing restaurant, according to the official Freddy's franchising site — Freddy's Franchising — the chain is named after World War II veteran Freddy Simon and began operating in 2002. Freddy, however, wasn't the one who founded the restaurant; it was actually a joint decision between his two sons, Bill and Randy Simon, and their friend, Scott Redler. 
Basing the fast-casual concept on a "simple menu honoring the All-American meals Freddy made for his family," the late 1940s-inspired chain has become hugely popular throughout the nation. And, according to Forbes, as of 2018, the brand had expanded to over 282 locations total. While their burgers can definitely be seen as the showstoppers of the chain, real fans know that the star of the show happens to be the shoestring fries topped with their famous fry seasoning. But what makes that seasoning so dang good, you ask? You'd be surprised to know that the ingredients are pretty simple.
But what's in that fry seasoning?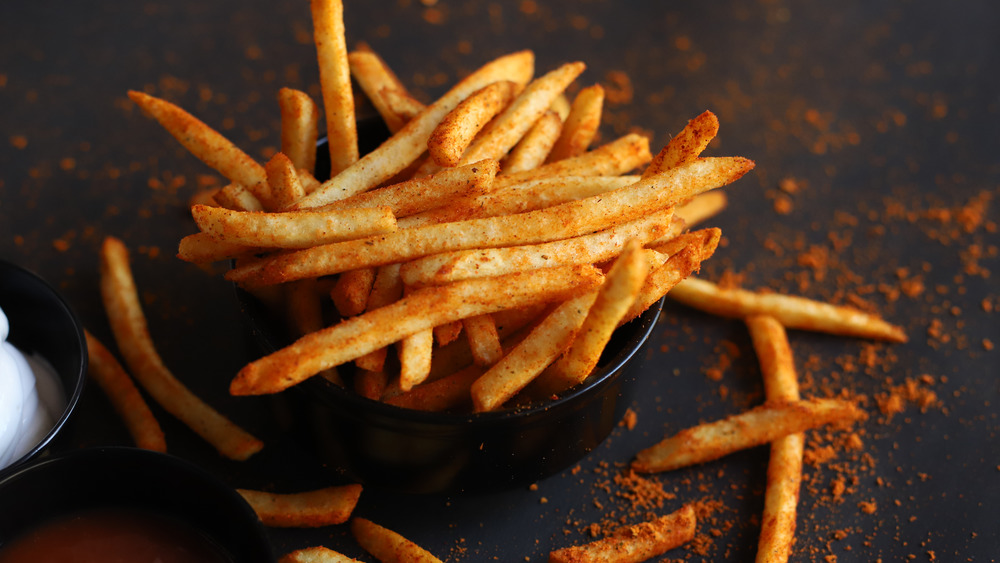 Shutterstock
Though most restaurants usually keep their in-house recipes on the hush, Freddy's began selling their seasoning to customers both in-restaurant and online. Found on Amazon, the seasoning— which is sold in 8.5-ounce containers — includes a list of ingredients that you most likely have in your own kitchen: salt, dehydrated garlic and onion, spices, sugar, paprika, and turmeric. The ingredient list also lists there being "extractives of paprika" for color and "natural flavor," which can be a number of additives. While there's no clear indication of what "spices" they used to create the seasoning, you can always pick up a few different ones at your local market to create your own version of the infamous topping if you felt like trying your hand at it.
Although the official Freddy's site, Freddy's USA, lists their regular-sized fries that are topped with the seasoning as consisting of 440 calories, sometimes, it's good to treat your tastebuds to something they're deserving of. And the Freddy's Steakhouse Famous Steakburger and Fry Seasoning is just that.