Arby's Has Good News For Shovel Knight Fans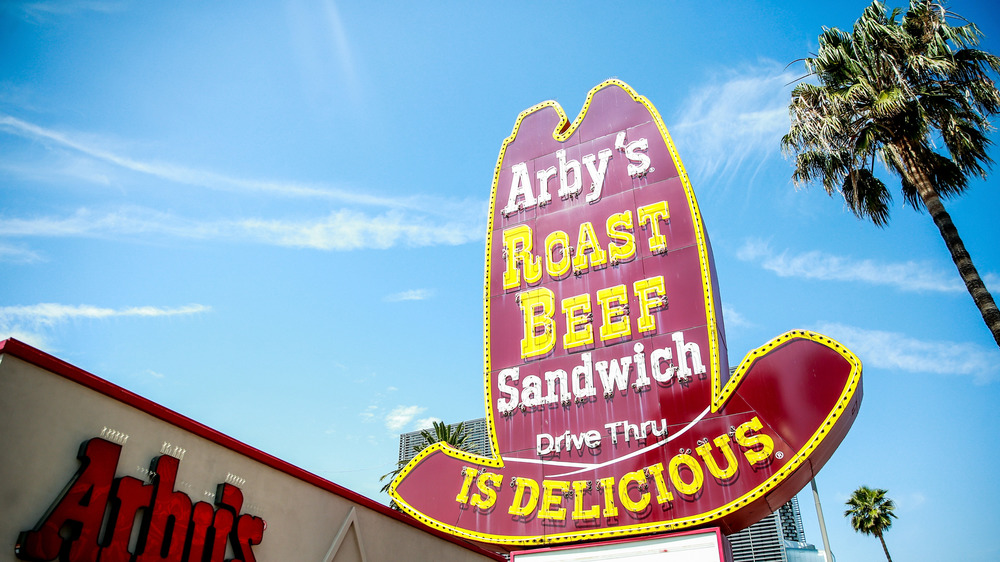 Rich Fury/Getty Images
When Shovel Knight: Treasure Trove arrived, fans of the franchise couldn't wait to get their hands on a copy. The game packaged together the original Shovel Knight, a challenging side-scrolling adventure-action game created in a vintage 8-bit style, with a bunch of expansions, introducing new playable characters and unlockable items (via Nintendo). This indie game continued to grow in popularity, snowballing into a phenomenon that grew large enough to make it into AAA games, like the latest Super Smash Bros. Ultimate (via Inverse). While you might never pair Shovel Knight and Arby's together in your imagination, the two brands have teamed up in an exciting new way that guarantees to get fans coming into the restaurant.
According to Gamespot, fans of Shovel Knight can now pick up kids' meals that come with one of seven themed "launcher tokens" for the game. These tokens come with their own DLC codes that unlock Arby's-themed content that gamers can enter either on the Switch or on Steam. This promotion runs until May 31st, and the tokens work best when you own Treasure Trove, as certain tokens rely on the in-game expansions to function.
A Shovel Knight token for every fan
The tokens unlock codes that create some very surreal in-game effects that no collector wants to get left out on. Tokens like The King Knight Launcher Token replaces King Knight's crown with the Arby's cowboy hat in King of Cards, while the Black Knight Launcher Token allows an Arby's sandwich fairy with cheese wings to follow you through the story in all game modes (via Nintendo Life). With seven tokens that revamp your playthrough to reflect your love of Arby's, any serious collector or completionist will want to hit up their Arby's now to start amassing these game-changing codes.
In order to use the codes, make sure to update your game to the latest version, and create a new save file, or else these tokens won't take effect (via Comic Book). While Arby's has released Sonic the Hedgehog toys before, this video game tie-in comes as one of the strongest that either brand has ever seen. Make sure to act fast and grab as many tokens as you can while the promotion lasts — you don't want to miss this exclusive content that guarantees to make your next playthrough much more fun and hunger-inducing!