Everything You Need To Know About Luke Bryan's Line Of Hard Seltzers
Country singer Luke Bryan is taking his love of the south to a larger audience with his new launch of Two Lane Hard Seltzer. The Born Here, Live Here, Die Here singer recently announced both the launch of his new hard seltzer line as well as the relaunch of his lager beers with the same company, Constellation Brands (via Delish). All of these products have roots in Bryan's southern heritage, which is where distribution will begin, too. Distribution is set to begin in Tennessee, Alabama, Georgia, Florida, North Carolina, South Carolina, and Virginia, and then expand to additional states. Every can is brewed in Daleville, Virgina, and the water used comes from the Blue Ridge Mountains (via Williamson Source).
But more about the beverages.
First came the beer, then the pandemic. Production was paused in early 2020, but Bryan said at the time, "For a long time, I've dreamed of creating a beer to enjoy no matter if you are hanging out at one of my shows or at home with friends and family, and [I] was so grateful to find a partner in Constellation to make that dream a reality," (via PR Newswire). Each beer contains 4.2 percent ABV, 99 calories and three grams of carbohydrates per 12-ounce can. The American Golden Lager was initially supposed to be part of Bryan's Proud To Be Right Here summer tour of 2020, but we're still glad to test it out now.
Peach tea without the porch swing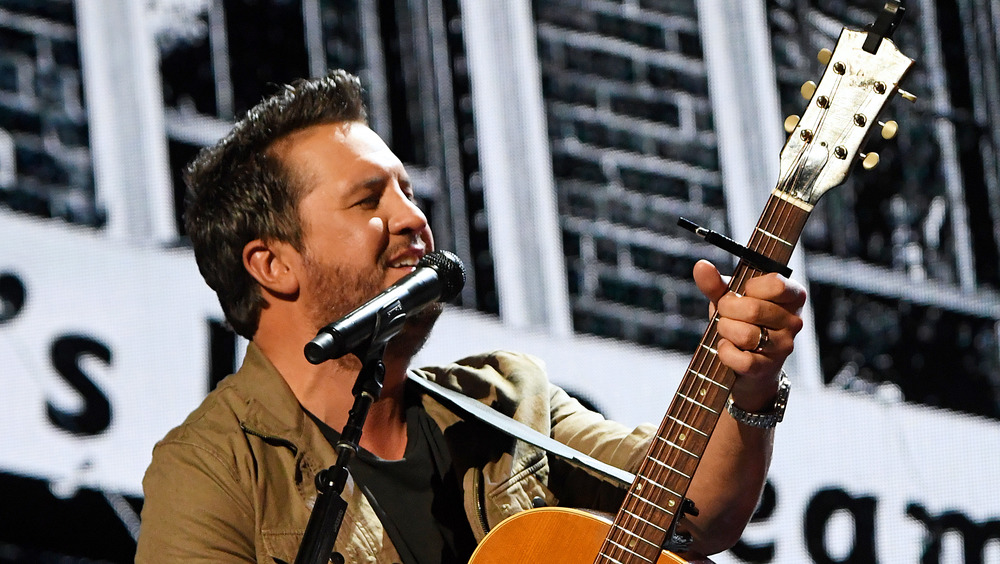 Kevin Mazur/Getty Images
Bryan's beer was relaunched in 2021 with the hard seltzer line that consists of four extra-summery flavors. Drinkers can choose from Peach Tea, Cherry Limeade, Blueberry Lemonade, and Watermelon Punch. "I'm very excited that Two Lane is back on shelves, and I can't wait for people to get their first sips of Two Lane Hard Seltzer," Bryan shared. Additionally, like most standard hard or spiked seltzers, these cans are gluten-free. Each can boasts only three grams of cane sugar and 110 calories in the 12-ounce cans. The Cherry Limeade flavor is also available in 16 ounce can servings. 
Two Lane themselves describe these seltzers as tasting exactly as you'd expect on the can: sweet and refreshing, sweet and tart, and sweet and tangy (via Two Lane). If you're unable to decide, don't worry — they sell a variety 12-pack with all the flavors. Whether choosing the beer of the seltzer, you can expect a 12-pack (of the 12-ounce) to start at a suggested retail price of $15.99. And if we're really lucky, and the pandemic cooperates, Bryan fans will be able to enjoy these drinks with his live accompaniment at the Bonnaroo Music & Arts Festival in Manchester, Tennessee (Sept. 2 through 5, 2021), and Rock the Ocean's Tortuga Music Festival in Fort Lauderdale, Florida (Nov. 12 through 14, 2021).
Fingers crossed — and the rest of us non-southerners will just have to wait a little longer.