Costco Shoppers Are Obsessed With This Frozen Detroit-Style Pizza
Frozen pizza can definitely be hit or miss. While there are some good options, many frozen varieties fall flat when compared to a fresh-baked pizza that is delivered piping hot to your door. However, Costco's new Motor City Pizza Co.'s Detroit-style double pepperoni deep dish pizza is changing many people's perception of what frozen pizza can be. This pie tastes so good, many Costco shoppers have a hard time believing it's frozen. 
Detroit-style pizza differs from its New York or Chicago counterparts with its rectangular shape, thick, caramelized crust, light airy dough, and generous portions of gooey Wisconsin brick cheese, per Eater. Fans of this style of pizza love it for its rich tomato sauce, hearty toppings, and crispy, cheesy crust. And for Costco shoppers, Motor City Pizza Co.'s Detroit-style pie hit all the right notes. Costco shopper u/ephwalk was such a fan of the product that they took to social media to post about the delicious new find. "Don't even try folding this one. Good stuff," they wrote at Reddit.
Reddit users recommend stocking up on this hearty pizza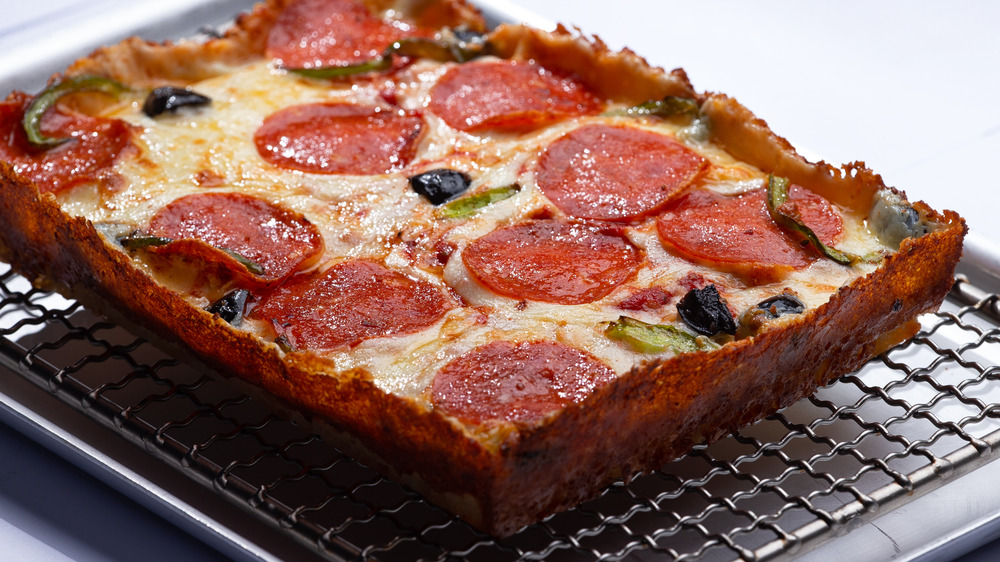 Shutterstock
Their post was immediately hit with responses echoing their praise of this deep-dish delight. Reddit user u/Daybreak2001 raved: "This pizza is good. After you eat it, you can't believe it was a frozen pizza. I do not think another frozen pizza can beat this one. Always a few in the freezer." Another satisfied customer agreed: "Best frozen pizza you can buy. Nothing else comes even close. I'd say it's even better than most restaurants."
Some people suggested baking it for a little longer than the recommended 18-21 minutes (via Motor City Pizza Co) to give the crust a little extra crispiness. "I've learned to leave it in for at least 30 minutes to get it where I like it. I also take the pizza out of the pan and get all of the pepperonis back on top before baking. Delightful!" Reddit commenter u/Trackellalouise recommended.
This item is on sale at Costco now for a steal at just $11.49 for two of these hearty pies. So if you're a fan of Detroit-style pizza, it might be worth heading to your local Costco warehouse and stocking up on as many of these pies as you can fit in your freezer.