The Real Reason Guy Fieri Got Into Cooking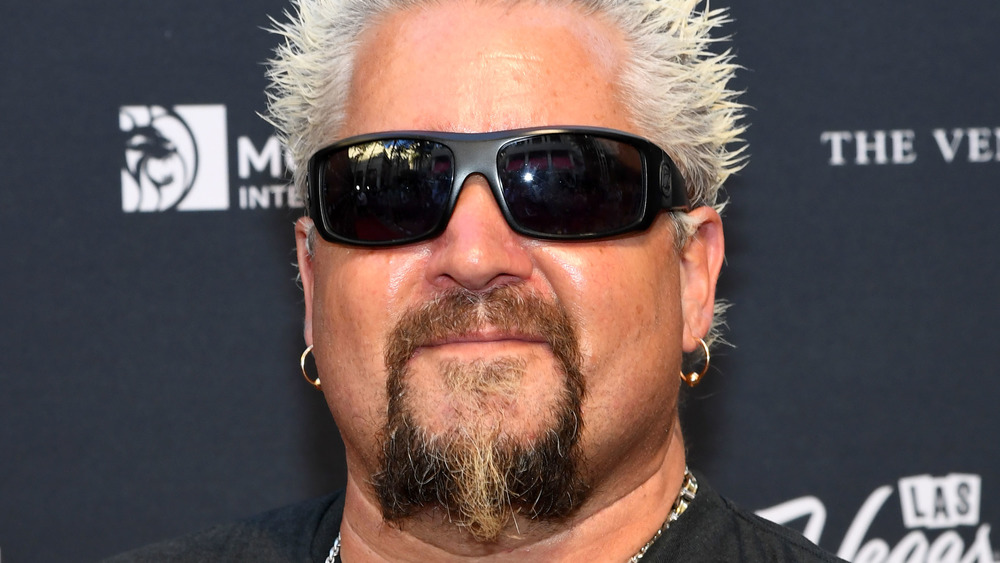 Ethan Miller/Getty Images
You know him as the mayor of Flavortown. The host of Guy's Grocery Games and Diners, Drive-ins and Dives. A big fan of all things tasty, chef and Food Network star Guy Fieri has made a name for himself as both a lover and maker of bold, bombastic dishes. But it wasn't always this way. At one point, there was a Guy Fieri who had never thought of Flavortown, much less lived its ethos.
Fieri recently went on Late Night With Seth Meyers to promote his new food delivery service Guy Fieri's Flavortown Kitchen, which serves up indulgent fare like "chicken Parm-eroni," which is chicken Parmesan and pepperoni pizza combined into one dish. He also explained how he started cooking such larger-than-life, not-exactly-healthy foods.
In the interview, Meyers mentioned that Fieri's parents leaned more towards health food when he was growing up, asking if his current cooking style started as a form of youthful rebellion. "One thousand percent," Fieri answers with a grin.
Guy Fieri's current diet may surprise you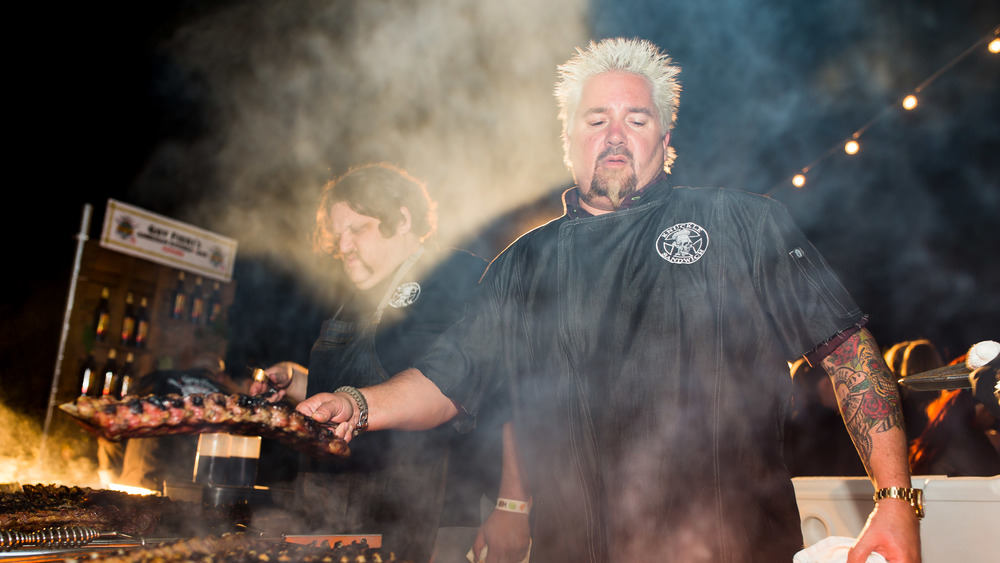 Dylan Rives/Getty Images
As Fieri explains on Late Night With Seth Meyers, his parents were "really good cooks," but they predominantly followed a macrobiotic diet. Inspired by the Japanese philosophy of yin and yang, macrobiotic diets prioritize organic, natural foods like whole grains, beans, fruits, and veggies (via BBC Good Food). Macrobiotic diets typically don't include any meat but fish — Fieri mentions growing up eating a lot of steamed fish paired with grains like bulgur.
However, Fieri found a loophole. He tells Meyers that his family let whoever cooked decide what to cook, so he decided to take on dinner at the ripe age of nine or 10. Weary of more steamed fish and spinach pasta, he explains he went straight to the butcher for some meat.
Though it's what he's known for, Fieri doesn't eat massive burgers and trash can nachos all the time. He tells Meyers that today as a 53-year-old, he personally eats a lot of vegetables and whole grains, just like he did as a child eating with his parents. History is destined to repeat itself, after all.