The Surprising Farm Animal Prince Harry And Meghan Markle Keep As A Pet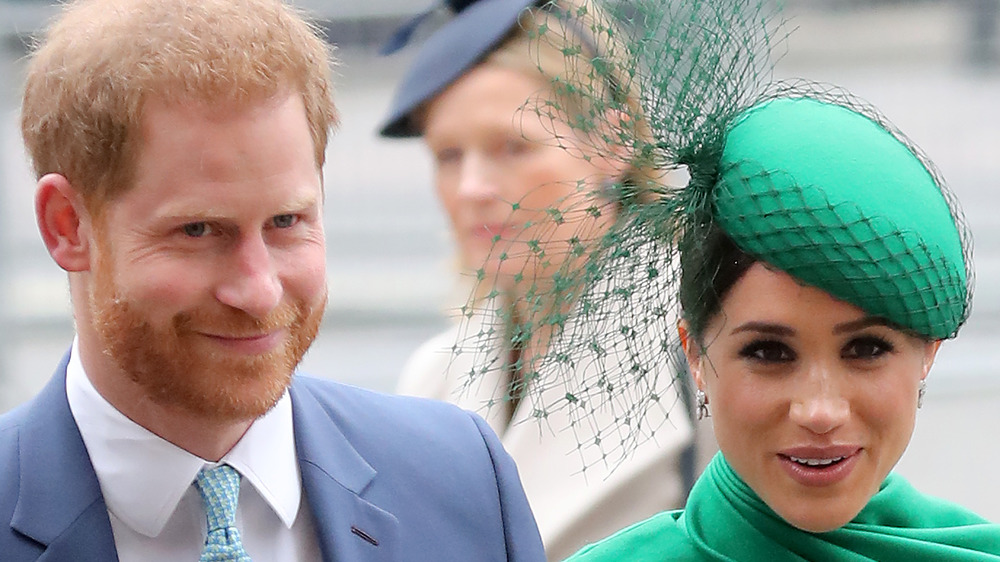 Chris Jackson/Getty Images
What does Meghan Markle find most exciting about life as a private citizen in Montecito, California, after she and husband, Prince Harry, Duke of Sussex made their dramatic 2020 exit from the British royal family? "Just being able to live authentically," the Duchess of Sussex told Oprah Winfrey during a rare, in-depth interview she and Harry gave to the "Queen of All Media" on March 7, 2021. And what might that entail for the Sussex family, who since July 2020 have been living in a nine-bedroom, 16-bath, 18,671 square-foot house in gorgeous Santa Barbara County (via Architectural Digest)?
Among other things, it means spending time doing "basic" things as a family, which currently includes 22-month old son, Archie Harrison Mountbatten-Windsor (whom Buckingham Palace denied the title of "Prince," despite Archie's having been born the successional equivalent of Queen Elizabeth II — who like Archie, was the firstborn child of the "spare" to a royal heir apparent, via Reader's Digest). The couple is also awaiting the birth of the baby girl they're expecting in 2021, and being pet parents to a small brood of rescue animals
As you might expect, one of those is the beloved aging beagle, Guy, who has "been through everything" with Meghan since being rescued from a kill shelter in Kentucky. The other members of the menagerie might seem a bit more surprising, considering they're farm animals and this is the first we're hearing of them. 
Meghan and Harry rescued a 10-member clutch of chickens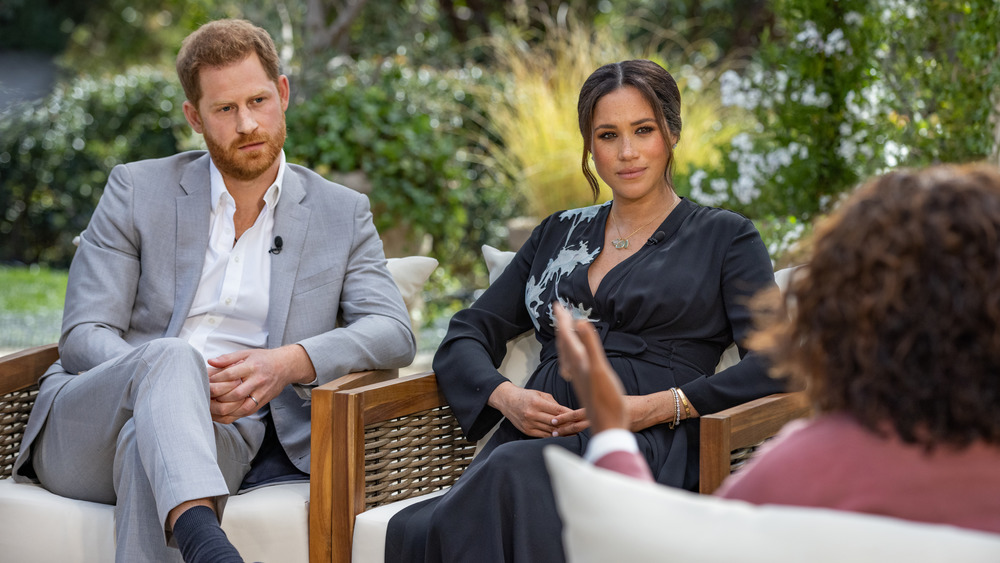 Handout/Getty Images
"She's always wanted chickens," Harry told Oprah, referring to Meghan. Like Harry, she's retained the Sussex title but had to relinquish the "HRH" after exiting the British royal family in 2020. 
"I just love rescuing," the Duchess added, noting that she, Harry, and Archie rescued the chickens from a factory farm. The clutch (as a group of chicks are called) now dwell in a sweet little  clapboard coop of their own, bearing the inscription, "Archie's Chick Inn, Established 2021" (via House Beautiful). We'll just do our best now to try not to think about the meal Harry prepared for Meghan the night he proposed marriage: roast chicken.
As surprising as it may be to learn that the Duke and Duchess of Sussex enjoys collecting farm fresh eggs from their pet hens, it's not the first time a royal couple — and a high-ranking one at that — have been known keep chickens as "pets." In fact, the Duke and Duchess of Cambridge also keep chickens at their home at Anmer Hall in the U.K., and presumptive future Queen, Katherine Middleton "handles their care and maintenance — including coop cleaning! — herself" (via People).