Here's What We Know So Far About Jeff Mauro's First Cookbook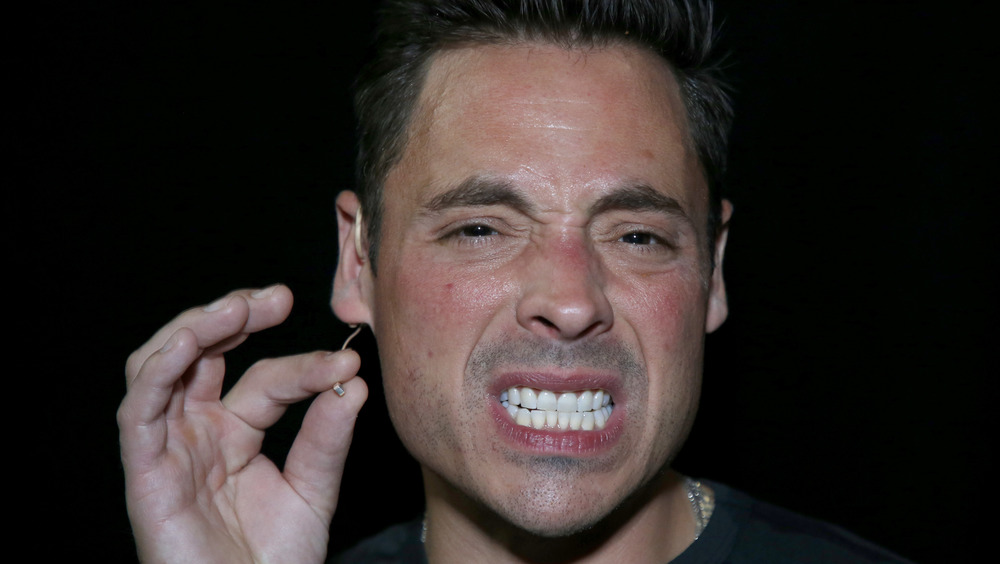 John Lamparski/Getty Images
We may receive a commission on purchases made from links.
Jeff Mauro, a chef whose "favorite color is pastrami" (via Food Network), is an over-the-top Food Network Star winner who seems sure to add a little something extra to his newly announced cookbook. With his Le Cordon Bleu cooking skills and vast experience, this sandwich creator is also a talented actor and improv artist and we expect his new book will also leave us entertained. On social media, Mauro triumphantly declared, "It here! My 1st cookbook! what I am confident is both a very delicious cookbook & quite possibly THE FUNNIEST COOKBOOK of all time. #comeoneover – OUT 4/13" (via Twitter).
"Oh my God! Everybody!" shouts Mauro in a video as family members shout out names of relatives and dogs pictured in this family-focused cookbook. It looks liable to make you want to come on over and hang with the Mauro family right away. "I gotta see. I'm dying. Stop. C'mon are you crying?!" exclaims a happy female voice from off-camera but don't worry, the whole family will be making an appearance. The author himself says, "Pre-Order at comeonover.com & gain access to a very special and exclusive cooking demo with me, my mom & my Aunts!"
Come on over and check out this new cookbook
Fans are thrilled about this new cookbook that adds hometown appeal. One social media user posted, "Congrats Jeff, great to see someone from our great neighborhood doing great things. Wishing you all the continued success" (via Twitter). Another excited person added, "I can't believe this is your first cookbook !! [smiley emoji] Congratulations !! Can't wait to try All these amazing recipes you have in this book !! Ordering today !! [thumbs up emoji]." So what will this book include?
We're really hoping for some great sandwiches, of course, but this recipe selection offers so much more.
Based on details provided on Amazon, it seems like readers may be in for some don't-miss dishes, including breakfasts like the Sausage, Egg, and Cheese "MoMuffins" or Marjorie Alice Ross Jones' Fried Pork Chops . . . for Breakfast. Try social treats like BLT Sliders with Candied Bacon, Pancetta and Parm Popcorn, Crispy Plantain Chips, and Takeout-Style Chinese Spare Ribs. Experiment with Smoked Cheez-Its or treat yourself with Sarah's Famous Sea Salt Pecan Chocolate Chip Cookies. Seemingly full of inventive food ideas and family fun – plus large glasses of pinot of course – Come on Over can be found over at Amazon for $20.99 in hardcover.