The Truth About Subway's Steak And Cheese Sandwich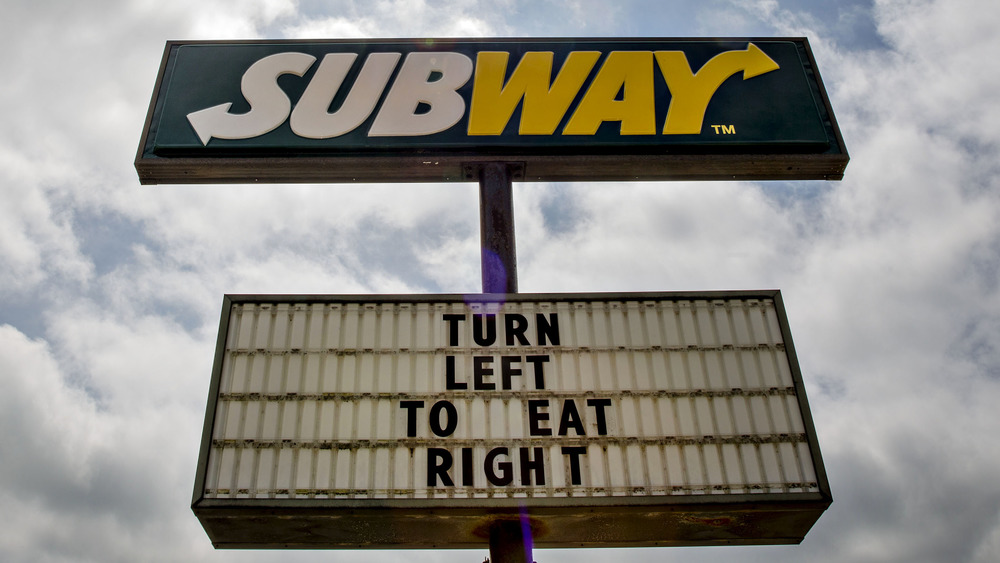 Bloomberg/Getty Images
Subway is one of the most reliable fast food brands out there with its plethora of easy-to-eat sandwiches. It has managed to become a hot favorite for many customers over the years in different parts of the world. As per Entrepreneur, the brand is much bigger than you can imagine: it dishes out as many as 5,300 sandwiches every minute. Whoa! That's an impressive number, to say the least.
Interestingly, according to The Travel, it's quite possible to get super creative with your sandwiches at the restaurant if you're inclined to do so. For example, you can order a tuna melt sandwich with grilled cheese and tomato at certain places. Of course, this does depend on the staff members at the outlet and their willingness to experiment with a customizable option. 
By the way, one of the more popular options at Subway is the Steak & Cheese sandwich, a dish that comes equipped with delicious ingredients. You can, of course, tweak it to align with your expectations. Here's what you need to know about this delicious menu option.
It's an interesting dish
Subway calls its Steak & Cheese sandwich a "fan favorite." According to the brand, the sandwich consists of Philly-style steak, onions, green peppers, and of course, plenty of gooey cheese. A standard Steak & Cheese six-inch sub will cost you 352 calories with 7.1 grams of fat, 46 grams of carbs, and the best part: 25 grams of protein. As per a review posted by Brand Eating, this sub may not blow you away, but is a reliable option nevertheless.
You can get as many veggies as you want on your sandwich, as well as play around with your preferences including the type of bread, cheese, and condiments you want to experiment with. As per the review, the steak in the sandwich isn't bad and gets the seasoning part right. It could be juicier, though. Perhaps what can make things really good is the right kind of customization.
A Redditor even wrote about their most preferred combination while ordering a steak and cheese sandwich. "So for the cheese, pepper jack is the only right choice for steak," they shared. "For veggies I get just green bell peppers and black olives. Then I finish it off with the chipotle southwest sauce. Delicious!" We agree.