Chick-Fil-A Has Good News For Fans Of Its Sauces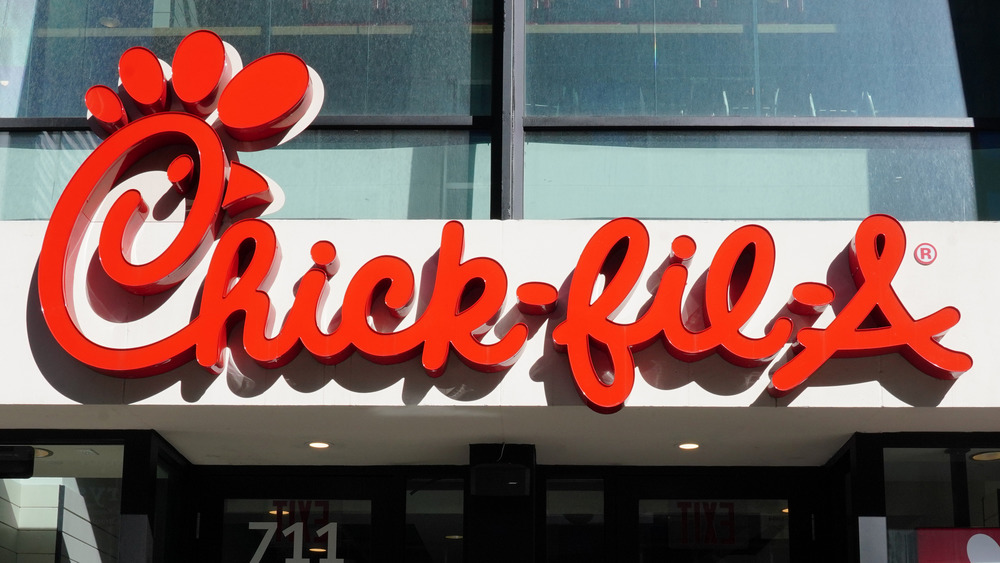 Cindy Ord/Getty Images
Sauce stealers, rejoice: Chick-fil-A is making some big moves, and your at-home sandwich game is bound to pay off.
Time to embrace spring cleaning and empty that overflowing drawer in your fridge (you know the one, packed with Taco Bell sauce packets and Chick-fil-A dips stashed away for an emergency) — the famous chicken chain announced today that 16-ounce bottles of its most-loved sauces will hit shelves nationwide starting this month.
According to Delish, two of the most popular Chick-fil-A condiments — Polynesian and the signature Chick-fil-A sauce — started to roll out in the southern part of the United States last fall. For everyone else, that patience is finally paying off. You can grab a giant $4 bottle of either variety at your local Walmart or Target, as well at some additional grocery stores like Kroger, Publix, and Food Lion. You know what that means: No Target shopping trip will ever be complete without a bottle of the famous dip from now on, too.
Chick-fil-A has other retail options, with even more of a sauce selection
According to Fox News, some restaurant locations give customers the option to purchase an eight-ounce bottle when they visit — and even better, there's a greater selection. If you're fortunate enough to live in Florida, you can order a bottles of classic Chick-fil-A sauce, Polynesian, Barbeque, Honey Mustard, and Garden Herb Ranch from Chick-fil-A directly, as CNN reported in 2020. We'll be taking one of each the next time we get to the Sunshine State.
Fans of the chicken chain have long been requesting the ability to buy the staple sauces in bulk and at more convenient locations. When the news first broke that Polynesian and Chick-fil-A sauces would be hitting Southern store shelves, eager customers on Reddit joked about the exciting development. One Redditor wrote, "I live in Florida. I can now drink the Garden Ranch sauce." Sounds... refreshing?
Your sauce purchase will benefit more than just your lunch
Believe it or not, the copycat spicy grilled chicken sandwich you'll inevitably make isn't the best part of Chick-fil-A's recent retail frenzy.
The chain reported back in October that all proceeds from their retail sauce sales would directly benefit the Chick-fil-A Remarkable Futures™ Scholarship Initiative. According to the company, 100 percent of royalties from big box store sales will automatically go to support funding college educations for Chick-fil-A team members.
Chick-fil-A's focus on education is nothing new. According to the site, the chain has invested $92 million into providing an education for employees over the last few decades. Considering the popularity of Chick-fil-A's famous sauce, the impact of this retail deal could be bigger than anything that happens in the kitchen — and as far as we're concerned, we'll happily help get that number to $100 million, thanks to the sauce we'll be buying in bulk.