Aldi Shoppers Are Loving These Sweet, Vegan Cakes
Making a good vegan cake takes real skill. According to Nora Cooks, baking secrets like using applesauce for moisture, vegan butter for the "buttercream frosting" and boiling water for texture all meld together to form the ultimate cake for anyone looking to eschew animal products. While the end result proves delicious, many of us don't have the time during a regular day to hunker down and bake one of these delectable desserts from scratch. Luckily, Aldi has the perfect solution for those of us who want to indulge in some vegan cake but don't have the time to make one.
According to Instagram user @theamazingaldi, Aldi now has a variety of vegan chocolate, banana, and carrot cakes for sale, all for $7.49. This news has made everyone very excited. The post has gathered over 450 likes, and a range of excited comments, like, "I'm not vegan but I really wanted to try the banana bread cake and it did not disappoint!" and "I am not a vegan, just a banana bread and dessert lover. I bought like 12. They're so good." These treats have us head over heels in love, but getting them might prove a bit harder than expected.
The perfect vegan Aldi cakes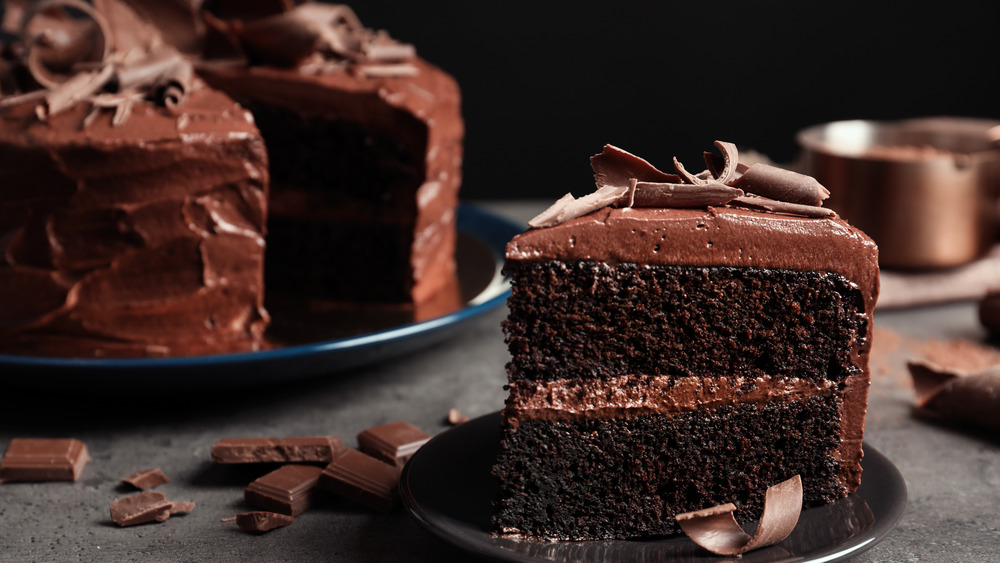 Shutterstock
While we can't wait to get our hands on these new cakes, we might have to wait until they hit the national market. According to Aldi, these new cakes haven't entered their general inventory, meaning that they might only appear at select locations for now. While we count the days until we can score one of these desserts for ourselves, we can still appreciate this new addition to the Aldi family of vegan products, featuring the likes of other fan-favorites such as vegan mozzarella sticks, meatless turkey breast, and even dairy-free mac and cheese (via PETA).
With any luck, we can hope to see this new product hit stores across the country very soon. In the meantime, we have to keep holding out hope that these cakes make their way to our local Aldis even sooner. Don't forget to keep a lookout for these desserts when you make your next grocery run. You wouldn't want to miss out on the one-of-a-kind flavors locked up in these cakes that guarantee to satisfy anyone with a sweet tooth.