The Pizza Hut And KFC Collab You Probably Didn't Know Existed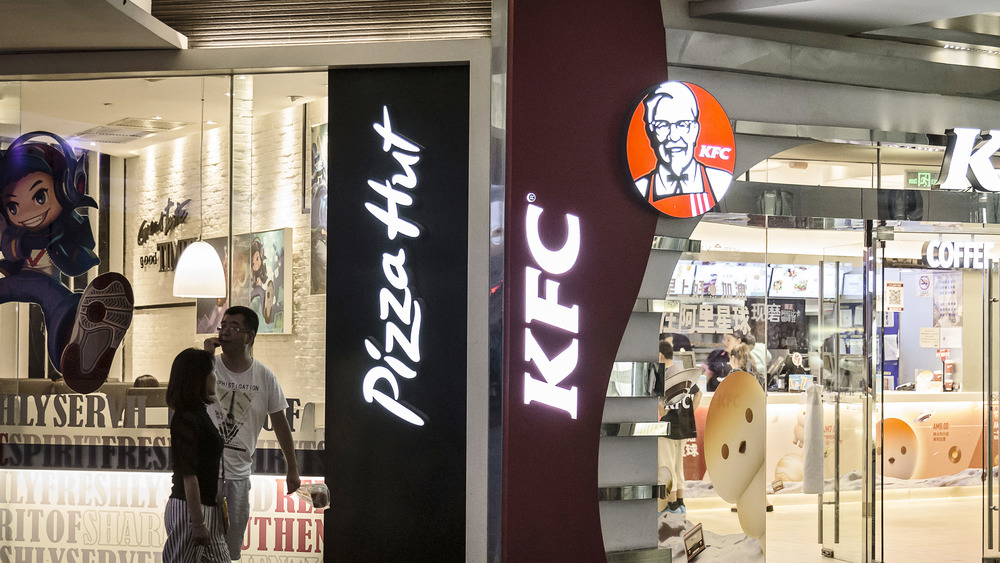 Bloomberg/Getty Images
Pizza Hut and KFC are both home to some fan-favorite comfort foods, but it can often be difficult to decide between the two when it comes to figuring out what to have for dinner. While the crunch of a crispy drumstick is certainly satisfying, there is very little that beats a hot cheese pizza delivered straight to your door.
Fortunately, in some parts of the world, there is no need to give up one of the delicious meals for the other, as The Hut has teamed up with Colonel Sanders for a mouthwatering collaboration known as the Popcorn Chicken Pizza – a specialty pie that features a drool-worthy combination of menu items from both brands that is sure to get you hooked after one bite (via Thrillist).
Originally released in the U.K. in February 2020, the limited-edition pizza is described in a press release from KFC as a "classic" crust that is smothered in gravy and then topped with mozzarella cheese, sweetcorn, and popcorn chicken from the fried chicken eatery. Another version in Hong Kong last November also featured mushrooms, according to Hypebeast, and was released along with a two-player Popcorn Chicken Pizza mobile game that promised a reward of coupons to both eateries upon winning.
The Popcorn Chicken Pizza sold out in two days last year
With a description like the one listed above, it should come as no surprise that Pizza Hut and KFC's menu collaboration sold out within two days after its initial release last year, per Delish. Those unable to get their hands on one or who were simply craving another slice of the limited-edition treat were recently greeted with the news that the Popcorn Chicken Pizza would return to menus in February 2021. However, a post shared to the official KFC U.K. and Ireland Instagram page on Tuesday, March 9 noted that the Popcorn Chicken Pizza was only going to be available for another week, meaning the time frame to order quickly dwindled down.
Still, there is another chance to get a hold of the delectable partnership, but only if you're a resident of the Great White North, per Chew Boom. According to Daily Hive, the Popcorn Chicken Pizza hit Canadian Pizza Hut menus on March 8. But those who want a slice of the pie should order quickly, as the dish is once again only available for a short period of time if it's not already gone.