How Much It Really Costs To Open A Yogurtland Franchise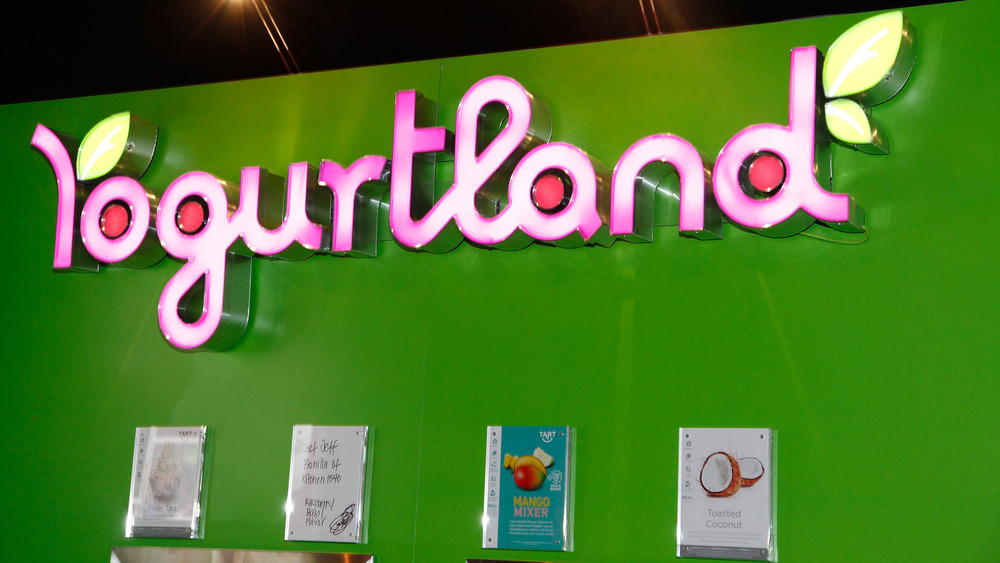 Anna Webber/Getty Images
These days there are so many places to enjoy dessert — from cupcakes to cinnamon rolls to chewy cookies — all with dedicated shops for each treat. But if frozen yogurt is one of your favorites, then you probably have wandered into the delightful and colorful Yogurtland, offering self-serve yogurt and lots of delectable toppings. According to their website, this frozen yogurt chain was opened by Phillip Chang in 2006 in Fullerton, California with one main objective: "provide a self-serve frozen yogurt experience that gives customers the highest quality ingredients and flavors to fill their cups," (via Yogurtland). 
There are over 200 flavors created by their "flavorologist," and at any given time there are 16 flavors available to choose from, according to Entrepreneur. And there are over 33 toppings and sauces, letting you make a unique creation each and every time. 
Within a year after opening the first store, Chang began offering franchising opportunities. Yahoo! Finance reports that there are over 280 stores throughout the United States as well as internationally including Australia, Dubai, Guam, Indonesia, and more.
If you're a huge fan of Yogurtland and think having your own storefront could be a fun endeavor, you should know the time and money it takes to open a franchise.
You'll need $300k or more to get started with a Yogurtland franchise
According to Yogurtland, they are the biggest specialty frozen yogurt chain in the world and the majority of their shops are franchises. They are currently looking for people within the United States interested in franchising, who have at least $200,000 in liquid assets and have a minimum net worth of $400,000 (via Yogurtland). If you're wanting to invest and open your own shop, you'll need to be ready to part with plenty of cash. Then again, most investors know that classic saying "to make money you need to spend money."
Upon opening each Yogurtland franchise, the company requires a nonrefundable franchise fee of $35,000 for each shop opened. Plus, the development costs between $265,000 to $450,000, which varies based on the location and size of the establishment. Once you open, you're still expected to hand over some more money with six percent in royalty fees and two percent in marketing fees, based on gross sales. 
CEO Philip Chang states on the website, "Our franchisees are key to our continued success as we keep expanding globally, and it is our top priority to support them and drive profitable growth in both existing and new markets." When all is said and done, Franchise Help estimates that opening a Yogurtland franchise takes anywhere from $300,000 to $700,000 to get started.