Andrew Zimmern Just Shared Touching Tribute To The Late Chef Floyd Cardoz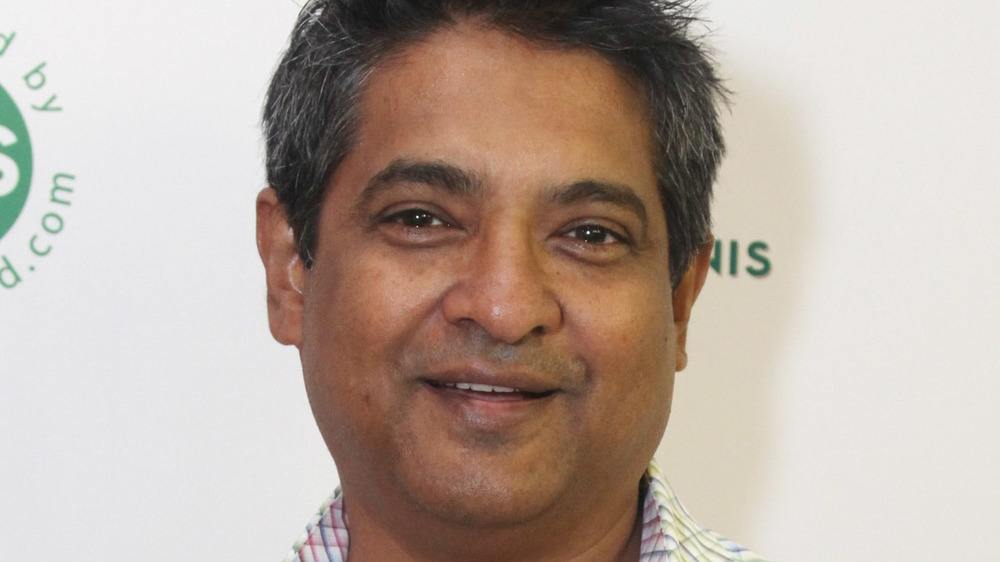 Kevin Mazur/Getty Images
Renowned celebrity chef, Floyd Cardoz, left many heartbroken last year after he passed away from the coronavirus at just 59, according to the New York Times. Cardoz was considered to be one of the first culinary legends of his kind to make Indian food popular in the U.S. and was the founder of popular restaurant, Tabla in Manhattan. He also had a long and illustrious career working with popular eateries, penned cookbooks, and even walked away with top honors after winning Top Chef. 
Those that knew Cardoz personally, remembered him very fondly. "He was a super-taster, big-hearted, stubborn as the day is long," his restaurant partner at Tabla, Danny Meyer, told the publication. "He never once lost his sense of love for those he'd worked with, mentored and mattered to." His friend, Andrew Zimmern, also wrote a touching tribute recently to honor his former colleague, who passed away a year ago. 
Andrew Zimmern remembers his late friend Floyd Cardoz
Alexander Tamargo/Getty Images
Zimmern wrote powerful lines about his friend on Instagram and urged others to remember him and post their memories of Cardoz. Zimmern wrote, "A year ago today @floydcardoz passed away. He was my friend...Floyd never said no to helping anyone. Please remember him and post a photo tagged #floydsfood." The celebrity cook added that Cardoz had a big heart and never hesitated to offer his expertise wherever he was needed. 
For example, when Zimmern was trying to work on helping underprivileged members of the community in New York City, Cardoz stepped up really quickly and did what he could to spread awareness about such an important cause. Zimmern wrote that Cardoz has been instrumental in helping many people and that he'll always remember his friend and his kindness. A commentator shared Zimmern's sentiment and wrote, "What a devastating loss. How I miss that warm smile and his delicious food."