Avocado Tomato Salad Recipe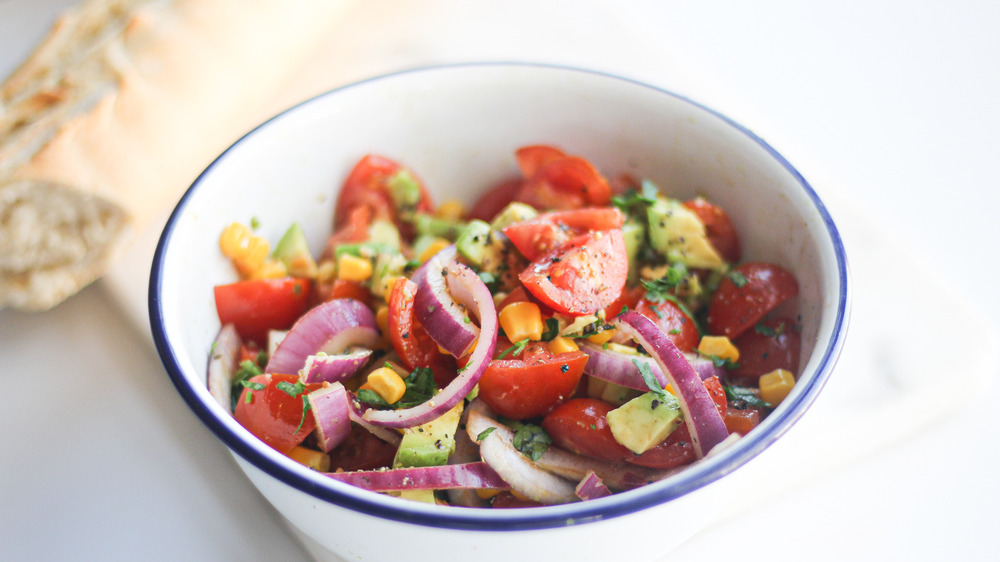 Susan Olayinka/Mashed
Regardless of what you're eating for lunch, pairing it with a fresh, flavorful, veggie-filled salad is an excellent way to amp up your vitamin, mineral, and fiber intake, and help you fill up on nutrients. This is important any time of the year, but especially during the spring and summer months when the days get longer and farmers' markets start filling with the brightest, freshest produce. It's a good idea to add a few new salad recipes to your repertoire — and we have you covered with that.
This simple avocado tomato salad by recipe developer and food blogger Susan Olayinka at The Flexible Fridge delivers a combination of soft, creamy fats (in the form of avocado), along with tart, sweet, and spicy crunch (in the form of tomatoes, onions, and sweet corn). It takes just eight minutes to prepare, and requires no special skills other than chopping and mixing, so you can have it on the table and ready to eat in almost no time at all. "This salad pairs wonderfully with some bread, pasta, or mixed in with a grain such as rice or quinoa," Olayinka says. That truly sounds like the perfect, light lunch.
Gather your ingredients for avocado tomato salad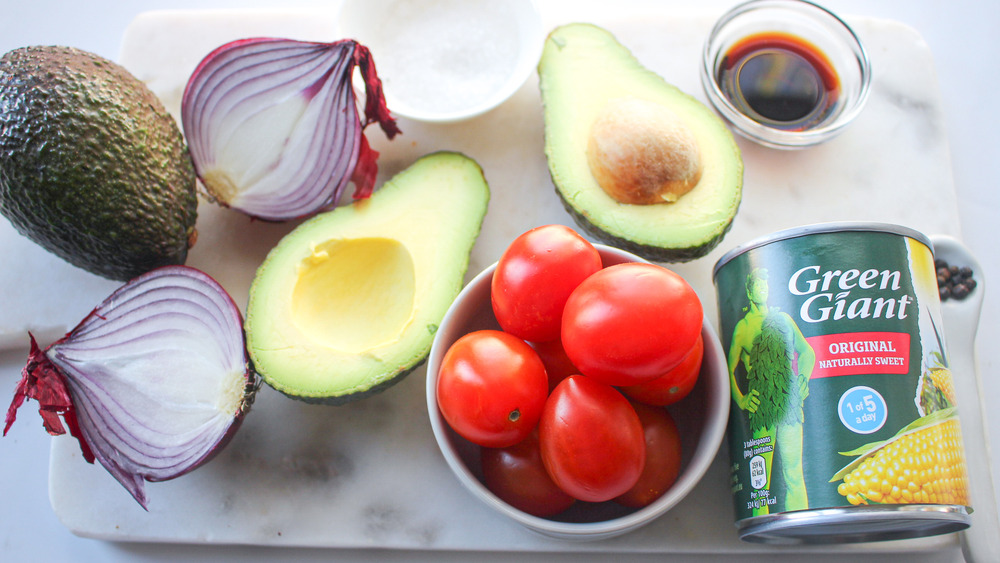 Susan Olayinka/Mashed
This recipe requires no cooking at all, so all you need to do is gather your raw veggies and a few simple ingredients to whip up the dressing, and you're ready to go. You'll need 1 ½ cups of cherry tomatoes, an avocado, ½ red onion, and 1 ½ cups of sweet corn. You can use leftover corn off of the cob, or simply open a can and use what you need. And while you can sub in other varieties of tomatoes and onions if you don't have cherry tomatoes or red onions on hand, the salad really is better if you stick to the listed ingredients. 
"I chose cherry tomatoes over regular tomatoes because they are just so much more flavorful — they're sweeter and they taste so good," Olayinka says. "I also chose red onions for the same reason ... [they're] much more suited to [be] eaten raw. White onions or yellow onions are best eaten cooked."
For the dressing, all you need is balsamic vinegar, black pepper, and salt. You don't even need an oil!
Cut the veggies for your avocado tomato salad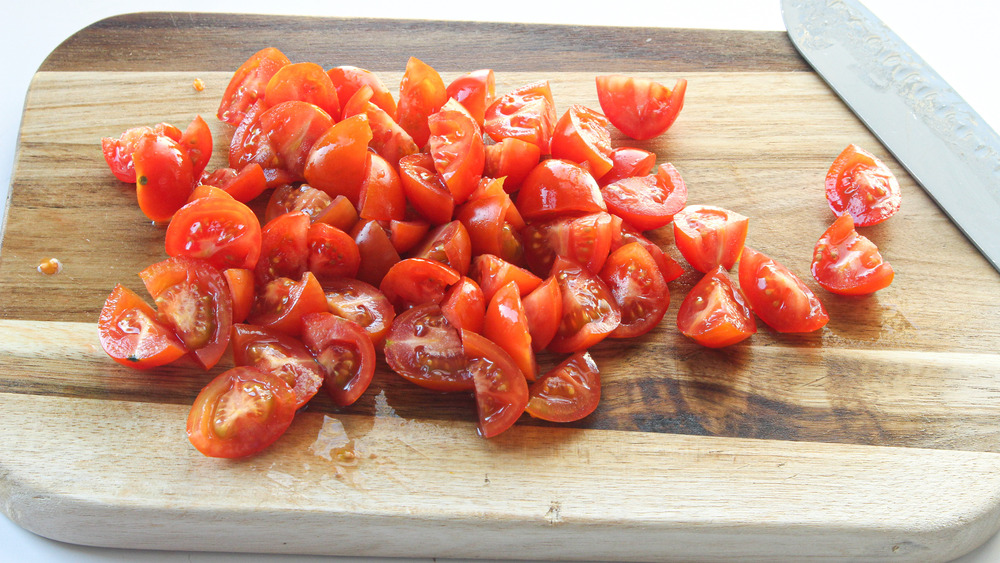 Susan Olayinka/Mashed
To prep your salad, simply chop the tomatoes, avocado, and red onion, and place them in the salad bowl. Of course, for the best tasting (and best looking) salad, make sure you use a fresh, ripe avocado. This can be tricky, given that avocados seem to have about a five-minute span between "perfectly ripe" and "overripe, mushy, and brown." The trick is to select avocados when they're at their peak ripeness and to use them immediately. 
"Press on the skin — if it's hard, that means it's not ripe," Olayinka says. "If it's somewhat soft, that means it's ripe. If it's very, very soft, that means it's overripe and it's likely to be brown inside." The catch is that a ripe avocado may have a bruise or a brown spot that spreads quickly, so don't just press in one spot, try to get a feel for how soft the avocado is all over.
Add all your ingredients to a bowl, incorporating the vinegar last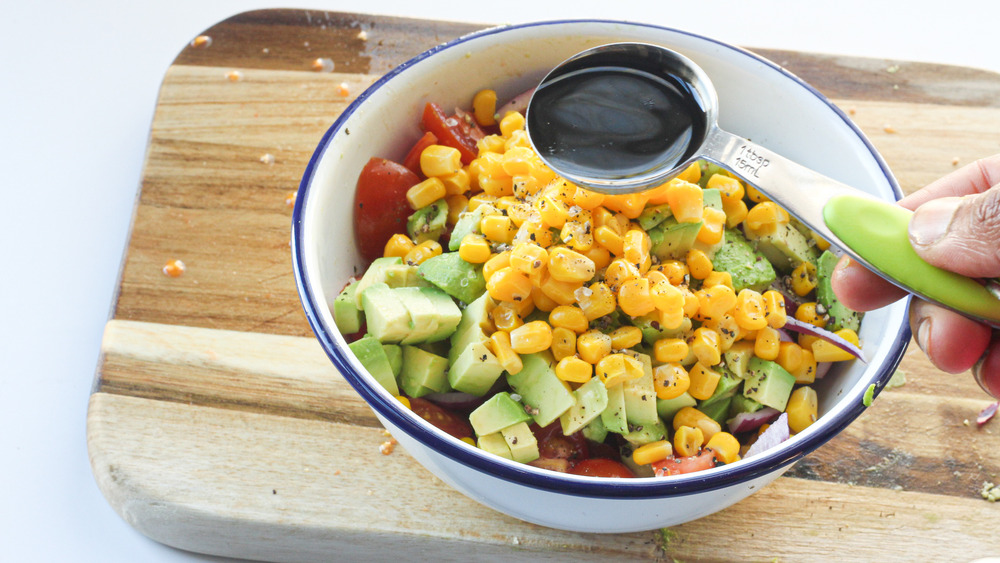 Susan Olayinka/Mashed
Once your veggies are chopped and in the bowl, add the remaining ingredients, and mix well. Simply pour the sweet corn on top, then drizzle the entire salad with the vinegar and sprinkle the salt and pepper on top. If you're not a fan of balsamic vinegar, you can always sub in a red wine vinegar instead, but Olayinka points out that the sweet and savory taste of balsamic is particularly well-suited for fresh salads like this one. 
Mix the ingredients well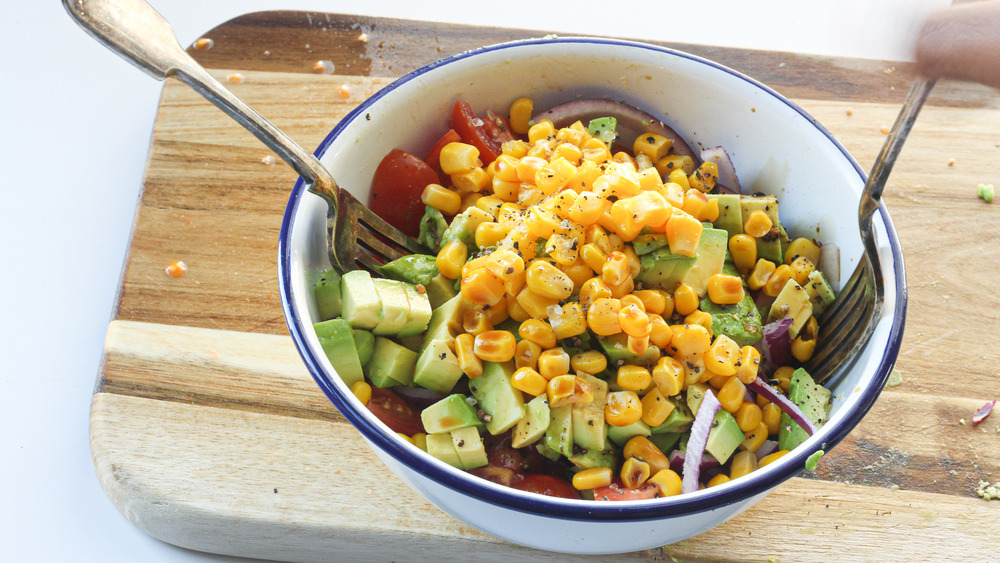 Susan Olayinka/Mashed
With a large spoon or salad tongs, take 15 to 30 seconds to mix the salad well, doing your best to fully coat all the veggies with the vinegar. Just be a little bit careful about the avocado. If you mix too vigorously, you could end up mushing the avocado pieces — especially if they're on the softer side of ripe. Use your utensils to turn the salad over softly as you mix, rather than really digging in.
Top with parsley, and serve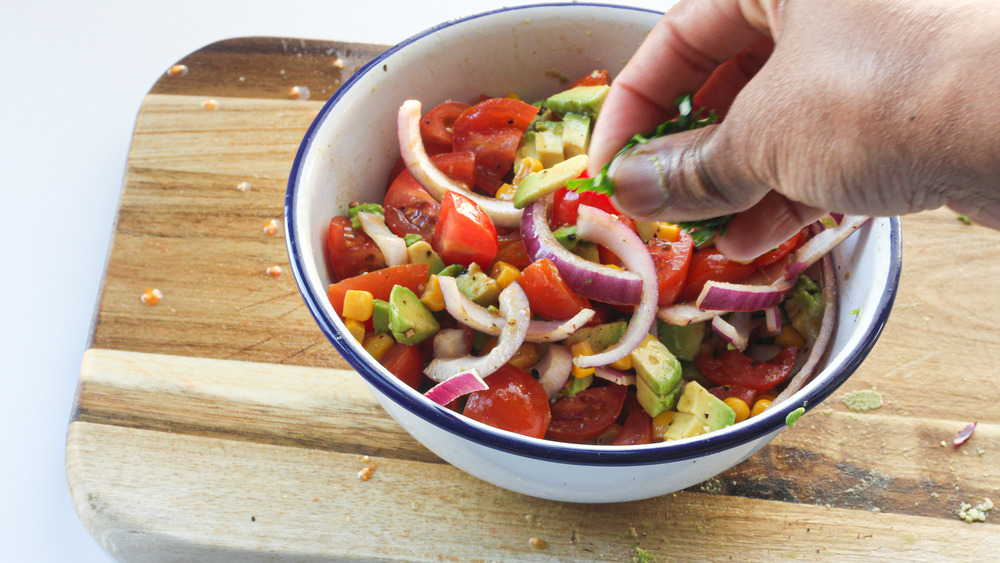 Susan Olayinka/Mashed
Just like that, your salad is almost ready to serve. The final touch is sprinkling some chopped parsley on top, although Olayinka says you can personalize this step, opting for herbs like cilantro, parsley, dill, or mint if you prefer. 
As far as pairings, a simple bread or grain is really all you need, but if you want to add protein, Olayinka suggests grilled chicken, or a fish like cod or mackerel. The salad also works well with extra greens, so feel free to serve over a bed of spinach, Romaine lettuce, kale, or Swiss chard.
Avocado Tomato Salad Recipe
This refreshing avocado tomato salad pairs wonderfully with some bread, pasta, or mixed in with a grain such as rice or quinoa.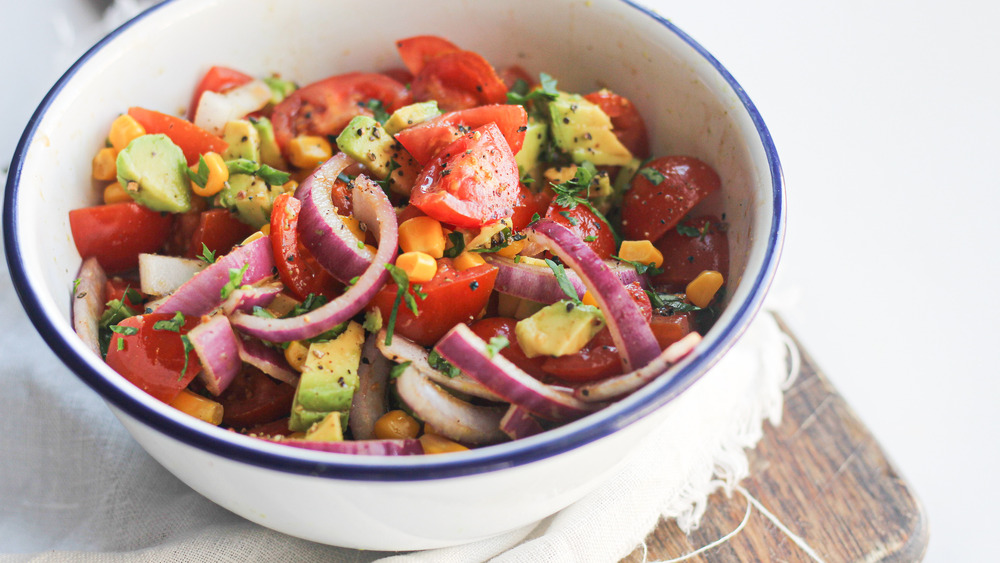 Ingredients
1 ½ cups cherry tomatoes
1 avocado
½ red onion
½ cup sweet corn
3 tablespoons balsamic vinegar
⅛ teaspoon black pepper
⅛ teaspoon salt
Optional Ingredients
1 tablespoon chopped parsley (garnish)
Directions
Chop 1 ½ cups cherry tomatoes, 1 avocado, and ½ red onion, and place in the salad bowl.
Pour in ½ cup of sweet corn, ⅛ teaspoon of black pepper, ⅛ teaspoon of salt, and 3 tablespoons of balsamic vinegar into the salad bowl.
Mix together with a spoon or salad tongs.
Sprinkle some chopped parsley on top for garnish, and the salad is ready to serve.
Nutrition
| | |
| --- | --- |
| Calories per Serving | 250 |
| Total Fat | 15.5 g |
| Saturated Fat | 2.3 g |
| Trans Fat | 0.0 g |
| Cholesterol | 0.0 mg |
| | |
| --- | --- |
| Total Carbohydrates | 27.6 g |
| Dietary Fiber | 9.6 g |
| Total Sugars | 11.3 g |
| Sodium | 171.2 mg |
| Protein | 4.8 g |