Costco's Bacon Wrapped Cheesy Stuffed Chicken Is Turning Heads
If you love bacon and chicken, Costco has a special item on its shelves that you definitely want to get your hands on. Instagrammer @costco_doesitagain discovered the ultimate entree for anyone looking for a meal that combines succulent chicken, cheese, and crispy bacon. They posted a picture of the new item to their feed, alongside the caption, "Now at Costco! Bacon wrapped stuffed chicken by @realgoodfoods #glutenfree #grainfree free and only 1 net carb per serving and 32g of protein! Perfect for meal prep or a quick and easy meal!"
According to the post, the entree comes with six servings in a box, and features a mix of mozzarella, parmesan, and fontina cheeses. Followers can't get over the new product, awarding the post with almost 3,500 likes and a flood of comments like, "I just bought these! Looking forward to trying them out," and "Had these for dinner and oh my. Yummmmm." If these sentiments can't get you excited to throw this item in your cart during your next grocery run, you have to check out the reviews across the internet.
Applause for Costco's bacon wrapped chicken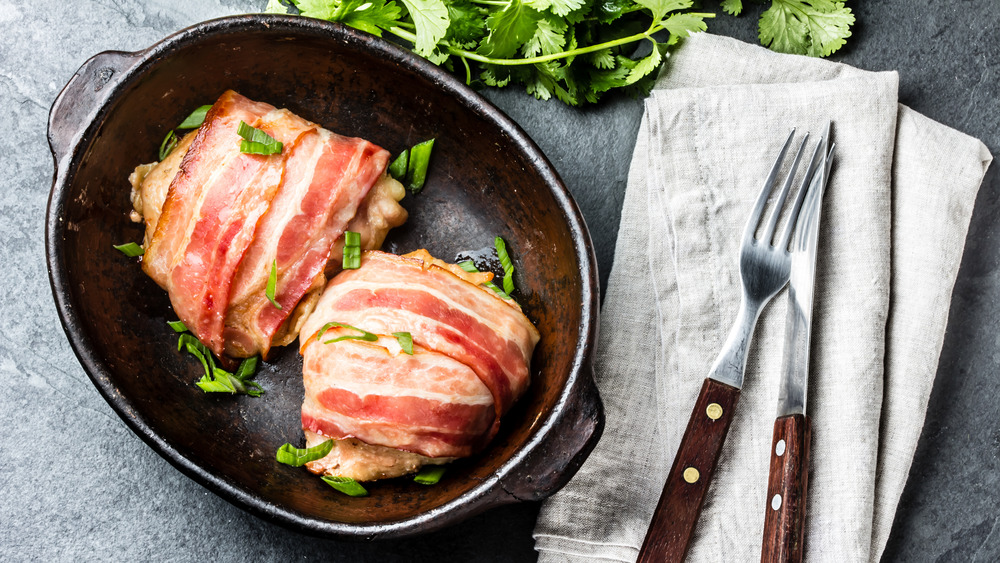 Shutterstock
Everyone who has come into contact with this product has found something to love. According to Taste of Home, the product's low carb count and high fat content make it an easy meal solution for anyone pursuing a keto diet, but easily fits into the meal rotation for those of us who love chicken, bacon, and cheese. According to My Costco Finds, these bacon wrapped cutlets proved moist and flavorful, completely warranting their $12.89 price tag. Over at Reddit, users find an equal amount of points to celebrate, stating, "You had me at 'bacon wrapped' and 'stuffed with cheese'," and "Love this thing, I just wish my local Costco had THIS specific flavor in stock."
If these glowing responses can't get you excited for this chicken favorite, nothing can. If you feel your mouth starting to water, make sure to add this entree onto your shopping list next time you make a Costco run. After one bite, you might just find your new favorite frozen meal.