This Michelin-Starred Restaurant Is Bringing Its Famous Pasta Sauce To Stores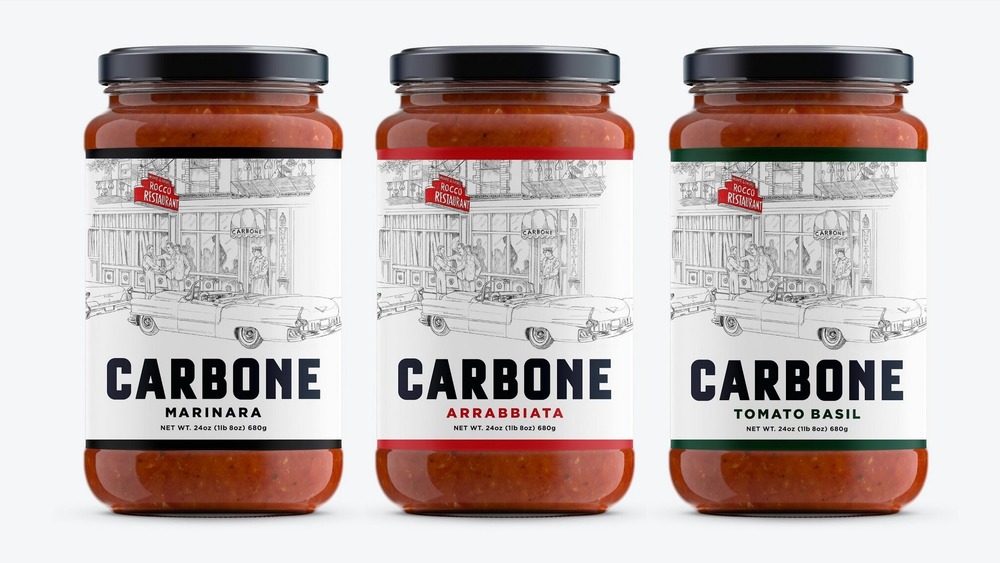 Carbone
Carbone, the Michelin star-winning Italian restaurant in New York City's Greenwich Village, has announced that they will release their own brand called Carbone Fine Food. The brand launches with a series of pasta sauces, which you can find on its website.
The range of sauces consist of an arrabbiata, a marinara, and a tomato basil. The sauces come in packs of four 24 oz jars for $39.96. Individual jars will also appear on Amazon and in Stop & Shops in New York, New Jersey, Connecticut, Massachusetts, and Rhode Island for $8.99 each. 
"The sauce category is a crowded one, but what it is lacking is a premium product that can stand up to what's served in restaurants," Eric Skae, the newly appointed CEO of the food company, admitted (via People). "Chefs Mario and Rich have created the highest quality sauce on the market. They found a way to jar the Carbone experience. I've never seen anything like it."
The sauces are made in an hour-long process from pickled Italian tomatoes and fresh ingredients in order to jar the quality taste associated with the restaurant.
The market is ripe for Carbone's entrance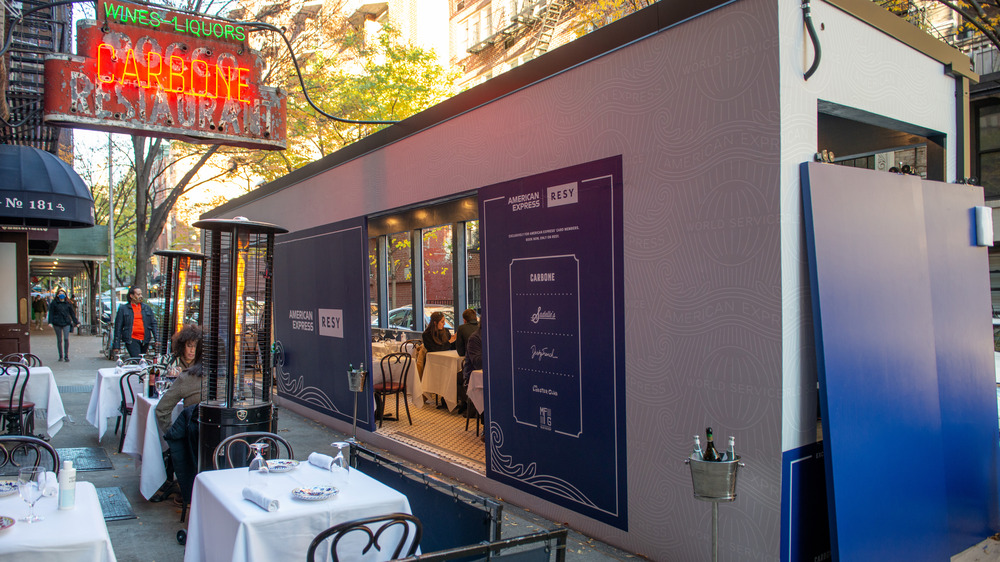 Alexi Rosenfeld/Getty Images
The ongoing pandemic conditions that have reduced the earnings of restaurants worldwide, even those like Carbone, have also prepared the market for the premium pasta sauce that Carbone Fine Foods intends to sell.
There is only one competitor in this area, according to Fast Company: Rao's Specialty Food Group, which is the grocery brand developed by another iconic Italian restaurant in New York City. This is despite the fact that, as Dan Wald, Boston Consulting Group's global head of the consumer products sector, noted to Fast Company, pasta sauces tend to be included in the group of grocery items that people will pay more money for if a higher level of quality is assured. In fact, as CNN reports, during the pandemic, Rao's saw an increase in sales of over five percent, while budget pasta sauces like Prego decreased by a similar amount. 
So Carbone is in a growing market with only one competitor at current. Added to that, Fast Company notes that newly hired CEO Eric Skae used to be the CEO of Rao's Specialty Food Group, so he knows what he's facing.
Everything, then, is aligned for Carbone Fine Food to succeed. Mario Carbone enthuses how they succeeded in delivering the unequaled flavor of their pasta sauces as a market item and how, "We couldn't be more excited — and there's much more to come" (via People).