Everything You Need To Know About McDonald's New Caramel Brownie McFlurry
McDonald's just announced that you'll soon be able to enjoy a delicious new Caramel Brownie McFlurry, starting on May 3. The press release for the announcement describes the limited-time McFlurry as a vanilla soft serve with chocolate brownie pieces and gooey caramel. While this is the first time the new flavor is debuting in the U.S., it has been selling in Canada since 2017.
"As our fans rejoice in the changing of the seasons, we're excited to give them a new way to enjoy our most iconic dessert," said Chad Schafer, McDonald's chef. "In fact, the flavors in our new Caramel Brownie McFlurry are inspired by that first-warm-day-of-the-year feeling. The cool and creamy soft serve mixed with fudgy brownie pieces and sweet, gooey caramel makes every refreshing bite worth savoring." 
But until the new flavor is released, you'll just have to satisfy your sweet tooth with one of McDonald's other McFlurry options. Like the M&M's McFlurry or the Oreo McFlurry, both of which have the same vanilla soft serve as the Caramel Brownie McFlurry, but feature their respective candies instead.
There are other desserts and McFlurry flavors sold at different locations around the world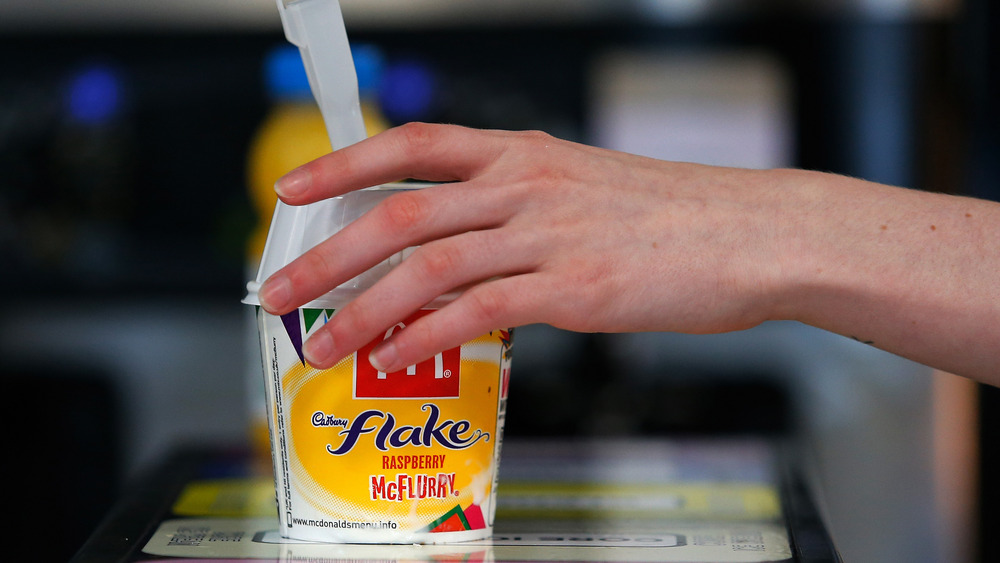 Bloomberg/Getty Images
A Canadian franchisee first invented and sold the McFlurry in 1995, which became insanely successful around the world. "I never expected that my creation would circle the globe with countries mixing together their own unique flavours," Rob McLellan, the franchisee in question, told CTV News during the celebrations for its 20th anniversary.
In case you were wondering, there's also other delicious desserts items that are sold in other parts of the world at McDonald's, but not in America. Food & Wine reports that Paris sells macarons, Indonesia has a Coconut Charcoal McFlurry, Thailand offers a delicious looking tiramisu, and there's even a Green Tea KitKat McFlurry sold in the Philippines. So, if you try the new Caramel Brownie McFlurry and love it, tell you friends about it too. That way maybe it will become a main fixture on the U.S. menu.