Watergate Salad Recipe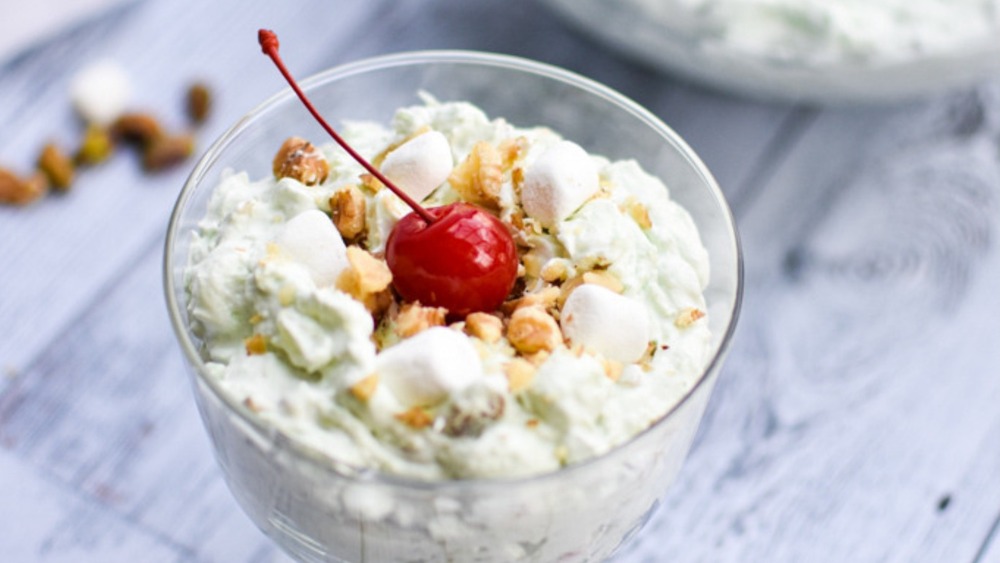 Stephanie Rapone/Mashed
Today, major political scandals are pretty much a dime a dozen. If a major political figure is caught breaking the law, at this point, we're likely to react "ho-hum, just another typical Tuesday." Things were a lot different back in the '70s, though, when then-President Nixon was implicated in organizing a burglary of the Democratic National Committee headquarters at the Watergate Hotel. The resulting kerfuffle very nearly led to what would have been just the second impeachment in U.S. history. Instead, the incident culminated in something even more unprecedented — according to the White House website, Nixon's was the first and so far only presidential resignation. The Watergate scandal, needless to say, provided years worth of material for late-night TV hosts.
One legacy of this '70s scandal that shouldn't leave a bad taste in everyone's mouth, though, was Watergate salad, one of several dishes commemorating Nixon's notoriety in edible form. Recipe developer Stephanie Rapone of Pantry to Plate isn't old enough to remember the scandal itself, but as she told us, "My family loves anything involving pistachio pudding." She did some research and came up with this Watergate salad recipe that she tells us is fairly traditional, but she assures us her taste testers found it "pretty awesome."
Some Watergate salad ingredients are sort of symbolic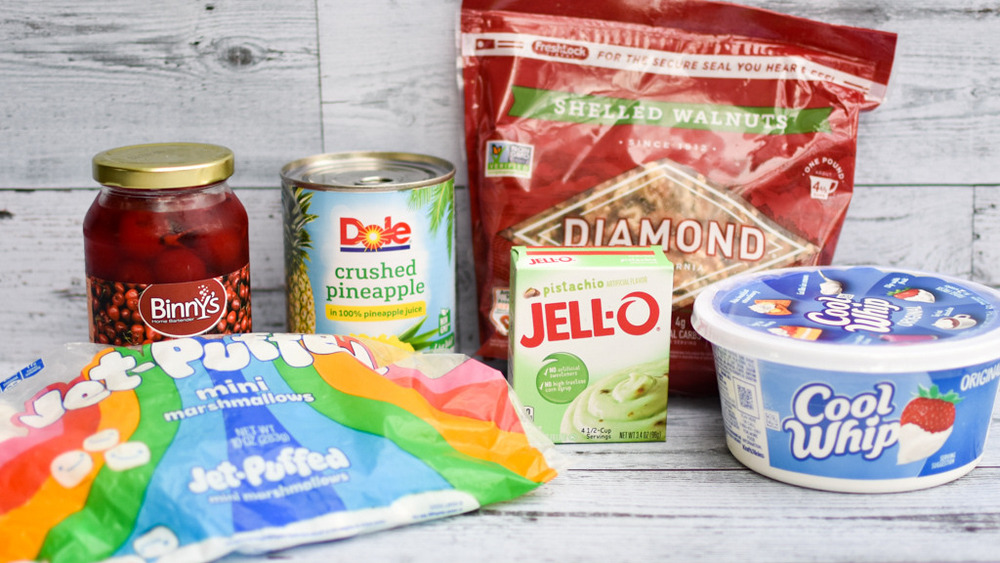 Stephanie Rapone/Mashed
This Watergate salad is made with pudding, not gelatin, but it's nonetheless pretty close kin to those jiggly molded salads that were featured on many a mid-century menu. All of the ingredients are the kinds of things likely to be found in any 1970s kitchen but are still readily available half a century later: a can of crushed pineapple (juice-packed, unless you want to go for a sugar overload with the syrupy kind), a package of instant pistachio pudding mix, mini marshmallows, chopped walnuts, and whipped topping, with maraschino cherries used to decorate the top.
Watergate salad was said to have been derived from a slightly earlier recipe for Watergate Cake that also featured pistachio pudding, chopped nuts, and whipped topping.
There's a little pre-prep involved in making Watergate salad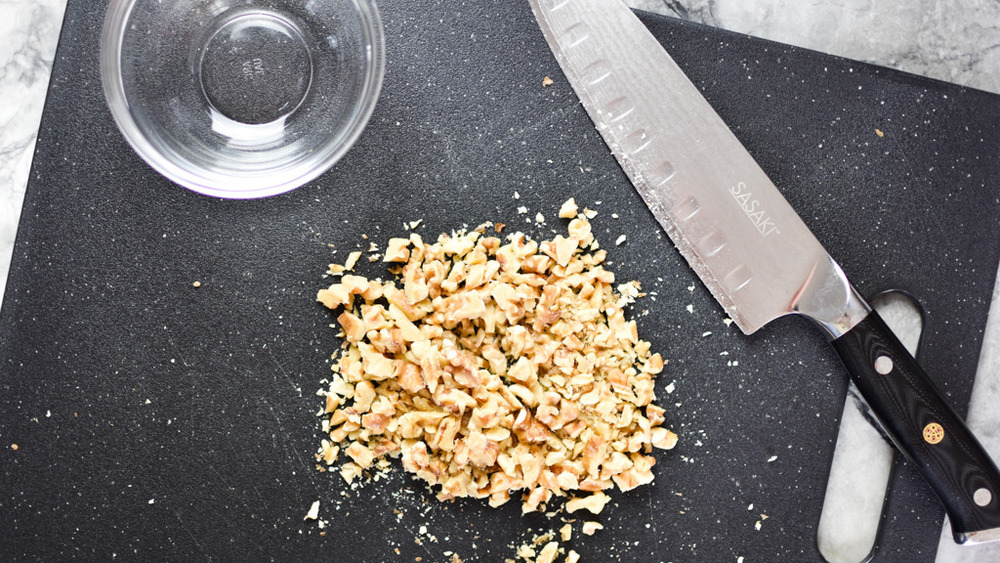 Stephanie Rapone/Mashed
The first thing you should do is to take the whipped topping out of the freezer and let it thaw. Next, open the can of pineapple and drain out the juice, but not into the sink! You'll need to save a quarter cup of the juice for use in this Watergate salad recipe, plus the rest of the juice can also be put to good use. Pineapple juice can be put to good use right away by just drinking it as is. If you happen to have some coconut cream and rum on hand, though, you can make a delicious piña colada!
Don't overdo it on the piña coladas just yet, though, since there's still a bit more work to be done. You'll also need to chop half a cup or so of walnuts (or pecans, if you prefer). Rapone says, "Don't worry too much about an exact measurement. Just use half a cup approximately," adding that you can use "more or less if you like."
Mix the ingredients for the Watergate salad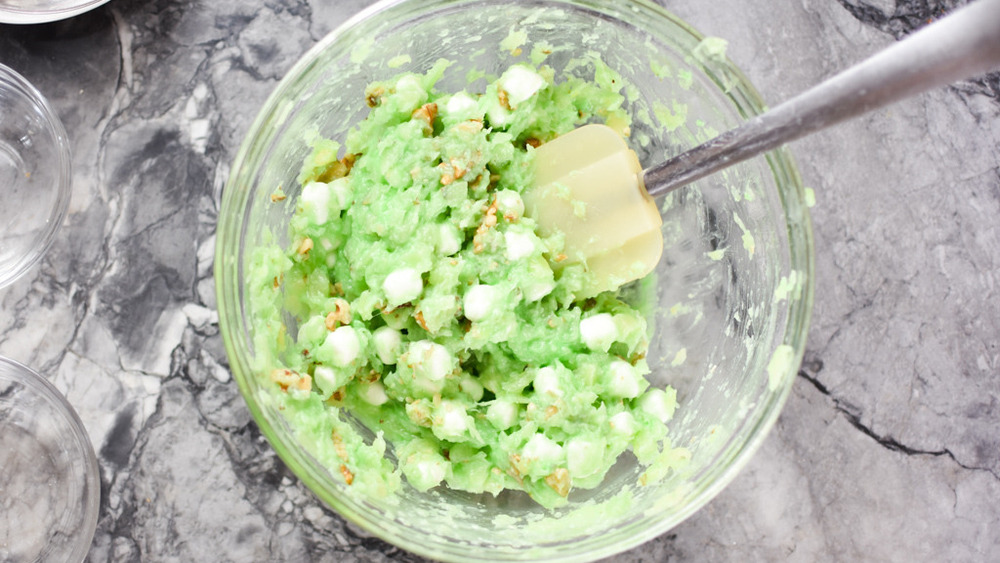 Stephanie Rapone/Mashed
Add that reserved quarter cup of pineapple juice to the dry pudding mix, whisking the two ingredients until smooth in whatever bowl you'll be using to serve the salad in. Stir in the crushed pineapple. Set aside a small amount of the chopped nuts and the mini marshmallows (exact measurements are not crucial at this stage either) to use as a garnish, then mix the rest into the pudding.
Fold in the whipped topping, which will hopefully be completely thawed at this point. If not, you may need to press pause on the recipe for long enough to let it soften up to the point where you're able to stir it. Once you've mixed all the ingredients together, cover it with plastic wrap so it doesn't absorb any of those unwanted refrigerator odors that baking soda commercials are always warning us about. Put the Watergate salad in the fridge for at least two hours, though an overnight stay is okay, too.
Get the Watergate salad ready for serving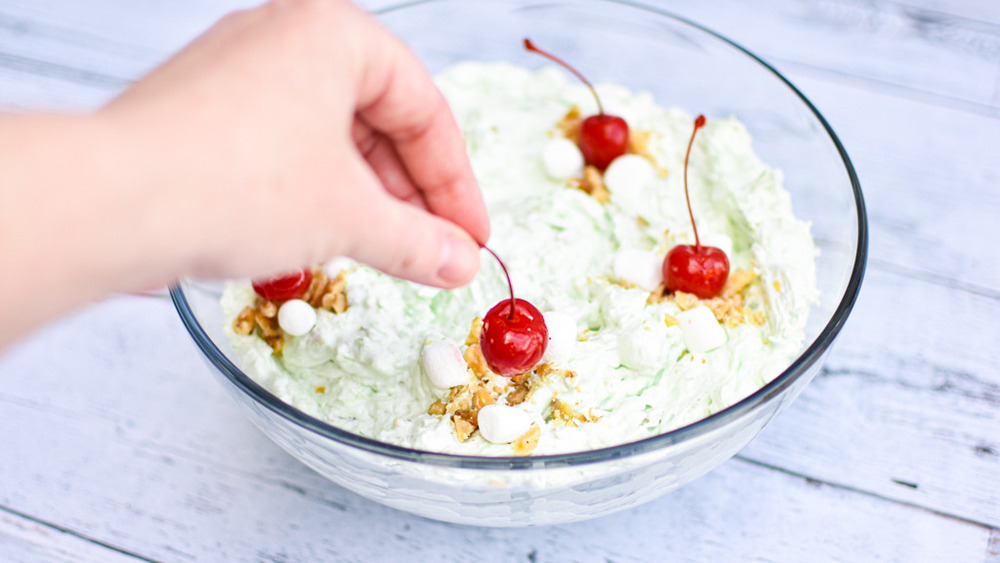 Stephanie Rapone/Mashed
Once your Watergate salad is chilled and set, remove it from the refrigerator and garnish it with the set-aside marshmallows and walnuts as well as the maraschino cherries. As to what to serve along with your retro masterpiece, Rapone feels it's great for an outdoor gathering like a barbecue "since it's awesome to make ahead." She also feels it could work as either a brunch dish or a quick dessert.
But this dish is such a hit that you could easily serve it on its own. Just be warned: You may want to make extras!
Watergate Salad Recipe
One legacy of a '70s scandal that shouldn't leave a bad taste in everyone's mouth is Watergate salad. Now, you can easily make it at home.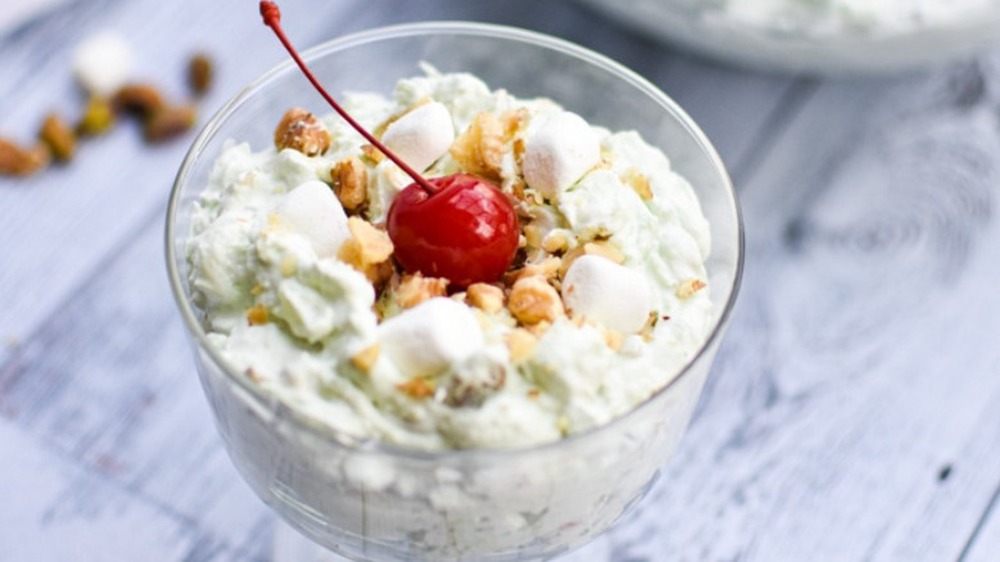 Ingredients
20-ounce can crushed pineapple, packed in juice (reserve ¼ cup)
1 (3.4-ounce) package instant pistachio pudding mix
1 cup miniature marshmallows
½ cup walnuts
8 ounces frozen whipped topping, thawed
Optional Ingredients
Maraschino cherries for garnish
Directions
Drain the pineapple, reserving ¼ cup of the juice.
Finely chop the walnuts.
Whisk reserved pineapple juice with the pistachio pudding. Mix until smooth.
Stir in the crushed pineapple.
Set aside some of the marshmallows and walnuts for garnish, and mix the rest into the pudding and pineapple.
Fold in the whipped topping.
Let the salad sit in the fridge for at least 2 hours or up to overnight.
When ready to serve, garnish with the remaining marshmallows, walnuts, and maraschino cherries.
Nutrition
| | |
| --- | --- |
| Calories per Serving | 260 |
| Total Fat | 8.8 g |
| Saturated Fat | 5.3 g |
| Trans Fat | 0.0 |
| Cholesterol | 28.7 mg |
| | |
| --- | --- |
| Total Carbohydrates | 45.6 g |
| Dietary Fiber | 0.8 g |
| Total Sugars | 38.7 g |
| Sodium | 242.1 mg |
| Protein | 1.7 g |