You've Been Drying Your Wood Cutting Board All Wrong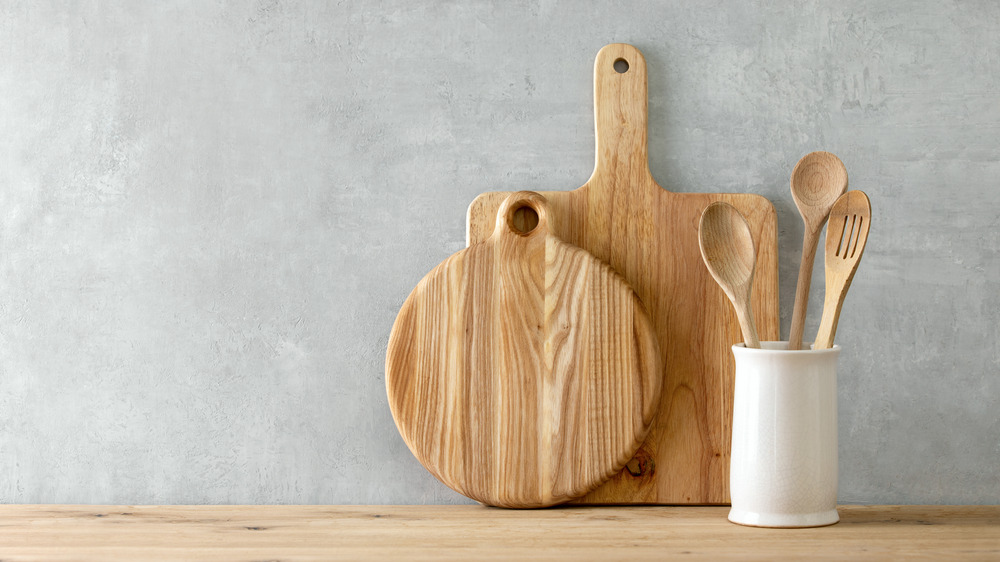 Shutterstock
A clean, calm kitchen with cozy accents is all the rage today. Whether you're more into accessorizing with brass features or matte black hardware, we're willing to bet that you've dabbled here and there in the most recent trend to take on the modern kitchen: warm, wooden accessories. Step foot into any Target or HomeGoods and you'll find them, ranging from relatively affordable, to an investment piece made of solid wood. No matter the price, one thing is for certain: The functional yet fabulous piece will look great propped behind your kitchen sink, or sitting on your counter with some cheese and grapes.
Whichever kitchen aesthetic you're aiming for, the last thing that you want is for your once proudly displayed wooden cutting board to become a bent eyesore, thanks to what seems like inevitable warping. But with the right precautions and just a bit of extra attention, you can keep your trendy wood piece flat and fresh — and ready for your next unforgettable charcuterie platter.
The position of your cutting board is key to saving its shape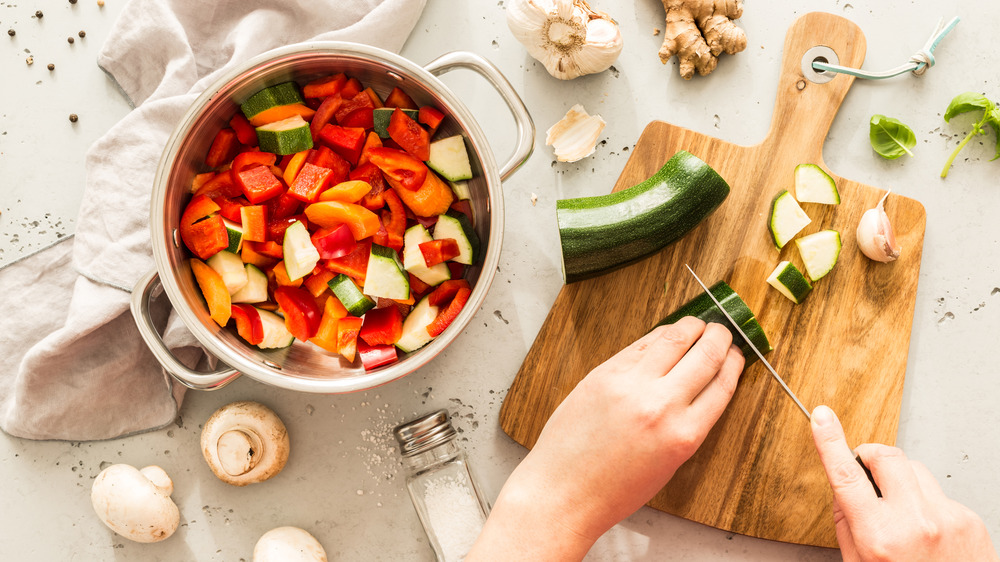 Shutterstock
Let's start by getting this one out of the way: When it comes to wooden kitchen tools, you want to avoid the dishwasher at all costs. The heat is a recipe for disaster, and may just cause your cutting board to splinter and bend, rendering it useless in terms of functionality and aesthetics. Just hand-washing your board isn't enough to keep it safe from warping, though — it's crucial that you let your wooden cutting board air-dry in an upright position.
By drying your cutting board this way, the air can properly flow around the wood and the moisture can be evenly expelled. You can even use an elevated wire rack to properly ventilate the board while it dries. If you lay the board flat to dry, some of that water can get trapped, causing the board to cup and bend (via Misen).
According to Chowhound, drying your board upright is a must to lengthen the life of your new favorite kitchen accessory. It's also recommended that you deep clean the board with lemon and salt or vinegar. Whatever you use, just don't let it sit for more than five minutes — as mentioned, too much added moisture can alter the shape of your board, and send you back to HomeGoods for yet another replacement.
You might still be able to save a warped cutting board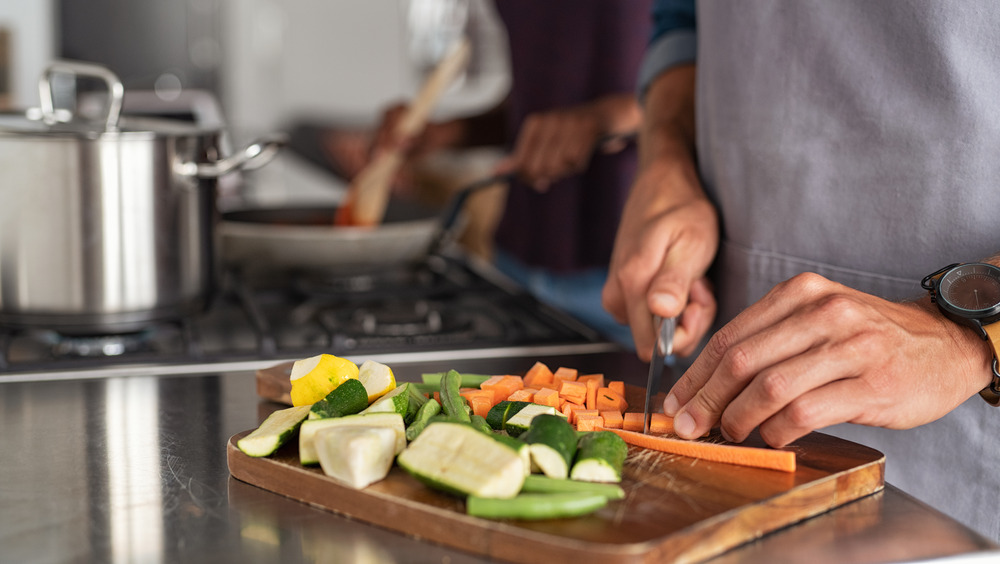 Shutterstock
Chances are, you haven't been pampering your cutting board from the day you bought it, and that's okay! If you're stuck with a warped board but just can't bring yourself to part with it, you may be able to save it with a little extra attention.
Some suggest trying to iron out the raised portion of the board, or even lay it out in the sun to revert to its original shape. Early Wood Designs warns against using any additional heat or moisture on the board, since it's only a temporary fix. If you want to fix your cutting board for good and take care of it moving forward, your best bet is to let it sit on the counter with the curved edge pointing down, so that all four corners are touching the surface. 
Over time, the wood should reverse the "cupping" effect and flatten out. Just be warned: You may want to pick up a backup board for the time being, since the process can take up to a few weeks depending on how bad the bend is (via Early Wood Designs).
And if we learned anything when it comes to caring for your cutting boards, it's that patience is key. Treat your prized kitchen accessories gadgets with a little TLC, and you won't waste another dime!