Aldi Shoppers Are Excited For The Return Of These Teriyaki Salmon Burgers
Who doesn't love the taste of a fresh, juicy burger?  With the weather warming up, it's just about time for people to start pulling out their grills, hosting barbecues, and preparing their favorite meats. However, as we all know, too much meat isn't always the healthiest option, but luckily, Aldi has the perfect solution for those who don't want the high cholesterol and fat that can come with red meat but still want to enjoy all the great taste of a freshly cooked burger. Aldi is now selling Fremont wild caught salmon burgers, which are made with wholesome ingredients that are certified sustainable by the Marine Stewardship Council. They're priced at just $4.99 for a box of four burgers, according to Aldi Reviewer. Their wholesome ingredients and rich teriyaki flavor make them the perfect flavorful meal.
These fresh and flavorful burgers are a hit with Aldi shoppers, many of whom took to praising the item on social media. One excited Reddit user, u/rangerman2002, made a post celebrating their return, writing: "They're Baaaack! I was so excited to see these in the frozen section this morning. One of my absolute favorites for a quick lunch or dinner." They were far from alone in their excitement. One Aldi fan replied: "I can almost eat the entire box in one sitting!" while another user agreed: "Yes! I can't wait to get my hands on some, these are amazing!"
These teriyaki salmon burgers are loaded with flavor - not calories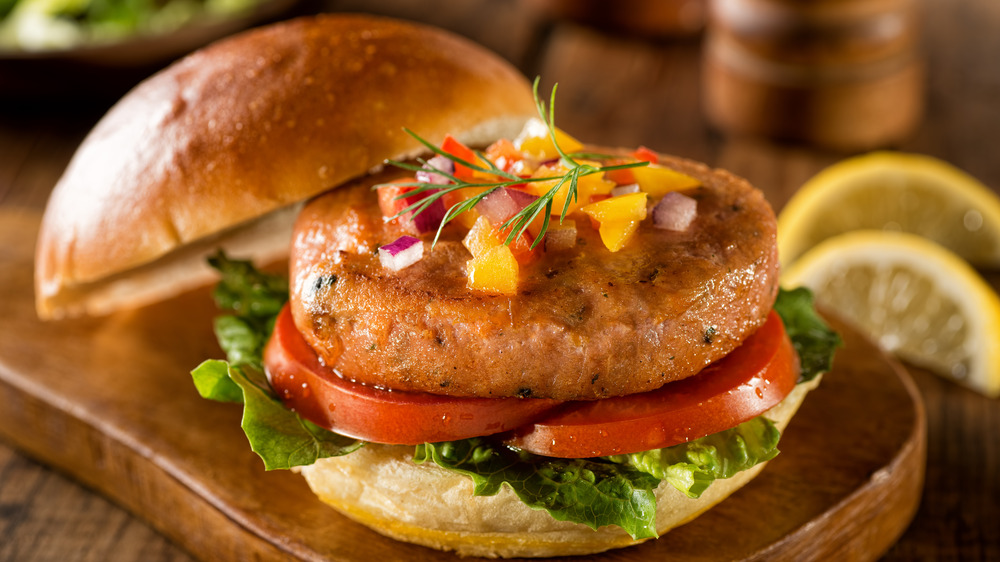 Shutterstock
With only 130 calories, just four grams of sugar, and a moderate amount of sodium and fat per burger (via Aldi Reviewer), they're also a healthier option than a traditional red meat patty. Because they're lighter fare, they're perfect for individuals who are trying to be mindful of their diet, as one satisfied Aldi shopper pointed out. "My favorite! Bought many boxes and will buy more...they apparently disappear in the fall/winter and they are an excellent meal for someone (like me) who has had the gastric sleeve surgery! I've missed them so much!" u/lawcat36 raved.
Many Reddit users also chimed in to offer advice on how to best prepare the burger for optimal results. U/rangerman2002's preferred method was to "pan fry them on low heat. Then I put them on a lightly toasted brioche bun with some mayonnaise, lettuce, and a small dab of cocktail sauce." Others suggested frying them in an air fryer or cooking them on a traditional grill for extra flavor. One thing's for sure — no matter how you like them, these salmon burgers are healthy, flavorful, and sure to satisfy even the pickiest seafood fans.