The Real Reason The Best Cheesesteaks Use Ribeye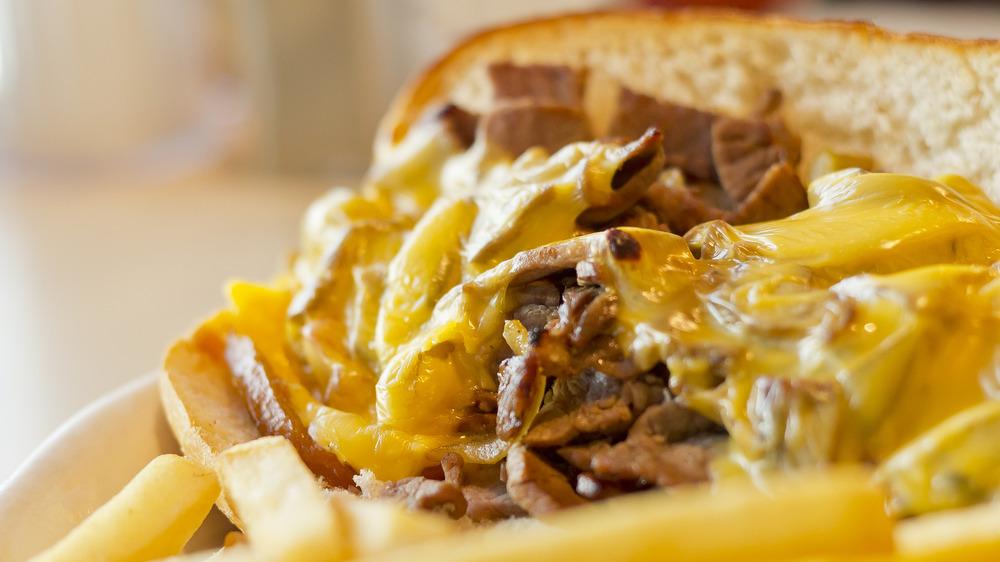 Shutterstock
Nothing says you're from Philly quite like strolling up to the counter of a cheesesteak shop and confidently ordering a "Whiz wit-out," while the rest of us scratch our heads and try to figure out the appropriate jargon correlating to the sandwich we want to order. There are a lot of choices — and some unique lingo — but if you are willing to risk a little misfire at the walk-up window, your bravery will be handsomely rewarded.
There are a lot of reasons that Philly makes the best cheesesteaks, including everything from the bread to the onion to the cheese. Of utmost importance, of course, is the steak. For this major component, many Philly establishments rely on ribeyes to make their famously delicious sandwiches. According to The Daily Meal, ribeyes are thinly sliced and tender, making them easy to bite into when piled into your sandwich. More importantly, ribeyes contain enough fat to continuously baste in when cooked on a hot grill, making them oh-so-flavorful.
Ordering a Philly cheesesteak "wit" ease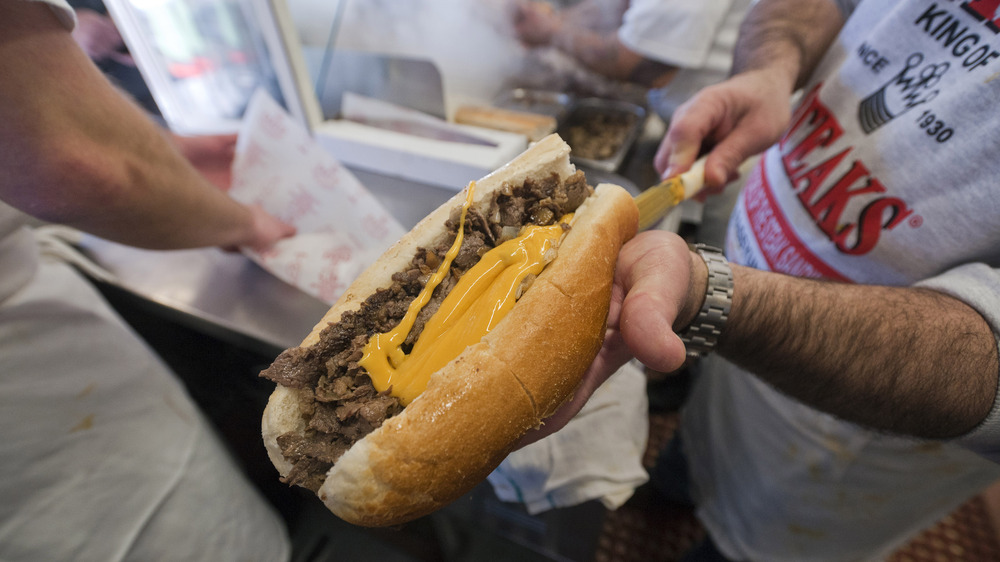 Bloomberg/Getty Images
There are some tough decisions when it comes to getting a cheesesteak in Philadelphia, like where to go and what to get on it. If you're familiar with the Pat's vs. Geno's debate, you might be surprised to learn that the rivalry is a bit of a farce. According to Thrillist, the owners of the two famous cheesesteak shops play up their rivalry for television, but there's no deep-seated resentment — they've even lived in the same apartment building!
Another cheesesteak shop that received some media attention is Max's, which uses sirloin steak according to their website. Max's made an appearance on Creed I and II as well as on an episode of This is Us. But, if you want to get a good cheesesteak, your best bet might just be asking a local.
Once you've decided where to go, it's time to learn a little lingo. According to Philly Metro, you'll need to choose from one of three standard cheese options: Whiz, American, or Provolone. Also, you need to decide if you want onions. This is where the "Whiz wit-out" comes in; it's how you order a cheesesteak with Whiz cheese and without onions. Last but not least, make sure you know your order before you get in line; slowing down a cheesesteak line isn't likely to make you any new Philadelphian friends!