Easy Caramelized Green Cabbage And Bacon Recipe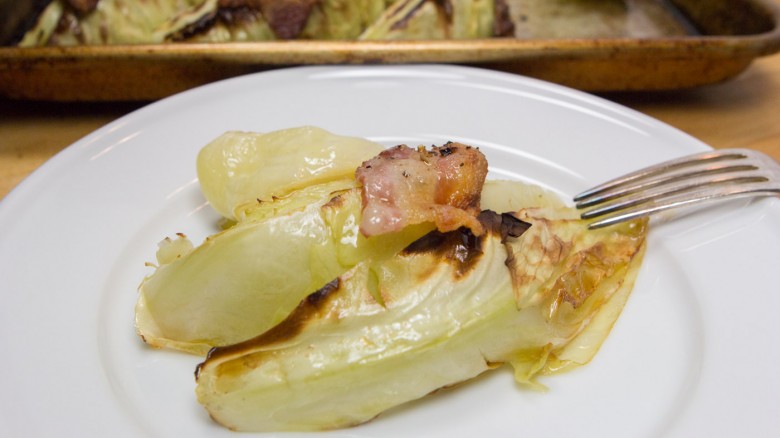 Prep time: 5 minutes. Cook time: 30 minutes. Servings: 8.
Even though cabbage doesn't get a lot of love in the culinary world, I want to let you in on its alluring secret: This humble leafy green is incredibly versatile to cook with and can be downright irresistible. That's right. I'm on a casual but persistent mission to make cabbage sexy. Next to trendy kale, vibrant Swiss chard, and beloved broccoli, plain Jane cabbage is often relegated to the backseat when it comes time to plan the week's dinner menus. Let's change that!
Whether you cook it low and slow, roast it with savory seasonings, or shred it up to make a crisp slaw, cabbage manages to transform into a beautiful dish that satisfies the hunger for substance and flavor every time. It works well as a team player when it needs to (hello, meaty stuffed cabbage) but also shines as the main course. Moreover, this highly underrated vegetable is an excellent source of dietary fiber as well as vitamins C and K.
As the temps drop in the city, I crave cozy, comforting dishes that have the unique ability to warm me from the inside out. After a long day of trudging from one place to the next in freezing cold weather, I also require that this perfect dish be low-maintenance as I can't be bothered with a complicated dinner plan on a busy weekday. Enter cabbage.
Here, I'd like to share with you one of my favorite cabbage preparations come wintertime. Young green cabbage — which you can easily swap with savoy if you like — is cut into wedges and seasoned with olive oil, coarse sea salt, and freshly ground black pepper. Top with your favorite smoked bacon, roast for about half an hour, and you'll be rewarded tenfold. The finished dish is full of deep, complex flavors: caramelized leaves, naturally sweet undertones, charred spots that carry smoky notes, and hints of saltiness from the bacon.
Ingredients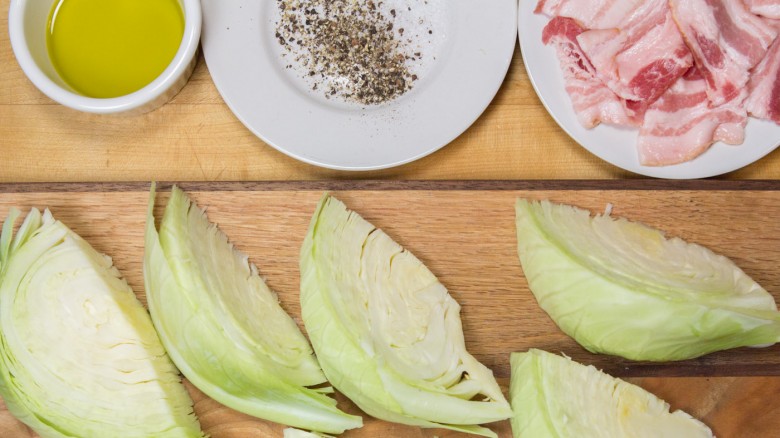 Shopping list


1 head of green cabbage, outer leaves and stem removed and cut into 8 wedges


4 bacon strips, cut into 2-inch pieces


olive oil


coarse sea salt


freshly ground black pepper


Equipment
Season cabbage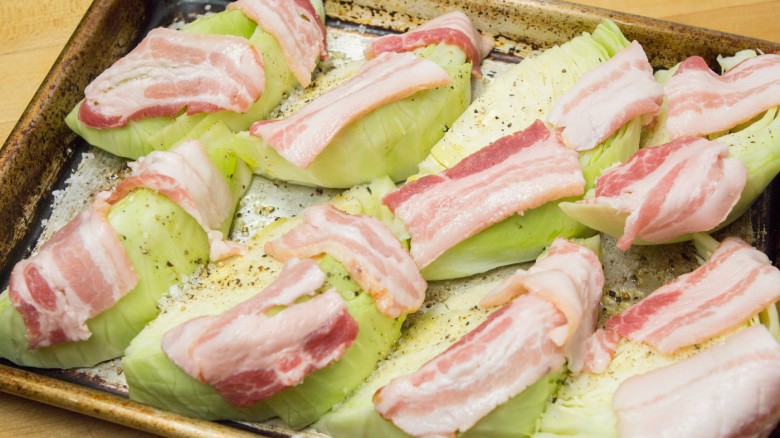 Preheat the oven to 450 degrees. Arrange the cabbage wedges in a single layer on baking sheet. Drizzle olive oil over the wedges. Season with a generous amount of coarse sea salt and black pepper. Place the bacon pieces over the cabbage, distributing evenly.
Roast cabbage and bacon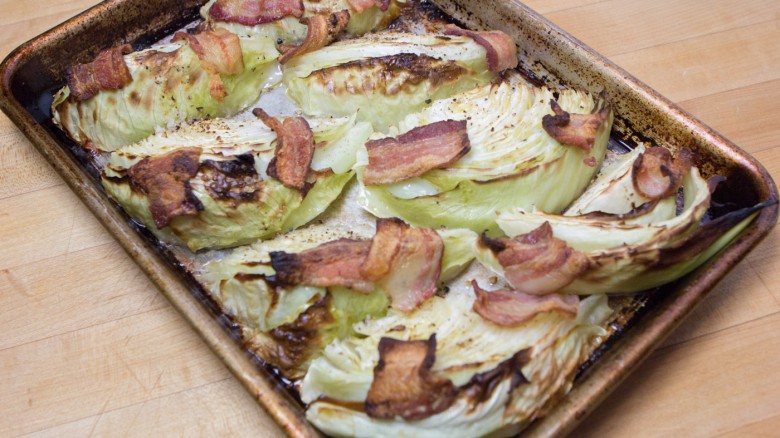 Transfer the prepared cabbage and bacon to the top rack of the oven and roast until the cabbage leaves are tender and browning in spots, 30-35 minutes. Done. It's simple, clean, and delicious. Serve and enjoy.