Here's How Much LongHorn Steakhouse Employees Really Make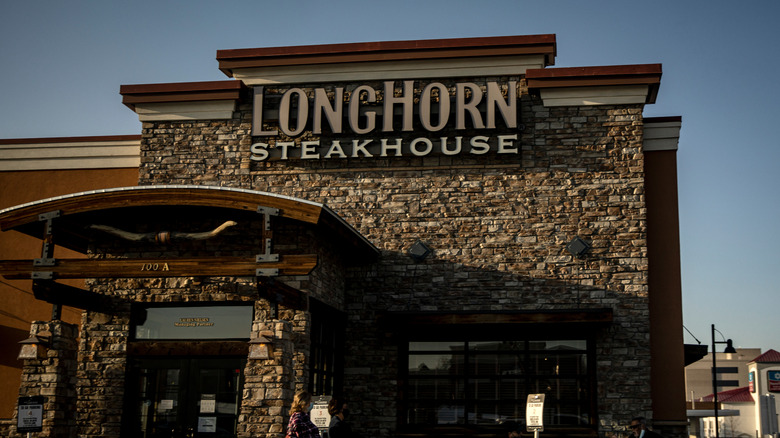 Bloomberg/Getty Images
When you've got a hankering for a delicious and juicy steak that won't break the bank, heading to LongHorn Steakhouse is probably one of the first places you've considered. Delivering what the brand's official website calls "fresh, never frozen steaks," LongHorn's dishes never seem to disappoint those who stop by. And, its title as one of the highest rated full-service restaurants of 2020 proves that (USA Today).
As FSR magazine noted in 2019, LongHorn brought in a total of $1.8 billion in total sales, which was an increase of over six percent from the previous year. And though Statista notes that 2020 saw sales decrease back down to the amount that it was prior to 2019's increase (presumably due to the onset of the ongoing COVID-19 pandemic), almost $2 billion in revenue is still an impressive amount of money to bring in. With all of that in mind, however, does that necessarily mean that the brand, which has been around since 1981, is divvying out acceptable pay to their employees?
Cooks make less than $15 per hour at LongHorn Steakhouse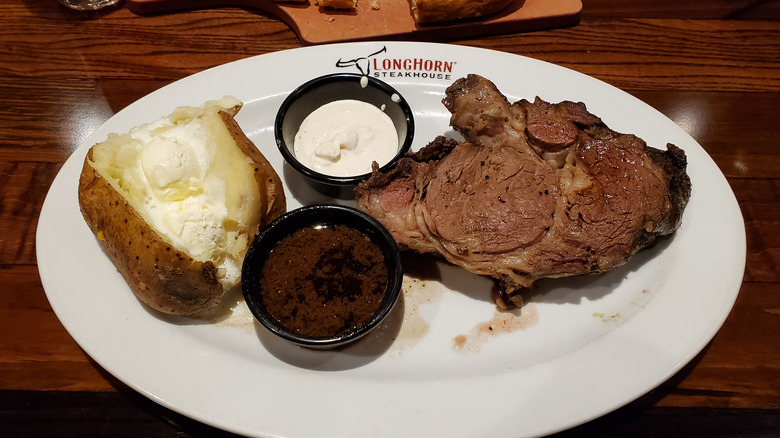 Shutterstock
As Indeed notes, if you happen to land a job as a line or prep cook, you can expect to make anywhere between $13.28 and $14.26 an hour. If you prefer to be a host though, you can expect to make a bit less with an average hourly amount being that of $12.78. If those amounts make you frown, then you'll want to steer clear of taking a position as a server, because according to Payscale, they are only bringing in a disappointing average of $5 per hour.
Rather get a job that requires some management experience? Well, you're in luck because Indeed notes that those positions get paid a bit more. Shift leaders, for example, make an average of $31,579 per year, while service managers make $44,013 yearly. And if that's still not enough for you to bring home, you can always go for a restaurant manager or simply a manager position which brings in $48,846 and $55,581 per year, respectively. Now of course, these amounts are subject to change based on factors such as location, the employee's experience, and job duties, but if working at LongHorn Steakhouse is something your'e considering, it's good to know what you can expect to be paid.