Classic Popovers Recipe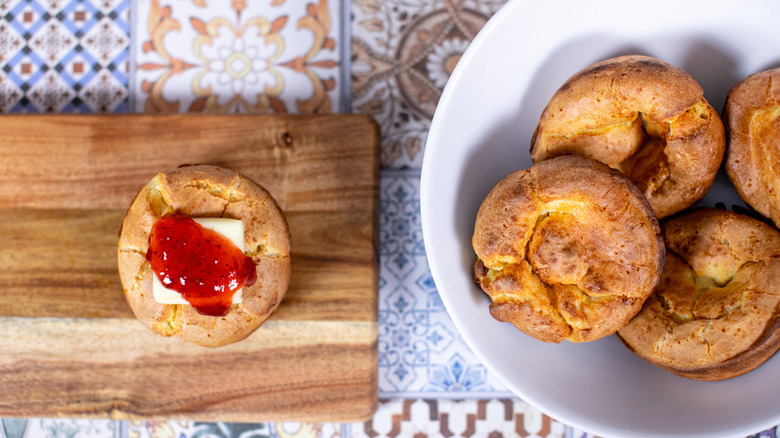 Nathaniel Lee/Mashed
If you've always wanted to make eggy, buttery homemade popovers, but have found them intimidating to make, recipe developer Nathaniel Lee of Beginner Food is coming to your rescue. This recipe from Lee relies, not on popover tins, but on a regular standard muffin tin and a few tricks. It'll have you in popover heaven in just about no time.
Of course, a muffin tin won't give you exactly the same popovers you see on Insta. "If you want the most poof and expansion, you will need popover tins," cautions Lee. "If you are okay with more hollow biscuit-shaped popovers, a muffin tin will work great."
As for why? It's a question of physics. "The reason a muffin tin will not rise as much is due to the surface area to volume ratio," explains Lee. "There is simply more 'inside' of the popover in a muffin tin than there is in a skinny popover tin. As such, the popover tin can push upwards with greater effect. Additionally, as popover tins have straighter walls than muffin tins, the outward exerted force is translated upwards in a popover tin rather than up and out in a muffin tin."
You can regale your guests with the scientific proof as you dig into these popovers, which are delightful when spread with butter or jam. They can also be a lovely savory accompaniment to a Christmastime prime rib or a simple Sunday roast chicken.
Gather the ingredients to make popovers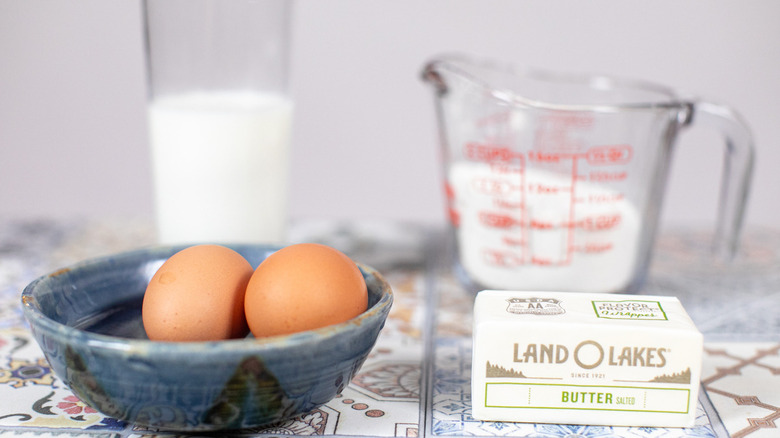 Nathaniel Lee/Mashed
These popovers don't demand much in terms of ingredients! Eggs, butter, milk, all-purpose flour, and salt is all you'll need. Be sure that all of your ingredients are at room temperature before getting started. Lee notes that that's the best way to ensure the batter rises as much as possible in the oven.
If you're looking for a more savory vibe for your popovers, Lee notes that you may want to replace the butter with rendered bacon fat or beef drippings. You can also add fresh herbs like thyme and chives, or even include ½ cup of cheese like gruyere or cheddar, which, Lee notes, will give them a "rich, springy texture."
Make the batter for the popovers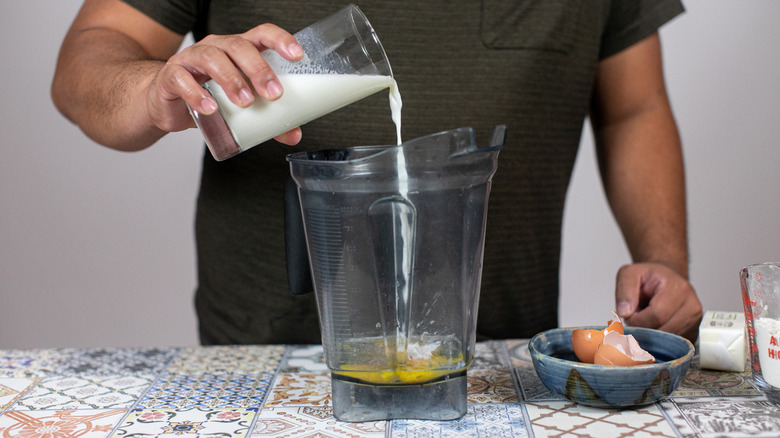 Nathaniel Lee/Mashed
To make the batter for these popovers, Lee relies on a blender. Not only does it make it far easier to pour the batter into the piping hot muffin tin (Spoilers! We'll get to that in a sec.), but a blender also helps the mixture come together in a snap. Simply combine the eggs, milk, and salt, and blend on high speed until frothy. While the blender is, err, blending, feel free to butter your muffin tin with one of the tablespoons of butter.
Rest the batter, and preheat the oven for the popovers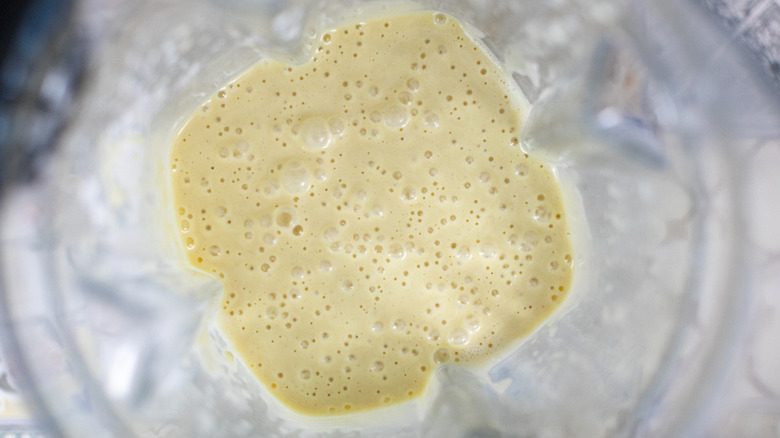 Nathaniel Lee/Mashed
When the mixture is nice and airy, add the flour and the remaining melted butter. Blend for a few seconds, or until just combined. Be careful not to over-mix once the flour is added. This can cause too much gluten to form, making your popovers dense and chewy rather than light. 
Next, place the muffin tin in the oven, and preheat it to 450 degrees Fahrenheit. "You want the tins hot," explains Lee. "Muffin tins have poorer circulation than popover tins so they don't heat as well. You want your batter to cook fast."
The preheating gives the batter just enough time to rest, but if you prefer, you can also make the batter a few hours in advance. "Presumably, you could make it the night before," says Lee. "But, you would have to let the batter come back up to room temp before baking."
Either way, you'll want to bake just before serving so that your guests can enjoy a piping hot popover.
Bake the popovers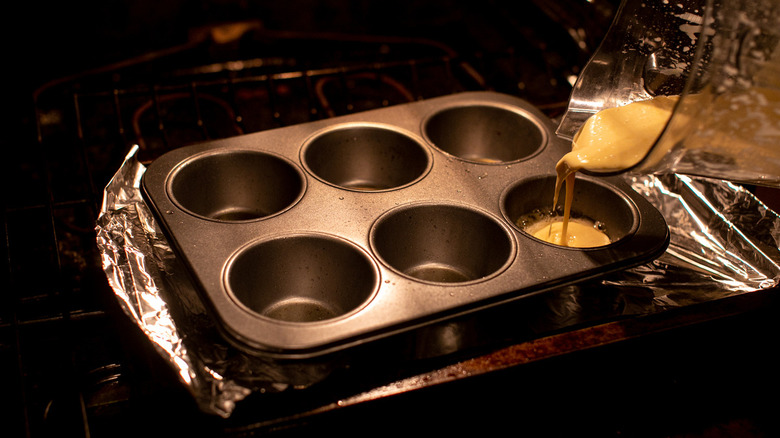 Nathaniel Lee/Mashed
It's time to bake! Carefully, without removing the tin from the oven, pour the batter into each cup of the muffin tin until about halfway full. Bake for 20 minutes, then reduce the heat to 350 degrees Fahrenheit, and open the oven briefly — for just three seconds or so.
"Ovens are made to be insulated, i.e., not lose heat," explains Lee. "Turning an oven down but not venting the hot air will barely reduce the temperature of the oven. If you want to reduce an oven's temp, you have to let some of the existing hot air out."
Bake for an additional five minutes, or until the popovers are puffy and golden.
Despite what you may have been told growing up, there's no need to tiptoe through the kitchen while your popovers bake. "Popovers, soufflés, and other egg-based rising dishes just need heat and structure to rise," says Lee. "Don't use cold batter, don't use cold tins, and you should be fine. Feel free to walk around or shout to your heart's content." And you'll surely be shouting with glee when these pillowy delights pop out of the oven!
Serve the popovers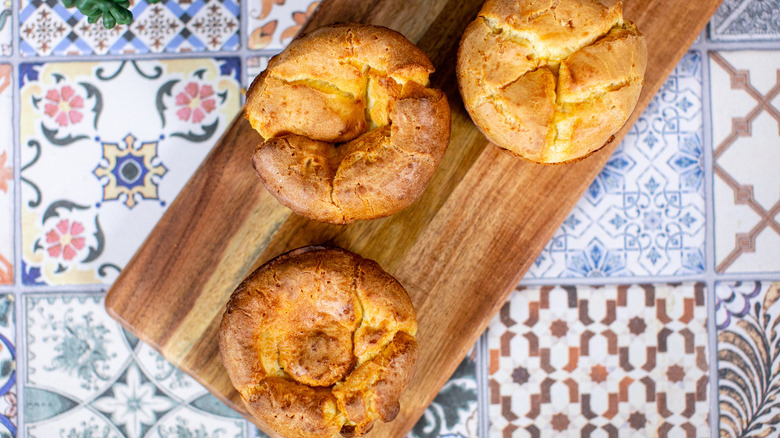 Nathaniel Lee/Mashed
When the popovers are baked, there's one last step. First, remove the popovers from the muffin tin, and then carefully prick each popover with a fork or knife to allow the steam to escape.
"Steam in the popovers will make them soggy, stodgy, and limp," explains Lee. "If you release the steam, they will stay puffed up longer while you serve."
Speaking of which, it's time to dig in! Whether as a side for a savory roast or spread with butter and jam for a sweet breakfast or snack, these popovers are a surefire crowd-pleaser.
Classic Popovers Recipe
These popovers are delightful when spread with butter or jam. They can also be a lovely accompaniment to a holiday prime rib or simple Sunday roast chicken.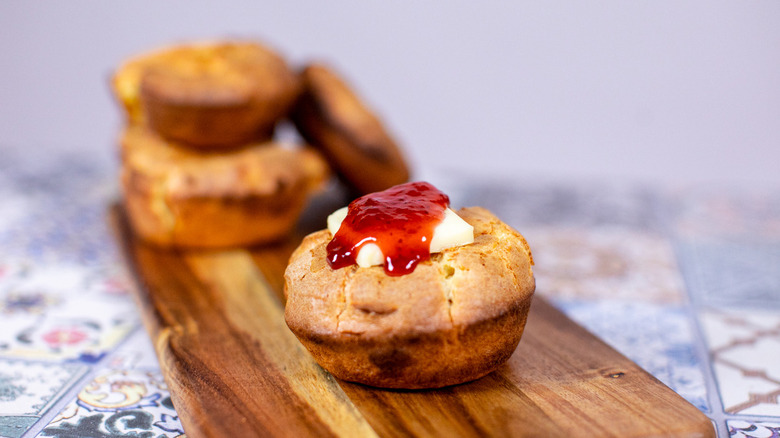 Ingredients
2 eggs, room temperature
2 tablespoons melted butter, divided
1 cup milk, room temperature
1 cup all-purpose flour
pinch salt
Directions
Butter or grease the muffin tin with 1 tablespoon of butter.
Add 2 eggs, 1 cup of milk, and a pinch of salt to the blender, and blend on high until frothy.
Add 1 cup of all-purpose flour and the rest of the melted butter to the blender, and blend for a few seconds, until combined.
Preheat the oven to 450 degrees Fahrenheit with the muffin tin inside the oven. Meanwhile, let the batter rest.
Without removing the muffin tin from the oven, pour the batter in, filling each cup about halfway. Bake at 450 degrees Fahrenheit for 20 minutes.
Reduce the oven temperature to 350 degrees Fahrenheit, and open the oven door for three seconds to allow some of the heat to escape.
Continue baking at 350 degrees Fahrenheit for five minutes.
Remove the popovers from the muffin tin and prick each one with a fork or knife to let the steam out.
Serve with jam and/or butter.
Nutrition
| | |
| --- | --- |
| Calories per Serving | 233 |
| Total Fat | 10.1 g |
| Saturated Fat | 5.5 g |
| Trans Fat | 0.2 g |
| Cholesterol | 101.3 mg |
| | |
| --- | --- |
| Total Carbohydrates | 26.9 g |
| Dietary Fiber | 0.8 g |
| Total Sugars | 3.2 g |
| Sodium | 95.0 mg |
| Protein | 7.9 g |