This Is Giada De Laurentiis' Citrusy Twist On Classic Pesto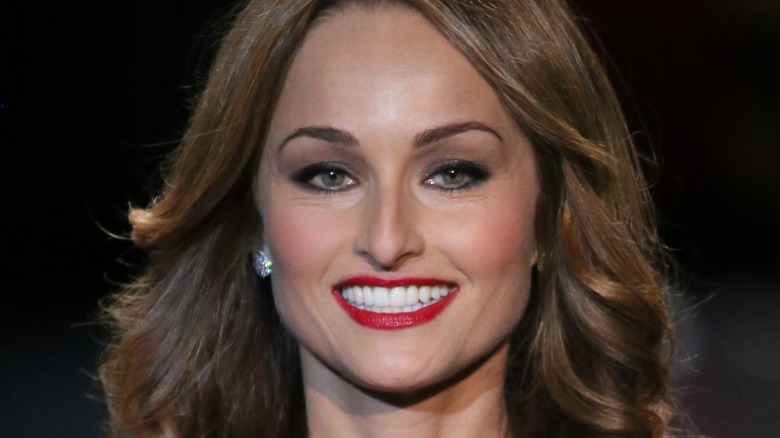 Shutterstock
As temperatures start to heat up and we want to start changing up our menus, nothing helps evoke that feeling of spring like a plate of fresh pasta with pesto. According to Oliviers and Co., the sauce originated in Genoa, Italy, back in the 16th century. Pesto's simple makeup of olive oil, parmesan, basil, pine nuts, and garlic has stayed the same over the centuries and takes its name from the Genovese word for "to crush," reflecting how the sauce gets made. While purists might not mess with this effective mélange of ingredients, the next generation of cooks have played with pesto's flavor by introducing new elements.
Celebrity chef Giada De Laurentiis took pesto to new limits in a recent Instagram post, where she showed off her take on this Genoese classic. De Laurentiis posted a picture of noodles coated in her signature pesto sauce, alongside the caption "We love classic pesto, but this is the simple spin on the recipe we make most often: Pesto Agli Agrumi, or "citrus pesto"! This Sicilian sauce uses almonds in place of pine nuts, and citrus zest gives it an amazing vibrant flavor. Fab for pasta and seafood!"
The ultimate spring pasta topping
Giada De Laurentiis swears by citrus when it comes to pesto. According to Giadzy, De Laurentiis typically uses a squeeze of lemon juice to elevate her pesto but takes the idea to the next level by also incorporating a squeeze of orange juice in the dish and substitutes slivered almonds for the classic pine nuts. This bright combination of flavor can top any pasta, bruschetta, and even steak that you throw its way. De Laurentiis claims this take on the Genoese sauce has Sicilian roots, and you might see this version listed as pesto agli agrumi on authentic Italian menus. Either way, we love the tangy flavors that evoke spring sunshine and can't wait to introduce the recipe into our weekly meal routine.
When your meal plan needs some cheering up, nothing does the trick like De Laurentiis' citrusy twist on pesto. After one bite, you won't want to have pesto any other way and can look forward to putting the sauce on any dish that needs an extra burst of flavor. Give this pesto recipe a shot and get ready to send your taste buds on a trip to Sicily with this authentic Italian recipe that might change the way you see pesto.