Here's How Angry Orchard Got Its Name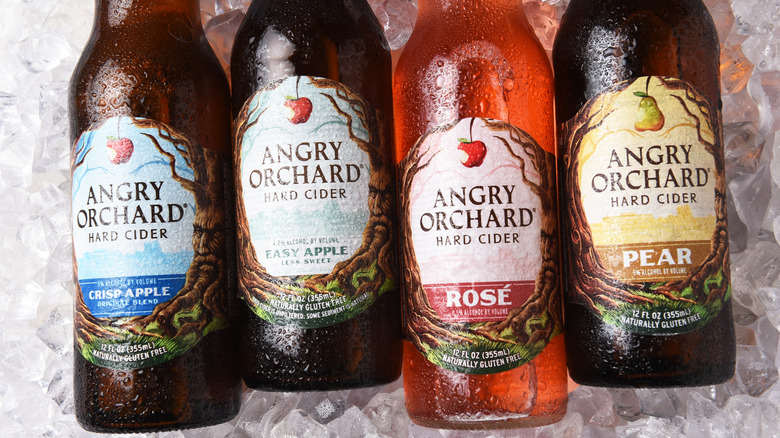 Shutterstock
For those who would reach for a cold cider as opposed to a frosty beer, Angry Orchard is likely a brand you've tried out. Hard cider is quickly becoming a crowd favorite, and the numbers prove it. This world of apple alcohol is now a billion-dollar industry in the U.S., says Inside Hook. As the hard seltzer craze continues, don't forget about the juicy and tangy counterpart when you head to the beach this summer.
Angry Orchard has been at the forefront of the cider industry since it first hit shelves. The cider brand is the most popular hard cider on the market by a landslide, with Statista reporting back in 2019 that the company's sales were climbing over $200 million. This isn't too surprising, as hard cider appeases all of the fruit enthusiasts that are looking for a light, crisp sip.
While the cider brand's flavors aren't known to be bitter, the brand's mascot sure is. The irritable-looking tree gracing the bottles begs the question — why so angry?
An angry-looking apple makes for a flavorful cider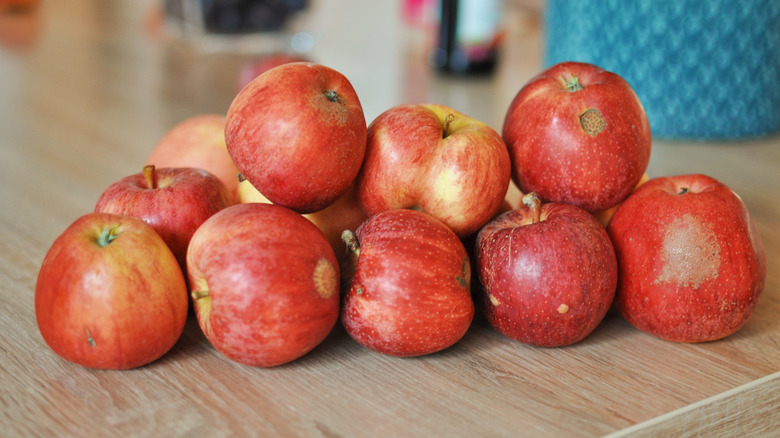 Shutterstock
As it turns out, the angrier the apple looks, the tastier it is in your glass. Angry Orchard explains that when making cider, the wonky "angry" appearing apples are a better option than the pristine apples you'd grab at the market. "The apples produce more tart and tannic juice, so they are perfect for cider," the company shares. The cidery proves that true beauty really is on the inside, even when it comes to apples.
These perfect cider-making apples gain a second life when they reach the orchard. Considering even apple lovers would roll one of these to the side for a bright and shiny fruit, their true juiciness is a secret to most. When fruit is attacked by pests and animals, it fights them off by boosting its antioxidant defenses, says NPR. This means these fruits may not just be sweeter, but healthier, too. Considering the fermentation process thrives on sugar, the added sweetness is particularly beneficial when it comes to making hard cider.