This Icelandic Dish Was One Of Prince Philip's Most Requested Desserts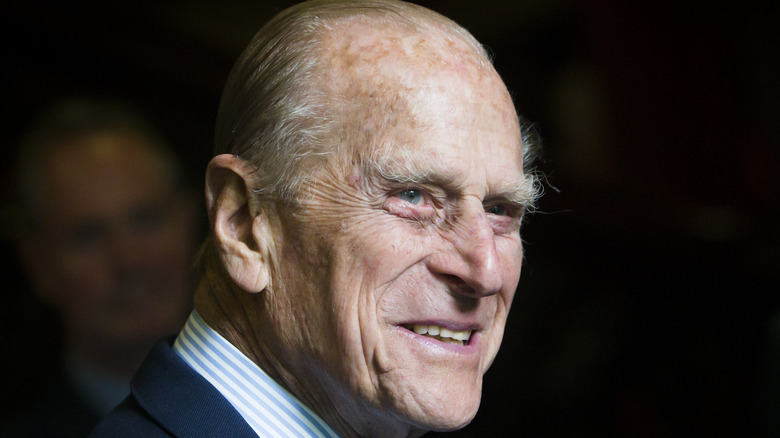 Wpa Pool/Getty Images
No one could deny that Prince Philip loved food. According to Delish, the late Prince adored salmon coulibiac and had even got caught raiding the royal kitchen when he wanted a late night snack. And while there are plenty of rumors and stories, no one knew the eating habits of the English monarchy like royal chef Darren McGrady, and over the years, McGrady saw it all. Out of the hundreds of anecdotes he collected while working for the Queen and Prince, McGrady particularly remembers one occasion where Prince Philip discovered his favorite dessert.
In a YouTube memorial, McGrady recalls how Prince Philip discovered Crepe Islandaise, or Icelandic pancakes, while at a banquet in Iceland. The dish floored Philip and before leaving, he requested the recipe for the simple dessert so that the royal cooks could make it for him at home. The dish features cream and jam mixed together inside a crepe, and while the treat has very few frills, the Prince couldn't get over the taste and requested the dish at multiple dinners onward. Even if you can't find this crepe on restaurant menus, don't feel intimidated — any home cook can whip up Prince Philip's favorite sweet with minimal effort.
What makes this crepe so special?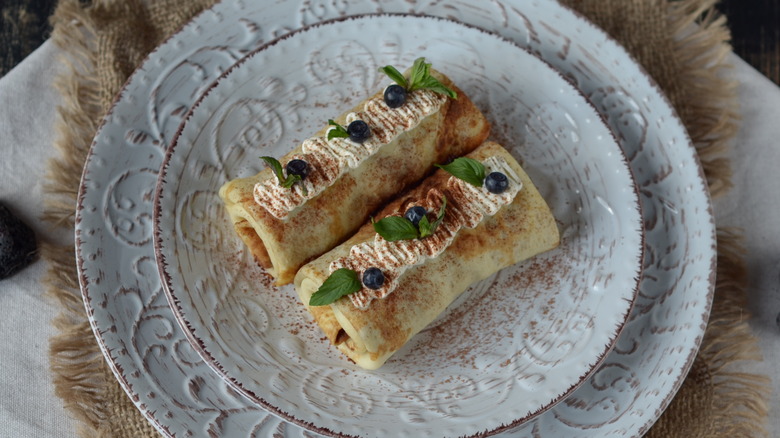 Shutterstock
If you travel to Iceland, you would most likely find these pancakes listed as pönnukökur on menus, according to Honest Cooking. Any home chef looking to make an authentic version of the recipe needs an Icelandic pancake pan — a round skillet with a thick bottom that allows for the pancakes to cook quickly over high heat. After each pancake cooks, you must also remember to dust each crepe with powdered sugar in order to prevent the pancakes from sticking to each other. 
While Prince Philip enjoyed the dish as a dessert, Icelanders typically eat it in the morning. According to Hello!, Prince Philip even helped put his own spin on the recipe. The traditional Icelandic pancake recipe needs jam, and the Prince assisted the royal chefs by plucking his favorite Victoria plums from the trees at the Balmoral estate to turn into jam. 
Despite its simplicity, Prince Philip fell in love with this dish and enjoyed Icelandic pancakes throughout his life. If you have never encountered this delicacy before, you couldn't ask for a more delicious crepe to try whipping up at home. Next time you need a sweet way to start your day, try out this recipe that Prince Philip championed and discover all of the flavors locked inside each bite.