This Plant-Based Queso Dip Has Costco Shoppers Divided
When you want to pursue a plant-based diet or just need to cut dairy out of your eating plan, finding a good queso that fits the bill can prove challenging. This dip has its origins in Mexican queso fundido, a dip made out of soft white cheese (via Minimalist Baker). When queso fundido came to the U.S. in the early 1900's, it transformed into chile con queso for the Texas crowd and spread across the country over the following years. Nowadays, we come to associate the dish with a neon yellow cheese sauce made for dipping, but thanks to enterprising chefs, we have finally started to see dairy-free queso pop up across America. 
While the homemade pant-based version of the dip relies on ground cashews, nutritional yeast, and a variety of spices, store brands have entered the fray and introduced their own take on vegan-friendly queso. Instagrammer @costco_doesitagain recently discovered that Costco now carries Zubi's Queso, a plant-based, dairy-free, nut-free, gluten-free dip perfect for anyone pursuing a vegan lifestyle. They posted a picture of the new queso, alongside its $9.99 price tag and followers have taken notice. The post has so far accumulated almost 1,500 likes and a variety of comments, but not everyone has taken to the goods.
A queso that splits Costco fans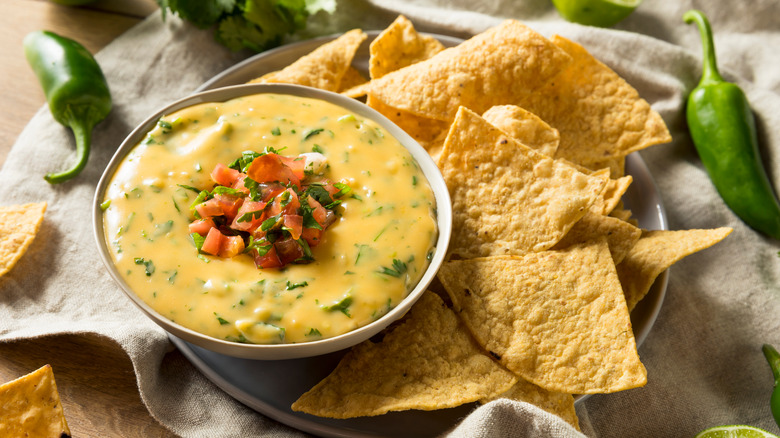 Shutterstock
The post has since divided followers. Some users love the product, chiming in with positive replies like, "we need to try this," and "looks yum!" While other Instagram followers can't get enough of the dip, a hefty amount of replies emerged that attack the vegan-friendly queso. Some commenters go after the ingredients, claiming, "Wish they didn't use safflower oil...a better oil would make this awesome!" Another added, "Show the ingredients please!" Others attacked the taste, with replies ranging from, "Grossest thing I've ever bought at costco!" to "First couple of bites is good!! After that .. no."
If you need to watch what you eat, you might find something to love in this new queso that guarantees to evoke some strong opinions. If you have searched high and low for a dairy-free queso that fits any plant-based eating plan, give this dip a shot and see which side of the debate you fall on. After one bite, you might just find your new favorite queso or get inspired to whip up a competing product at home. Either way, you might end up discovering something amazing thanks to this new Costco product.