Instant Pot Cilantro Lime Rice Recipe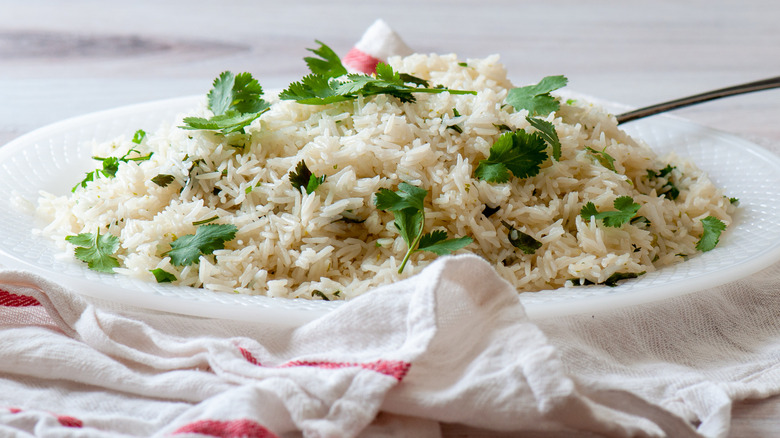 Laura Sampson/Mashed
When you're ready to take a page out of pretty much every Mexican restaurant's book and start serving rice alongside your homemade tacos, enchiladas, or burritos, you want to get the recipe right. But what you don't want is to add a bunch of extra time and hassle to your nightly food-prep schedule. Enter: this cilantro lime rice recipe from Laura Sampson of Little House Big Alaska. Because the recipe uses the Instant Pot, it only takes around 20 total minutes to prep and cook, which you can do while you're also cooking up your main dish. And while the recipe is designed to serve between four and six people, you can easily double the recipe to feed a crowd — without requiring any additional time.
And the thing is, you don't need to save this recipe for Taco Tuesday. If you've got grilled chicken on the menu? Serve this rice alongside it and add a few rings of grilled pineapple for a Caribbean flare. Or, mix your leftover rice with black beans and serve it up with fried eggs and grilled sausage for a Latin-style breakfast.
Gather your ingredients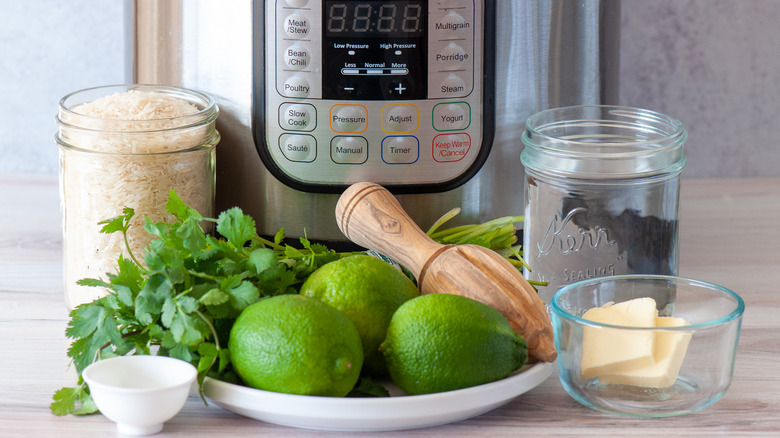 Laura Sampson/Mashed
If you haven't made a habit of making rice on a regular basis, you'll be pleasantly surprised that it's quite easy to make. All you really need is rice (Sampson suggests long-grain white rice), water, and butter, in addition to salt to actually cook the rice. Then, you'll need lime juice, chopped cilantro, lime zest, and additional salt to get the seasoning perfect. 
When it comes to choosing your butter, Sampson always uses an unsalted variety, because it allows her to control the salt content of the rice more carefully, but you can use whatever you have on hand. And if you don't have butter in the house, you can substitute with oil. Just be aware that certain oils (like coconut and sesame oil) have strong flavors that can change the entire flavor profile of the dish. If you're looking for a neutral-tasting oil, stick to vegetable or canola oils, light olive oils, or grapeseed oils.
Combine ingredients in the Instant Pot, and cook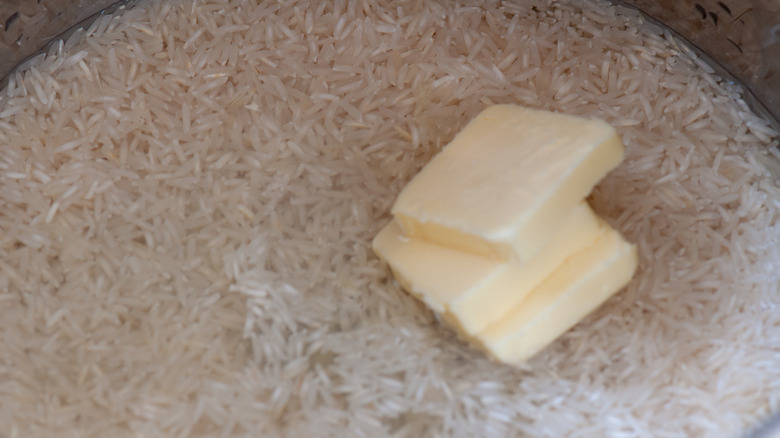 Laura Sampson/Mashed
To cook your rice in the Instant Pot, simply combine the water, rice, butter, ½ teaspoon of salt, and 2 tablespoons of lime juice in the inner pot of the Instant Pot. You don't even have to mix the ingredients! Simply put the lid on, press "power," and set the Instant Pot to manual mode, adjusting the time to four minutes. Once the time is set, turn the knob to "sealing." When the cooking is done, allow the dish to "rest" for ten minutes. Don't touch the pot or check on the rice while it rests. Simply continue cooking your other dishes.
After the ten-minute rest period, release the pressure on your Instant Pot.
Fluff the rice, and add more seasonings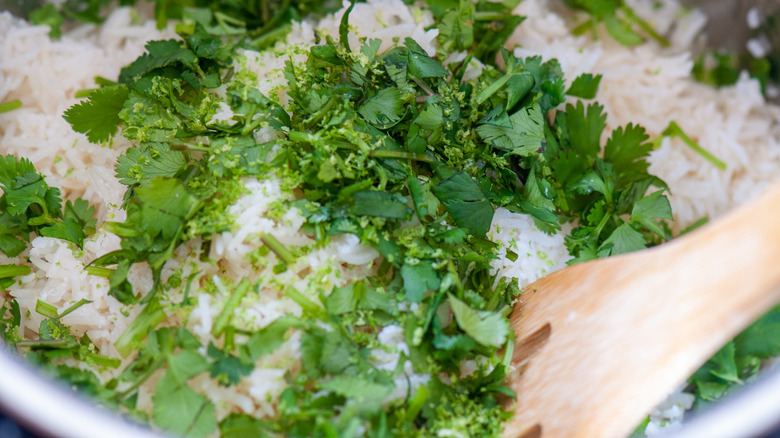 Laura Sampson/Mashed
When you open your Instant Pot up, you're almost ready to serve your rice. Simply fluff the rice with a fork, then add your remaining ingredients for seasoning, except for the salt. This means you'll stir in the remaining tablespoon of lime juice, the cilantro, and the lime zest. It's prudent to wait to add the salt until you've mixed the rest of your seasonings well (and taste-tested the result).
Add salt if needed, and serve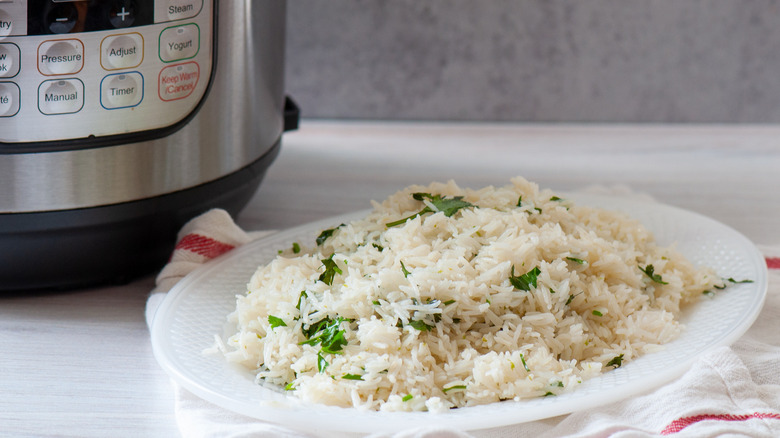 Laura Sampson/Mashed
With all the ingredients well-combined, taste-test the rice to see if it needs more salt. If so, start with ½ teaspoon, mix well, and taste again. Do this in small increments until you're happy with the flavor. When it's ready to go, serve it hot with the rest of your meal! 
One thing to keep in mind is that after you've tried this recipe as-is, you can start getting creative. For instance, there's no reason not to add more veggies, like chopped onions or sweet peppers, during the cooking phase. These can add color and flavor to the final result while helping you capitalize on veggie intake, too.
Instant Pot Cilantro Lime Rice Recipe
This Instant Pot cilantro lime rice is undeniably tasty when paired with enchiladas or grilled chicken, and it comes together in a flash.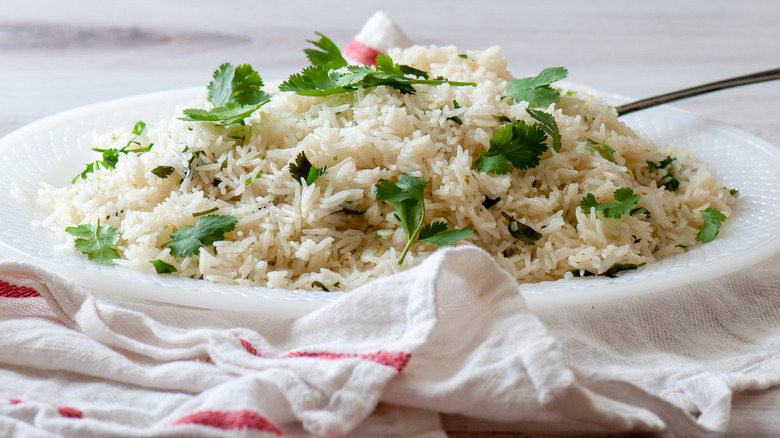 Ingredients
2 cups long-grain white rice (Basmati works well here)
2 cups water
3 tablespoons butter
3 tablespoons lime juice, divided
1 teaspoon salt, divided
½ cup chopped cilantro
2 teaspoons lime zest
Directions
Combine the water, rice, butter, 2 tablespoons of lime juice, and ½ teaspoon of salt in the inner pot of the Instant Pot.
Put the lid on the pot, press the power button, set it to manual mode, and adjust the time to four minutes. Set the knob to sealing.
When the pot is done cooking, let it rest for ten minutes and then release the pressure.
Fluff the rice with a fork.
Add the remaining lime juice, cilantro, and lime zest. Stir and fluff.
Taste for salt and add as needed. Serve while hot.
Nutrition
| | |
| --- | --- |
| Calories per Serving | 431 |
| Total Fat | 9.2 g |
| Saturated Fat | 5.6 g |
| Trans Fat | 0.3 g |
| Cholesterol | 22.9 mg |
| | |
| --- | --- |
| Total Carbohydrates | 78.6 g |
| Dietary Fiber | 0.2 g |
| Total Sugars | 0.3 g |
| Sodium | 560.9 mg |
| Protein | 6.6 g |