Good News For Fans Of Nathan's Famous Hot Dogs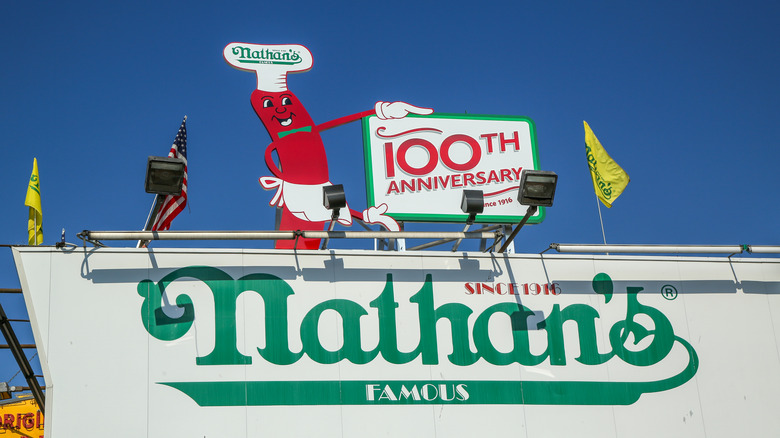 Shutterstock
If you're a fan of Nathan's Famous hotdogs, know that the classic New York hotdogs could be coming to a Walmart near you, thanks to a deal the retail giant signed with Ghost Kitchen Brands. The partnership between Nathan's and the company allows the latter to offer menu items from Nathan's Famous, as well as the hot dog giant's virtual kitchen brand Wings of New York, with food items that include hot dogs and crinkle cut fries, as well as wings, cheesesteaks, and Oreo milkshakes (via Business Wire).
Ghost Kitchen Brands gives diners at home a chance to order food from the menus of both national and regional restaurants. Marc Choy, who is president of the Toronto-based company, called the concept a "virtual food court" that operates all the kitchens, but it has licensing and distribution agreements with restaurant partners. In short, "We want the customer to have the same experience with us that they would have with any of these brands' brick-and-mortar stores," Choy tells Nation's Restaurant News. 
Ghost Kitchen Brands is working with Walmart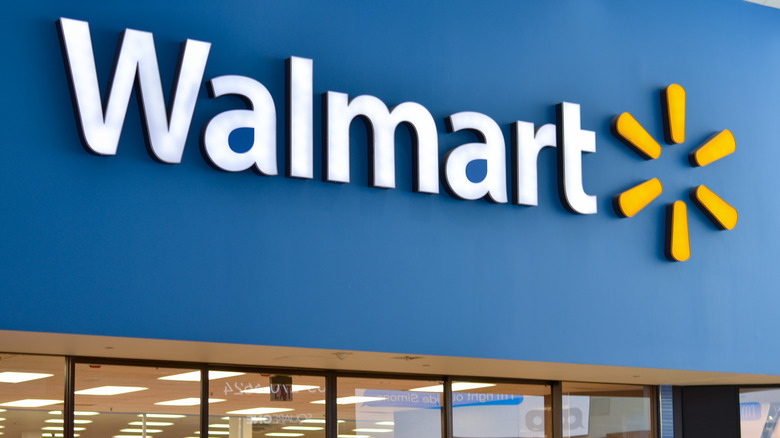 Shutterstock
The brand's delivery-only service prepares meals for brands like Cheesecake Factory, Cinnabon, Slush Puppie, and Quiznos. Founder of Ghost Kitchen, George Kottas, explained the concept to Toronto Star saying that the firm "acquire[s] the rights to all these international brands and put them under one kitchen." Contrary to what we might expect, this unique delivery model didn't evolve as a result of the pandemic and shelter in place orders, but Kottas says that "[the pandemic] did expedite food trends like mobile ordering and delivery. A concept like this was coming one way or another."
The announcement of Nathan's Famous' collaboration with the company comes just weeks after McDonald's said it was closing hundreds of restaurants located in Walmart stores across the country, but the spaces weren't going to stay empty, because as The Wall Street Journal reports, the store was already planning to offer spaces to a number of Ghost Kitchen Brands. "These spaces have been freeing up over time," Molly Blakeman, a Walmart spokesperson, told USA Today. "We have been and continue to fill them. We're looking to both restaurants and services that are really relevant to our customers." Other than Ghost Kitchen Brands, other outlets that have moved in to Walmart include Taco Bell, Domino's, and Charleys Philly Steaks.