Aldi's New Rose-Themed Strawberry Ice Cream Cones Are Turning Heads
Aldi is helping their shoppers get ready for summer in the most delicious way possible, with their new Strawberries and Cream Rose Cones. Each frozen treat is flavored with strawberries and cream and fashioned into a gorgeous, delicate rose shape, which is then nestled inside a cocoa flavored waffle cone. But these rose desserts are not only pretty, they are also delicious, making this carefully crafted arrangement the perfect crowd-pleasing centerpiece or unique dessert for a gathering or special occasion.
However, although they are delicious, shoppers should be mindful that they are not a health food. According to Aldi, each frozen cone treat contains 200 calories, 8 grams of fat, 45 milligrams of sodium, and 19 grams of sugar, so it could be considered something of an indulgence for those who are trying to watch their sugar or fat intake. However, for many Aldi shoppers, these sweet cones seem more than worth the calories and sugar.
Aldi's Strawberries and Cream Rose Cones will hit shelves this month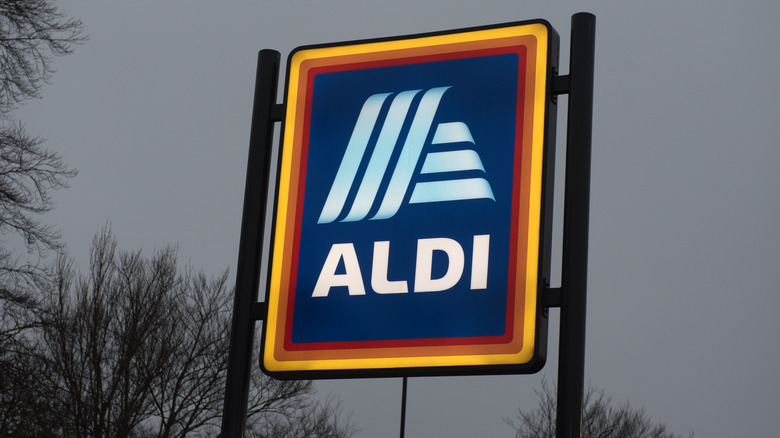 John Keeble/Getty Images
Some Aldi shoppers even took to social media to express their excitement over the upcoming arrival of the gorgeous frozen treats. The popular @aldiusa Instagram account posted a sneak peek of the new cones, and their followers couldn't stop raving over how "cute" and "pretty" the rose cones were, with one follower posting, "Oh those are simply adorable." Follower @_flamingi agreed, "How pretty! A nice take on an edible arrangement." Another delighted shopper posted: "Wow those look too pretty to eat! Okay I would still eat. Who am I kidding? I'd admire first, then eat." Instagram user @llofdarkwater joked, "Be. Still. My. Heart."
These unique cones will be on Aldi shelves beginning on April 28, with a box of four selling for $3.49, according to Aldi. Because they are an Aldi Special Find, they won't be in stores for long, so don't wait to purchase yours to get a head start on sweet summer snacking.